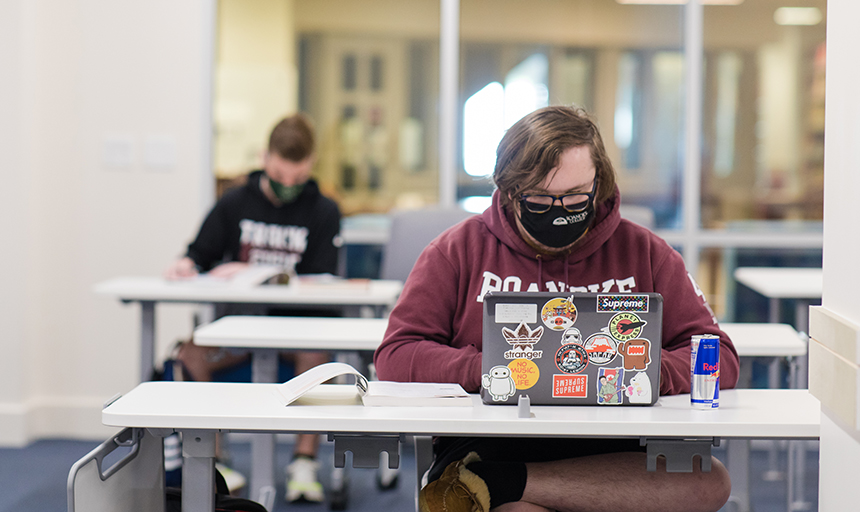 Final reminders about vaccinations, pre-arrival COVID tests and student conduct
Dear Maroons,
We are ready for you to return to campus and we can't wait to see you all. This message is a final reminder to students about several details related to your return to campus for move-in and in-person classes.
First, as you know, COVID-19 vaccination is required of all students. Most of you have submitted your proof of vaccination already. Thank you for taking this step to keep yourself and your community safe. If you have not yet uploaded your card, please do so right away on the Student Health Portal or by emailing a copy to Student Health Center. Links to both are listed on this page: https://www.roanoke.edu/shcs. If a student is not vaccinated, even with approved exemptions, regular COVID-19 testing will be required.
The other important requirement for fall semester is to provide results of a negative COVID-19 test taken one to three days PRIOR to your arrival on campus. If you are moving in on Saturday, Aug. 28, you would be tested sometime Aug. 25-27. If you are moving in on Sunday, Aug. 29, you should be tested Aug. 26-28. All students should have their negative test to Student Health Center by Tuesday, Aug. 31. The negative test result is required for all students, whether vaccinated or not, whether you have an approved exemption for the vaccine, whether you are living on campus or live off campus and whether you are full time or part time. All students must submit test results.
We are taking COVID-19 safety precautions seriously. Because of the Delta variant, the College is requiring everyone to wear a mask indoors on campus until at least the end of September (in common areas indoors.)
Failure to comply with the mask mandate, testing protocols, or other COVID-related policies will result in charges of the Student Conduct Code with serious consequences.
Regarding move-in, students may have family members with them to assist with moving in. Family members will need to wear a mask.
Roanoke College Student Health Center has been approved to administer the COVID-19 vaccine for any students who need their first or second shot. Area pharmacies are also a resource for vaccines.
We learned much in the past year and we are using all we learned to make this a successful year. We appreciate your full participation in these efforts. We can have a fantastic year! We will see you on campus soon!
Go Maroons!
Sincerely,
Tom Rambo
Dean of Students