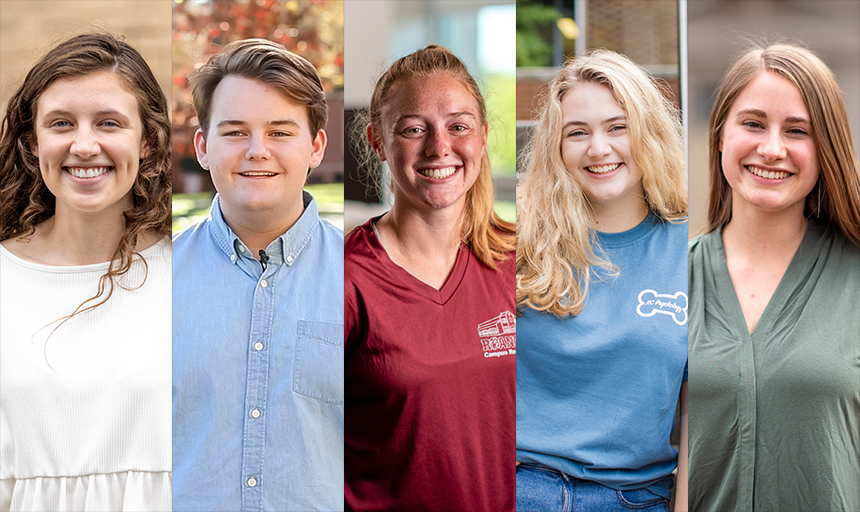 The Class of 2022 valedictorians include, from left, Lilly Blair, Bennet Franz, Bryn Haden, Claire McDonald and Charissa Roberson.
Class of 2022 includes a record five valedictorians and two salutatorians
Roanoke College's Class of 2022 has a record five valedictorians, breaking 2021's record of four. The Class of 2022 also has two salutatorians.
The seven valedictorians and salutatorians hail from five different states and earned degrees in 10 different majors. Six of the seven are members of Phi Beta Kappa, the nation's oldest and most prestigious academic honor society.
Lillian Rose Blair is a mathematics and economics major from Salem, Virginia. She is captain of the women's lacrosse team and leads the team in points this season, just as she did as a junior. As a junior, Blair earned All-ODAC, All-Region, and All-State honors. She has been a member of Stat Crew, which tracks and analyzes sports statistics at Maroons sporting events. Blair has conducted research through Roanoke's ECON Lab program and interned at Trustpoint in downtown Roanoke last year, working in the health benefits department. She also worked in the campus bookstore and is a second-generation Roanoke graduate. Her parents, Tommy Blair '85 and Kim Blair '93 both are employees of Roanoke College, Tommy as director of financial aid and Kim as vice president for resource development. Lilly Blair is planning to return to Roanoke for a fifth year to finish an actuarial science degree while using her final year of athletic eligibility. She's also starting a job this summer at Dominion Risk Advisors in Roanoke.
"It is evident that Lilly is a hard-working and intelligent student-athlete, but the grades and box scores don't show how kind, generous, and humble she is as well," said Blair's advisors, Drs. Alice Kassens and Michael Enz, both professors of economics. "Thoughtful, diligent, and successful in her economics classes, Lilly made a special place in our hearts because of her character, personality and humility. We will miss her dearly, but know that she will succeed in whatever endeavor she chooses."
Bennet David Franz is a public health major from Baton Rouge, Louisiana. Franz, who was also in the Honors Program, was heavily involved in research and internships that made a difference in the local community. He interned at the Fralin Free Clinic in Roanoke during the COVID-19 pandemic and conducted research on food insecurity that led to support for Roanoke College students who were having trouble affording their meals. Franz was selected as a Phi Beta Kappa Society Key Into Public Service Scholar in 2020, which recognizes students who possess a strong academic record in arts, humanities, mathematics, natural sciences and social sciences. Franz was awarded one of the two Alpha Lambda Delta Awards given to students this year. Franz is headed back to his home state in the fall to attend medical school at Louisiana State University.
"He has a very sophisticated understanding of health being more than simply a biological condition," said Dr. Chad Morris, associate professor of sociology and public health and advisor of the Honors Program. "It comes from his compassion. And so, his career is undoubtedly going to be one not only where he is an excellent physician technically, but he's also going to be a physician to his community, wherever that community might be."
Bryn Madeline Haden came to Roanoke College from Katy, Texas, and is graduating with majors in public health and health and exercise science, with a minor in sociology. She also was a member of the women's soccer team, starting every game at defender her junior and senior seasons and earning a spot on the College Sports Information Directors of America (CoSIDA) Academic All-District Team. In 2021, Haden presented her research that focused on the perceptions of grocery access in the Roanoke area, at a National Institutes of Health (NIH) conference. Haden was awarded one of the two Alpha Lambda Delta Awards given to students this year. After graduation, Haden will work with the Virginia Department of Health, and she plans to pursue a Master of Public Health degree in the future.
"Bryn has been exceptionally dedicated to her personal and academic growth since the first time she walked into my office for advising in the fall of her freshman year," Dr. Liz Ackley, the Brian H. Thornhill Associate Professor of Health and Human Performance, said. "She consistently puts her best foot forward, even when the going gets tough. Bryn has been a leader in the classroom, on the athletic field, and in research settings throughout her time at Roanoke College."
Claire Michelle McDonald is a psychology major from Annapolis, Maryland. She has spent hundreds of hours in Olin Hall, between the Roanoke College Choir and Theatre Roanoke College productions. McDonald's time with the choir included a trip to Normandy in 2019 for the 75th anniversary of D-Day, and her theatre career included acting in four shows and working on the technical side for two. Since her sophomore year, she has conducted research in the psychology department and completed an Honors in the Major research project. She has held various campus jobs and has worked as an orientation group leader and a Maroon Ambassador. After graduation, McDonald will attend the College of William and Mary to pursue a master of science in psychological services degree, and she hopes to eventually earn a Ph.D. in clinical psychology.
"Claire has been excellent inside and outside of class because of her high levels of engagement and passion about so many things," said Dr. David Nichols, chair of the psychology department. "Her diverse interests, including but not limited to clinical psychology, human development, neuroscience, and theatre have provided her with a unique background and outstanding ability to interact with everyone she encounters."
Charissa Beth Roberson, a New Market, Maryland native, graduates from Roanoke with majors in French and creative writing, and a concentration in screen studies. Roberson completed two Honors in the Major projects, worked as managing editor of the Roanoke Review, competed in the Basically Tarantino student film festival, worked as an orientation group leader, and has given award-winning presentations at multiple institutions of higher education. This summer she is interning in Saint-Lô, France, which was the focus of an immersive, bilingual research project she completed this semester. Roberson has been awarded a teaching assistant position to teach English in Rouen, France next year.
"Charissa is a truly dynamic young woman," Dr. Alison Clifton, assistant professor of French, said. "For her Honors in the Major project, 'The Crossroads of Saint-Lô,' Charissa took on the roles of historian, writer, director, costumer, and media specialist to create a living theater documentary. Charissa's empathy, sense of responsibility, love of learning, and kindness will have an enduring impact on the Roanoke College community."
The seven valedictorians and salutatorians hail from five different states and earned degrees in 10 different majors.
Salutatorians
Sophia Albertina Kachur, a Pittsburgh, Pennsylvania, native, is graduating with majors in political science and Spanish. She's focused on local government and community organizing, and has helped organize protests and community events to promote racial equity and LGBTQ+ rights during her time at Roanoke. She has been involved with Philosophy Club, Garden Club, HOLA, Ethics Bowl and more, and participated in the Lutheran College Washington Semester, where she had an internship in the nation's capital. Last year, she was appointed to the Human Relations Commission in her home municipality of Etna Borough in Pennsylvania. Kachur currently is studying abroad in Chile to finish up her Spanish major.
Christopher Rowsey
Christopher Willis Rowsey is a business administration major from Roanoke, Virginia. He is a member of three different honor societies and was named this year's Senior Scholar of Business Administration. Through an internship with Beacon Partners Consulting in Roanoke, he created commercials that have appeared on local television. Last year Rowsey was part of a group that won first place in the Salem Civic Challenge, a competition in which a group of students try to solve a problem posed by City of Salem officials. He is looking for jobs now where he can combine his expertise in business and marketing with his passion for music.