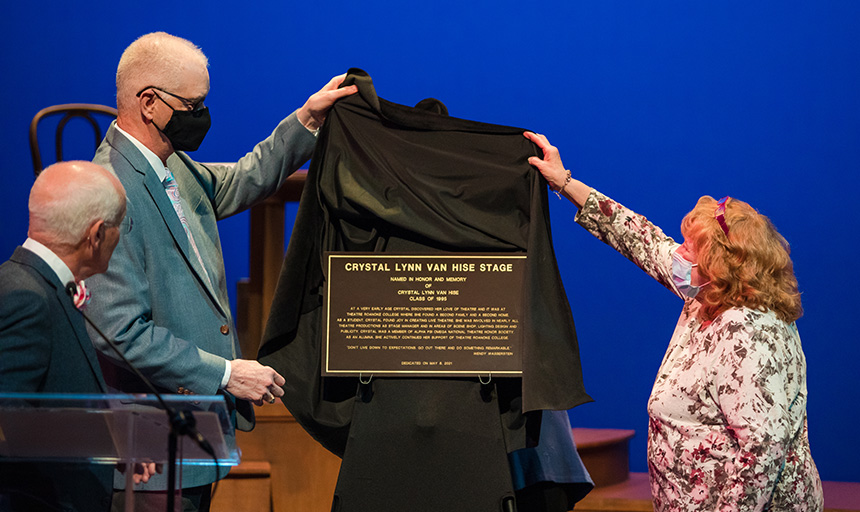 Roger Van Hise and Yvette Van Hise, parents of Crystal Lynn Van Hise, unveil a plaque dedicating the Olin Hall Theater stage in memory of their daughter during a ceremony in May.
The Room Where It Happens
As a student at Roanoke College, Crystal Lynn Van Hise '95, devoted many hours to Theatre Roanoke College (TRC) as a stage manager for numerous productions. She spent so much of her time outside of the classroom in Olin Theater that the scene room, stage, light booth and auditorium became a second home.
"Crystal loved Roanoke, the theatre department and Theatre Roanoke College," said Crystal's mother, Yvette Van Hise. "Olin Hall became almost another home [for her] – a place to do what she loved with the people she loved."
After graduating, Crystal remained dedicated to the performing arts at Roanoke. Wanting to see TRC thrive, she rallied support from fellow theatre alumni in 2016 to bolster the program. Within months, her efforts resulted in the establishment of the Theatre Arts Production Endowment.
Sadly, Crystal died in December 2019. But her love and legacy of support for TRC is not forgotten: In May, the College dedicated the Crystal Lynn Van Hise' 95 Stage at Olin Hall Theater in her memory. This was made possible through the generosity of her family, who also created the Crystal Lynn Van Hise '95 Endowed Fund for the Theatre Program to support TRC and other drama initiatives at the College. Additionally, the endowment Crystal initiated in 2016 – which her family also supported – was renamed the Crystal Lynn Van Hise '95 Theatre Arts Production Endowment.
"We hope the fund allows Theatre Roanoke College to do more that it would have been able to do otherwise," said Crystal's father, Roger Van Hise. "Crystal devoted much of her time to the program and enjoyed it, and I know she would want the program to succeed."
Crystal's love of theatre started early. Her mother, a high school physics teacher, choreographed the school musicals and often took Crystal to rehearsals. Shortly after Crystal saw her first Broadway show, "Annie," she went to see her first movie on the big screen, "Star Wars." Yvette Van Hise recalled that her daughter couldn't understand why the cinema tickets did not have her seat number on them. As a student at Marlboro High School in New Jersey, Crystal was student director for "Little Shop of Horrors," "Rehearsal for Death," and "I Remember Mama," and stage manager for the musical "Godspell."
"This was the room where so much happened. Friendships were forged, and lessons learned – all from working as a team."
Dr. Lisa Warren, associate professor of theatre
At Roanoke College, Crystal's involvement with TRC began with the 1992 May Term class, "Contemporary British Theatre," taught in London by Dr. Lisa Warren, associate professor of theatre. That trip sparked a lasting friendship. For the next three years, Crystal was involved in nearly all Roanoke theatre productions, serving primarily as a stage manager. She worked on a wide range of shows, including "Dancing at Lughnasa," "The Heidi Chronicles," "The Skin of Our Teeth" and "The Glass Menagerie."
A double major in business administration and fine arts, Crystal was dedicated to quality both in her classwork and in her leadership of TRC productions. Dr. Warren recalled that the high expectations Crystal had for herself, and others, inspired everyone around her to work hard and put together memorable shows.
"Crystal's own gentle spirit and keen mind were central to many productions," said Dr. Warren, who was Crystal's mentor. "She managed student actors and techies with her gentle but iron fist. No one questioned that she was in charge, for a good reason."
After graduating from Roanoke, Crystal continued attending TRC productions, and she participated in initiations for Alpha Psi Omega, the national dramatic honor fraternity. She also was a Roanoke-area business leader, serving as vice president and head of human resources at Star City Games.
The countless hours spent in rehearsals at Olin Hall Theater – Sunday through Thursday nights, 6:30 p.m. to 10:30 p.m. – nurtured the leadership skills that allowed Crystal to succeed in her career. Dr. Warren said she never hesitated to ask for Crystal's opinion, and Crystal always responded with candor.
In her remarks during the dedication ceremony for the Crystal Lynn Van Hise '95 Stage at Olin Hall Theater, Dr. Warren invoked Crystal's favorite musical, "Hamilton." She noted the relevance of the iconic Broadway musical's Act 2 hit, "The Room Where It Happens," for the occasion.
"This was the room where so much happened," Dr. Warren said, inviting her audience to look around the space where Crystal spent so much time. "Friendships were forged, and lessons learned – all from working as a team. That joyful spirit of creativity echoes through this space – the scene shop, the light booth, the stage and the auditorium … I ask that you now take a minute to breathe in the creative energy and wonderful memories which fill this space – memories in which Crystal played a key role. This was Crystal's 'Room Where it Happened.'"