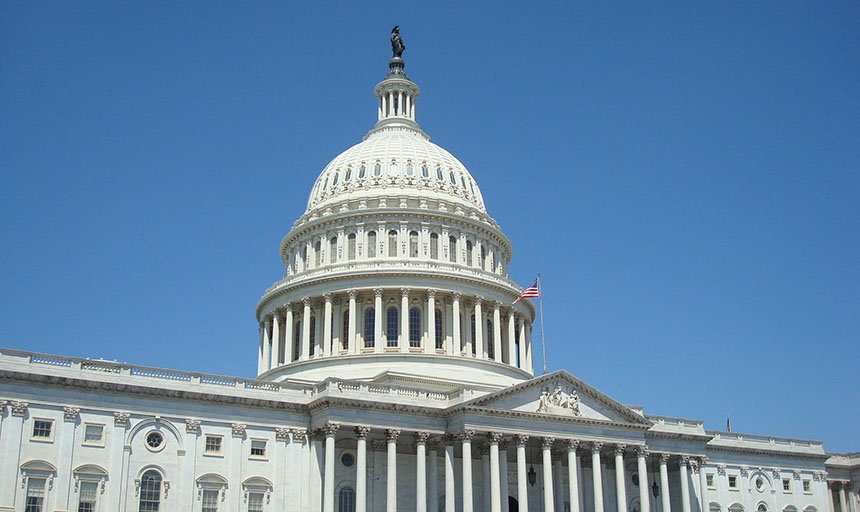 Students gain valuable experience in Washington Semester internships
The 2018-19 academic year marks Roanoke College's 32nd year of providing life-changing experiences in the nation's capital through the Lutheran College Washington Semester program. This fall, 13 students are participating in the program.

"These students are collectively one of the strongest groups of students that Roanoke College has placed in the Washington Semester program, and their talents and academic records are reflected in the impressive internships that they hold," said Dr. Todd Peppers, Henry H. & Trudye H. Fowler Professor in Public Affairs at Roanoke who serves as the College's program coordinator and is a member of the LCWS board. "I feel so lucky to be able to help our students have such a unique experience."
Several students shared a bit about their experiences and their decision to participate in the program.
Hannah Scheinder '19 is interning at Jubilee USA, an interfaith, non-profit alliance of religious, development and advocacy organizations.
I decided to do the Lutheran College Washington Semester because I have a passion for nonprofits and wanted to have more experience with them. D.C. has a huge number of very successful and very interesting nonprofits, especially ones that are involved with creating legislation, like Jubilee USA. I also wanted to be able to live in D.C. for a semester and understand the city as a resident and not a tourist. I am the outreach intern, so I work with the campaign director to coordinate outreach efforts and the strengthening of the Jubilee network, as well as operations regarding campaign strategy. As a philosophy major, I've been able to use my writing skills to help with press releases as well as other kinds of writing related to campaigns. It's been really cool for me to see my major "in action" here in D.C.
Gwyneth Herndon '20, a double major in criminal justice and sociology, is interning at the Pentagon. She is shadowing a lawyer and helps with office and case work.
I knew my first semester at Roanoke I wanted to participate in LCWS because I knew it could provide me a new experience in a place that offers so much different culture and has so many opportunities I could not get elsewhere. My internship connects to both of my majors, as it involves reviewing conduct infractions of high-level officials.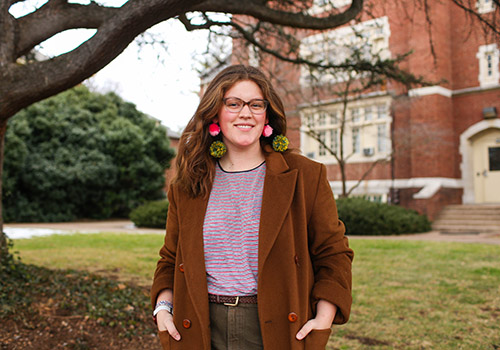 Elizabeth Janes '20 is a history major with a concentration in public history. She is a research intern at the National Woman's Party, an American women's political organization formed in 1916 to fight for women's suffrage.
This semester I am a research intern at the National Woman's Party. As we approach the centennial of the 19th amendment that granted women the right to vote, my job as research intern is to look back on the history of the Party to tell the stories of courageous suffragists and to prepare to face contemporary issues of gender inequality. I was drawn to the [LCWS program] when I was looking at Roanoke all the way back in high school. Since then, I have witnessed the opportunities it has opened to friends who have participated and subsequently raved about. These two things, in conjunction with my love for this city and what it has to offer, are what brought me to the LCWS program
"Sitting in on the hearing for [Brett Kavanaugh] on my second day on the Hill was surreal. I was able to sit behind Sen. Thom Tillis with the staff, just feet away from senators in both the Democratic and Republican parties."
Kathryn Overby '20
Kathryn Overby '20 is interning in the U.S. Capitol office of U.S. Sen. Thom Tillis of North Carolina. She is a business administration major, minoring in Spanish, and has a concentration in Legal Studies.

In this internship, I write memos, answer constituent phone calls, give Capitol tours and work on any projects I'm assigned! Specifically, I'm interested in business and finance so I primarily assist with those types of memos and projects. The coolest part of this internship is being able to go to the Senate committee meetings. I've been able to sit in on the Committee on Banking, Housing and Urban Affairs, and the Judiciary Committee hearings. Attending the hearing for Judge Brett Kavanaugh [now Supreme Court Justice] on my second day on the Hill was surreal. In the hearing, I was able to sit behind Senator Tillis with the staff, just feet away from senators in both the Democratic and Republican parties. I got to sit through a few rounds of questioning, which was interesting to see and hear. I chose to participate in the Lutheran College Washington Semester program because I love learning how government functions. This program is such a great opportunity since I want to pursue law after graduation. I've been able to tailor my internship project to issues and areas I'm interested in.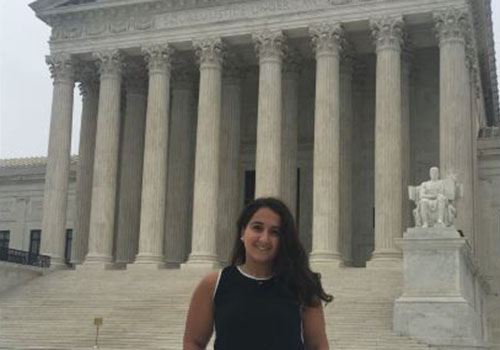 Sarah Joseph '20 is majoring in art history with a communications minor. She is an intern at the Smithsonian Office of Advancement.
I am an online marketing and fundraising intern. Right now, I am helping with the fiscal year-end campaign. I am essentially analyzing data, writing, and editing emails that will be sent out to donors. I have this amazing opportunity to live in the nation's capital. I am in the thick of things-socially, politically, economically and culturally. D.C. is full of museums, public art and giant monuments that just scream "art history." Art is everywhere in this city-from the streets to the theaters to even political campaigns.
Olivia Camillo '20, a history major, is interning in the U.S. Capitol office of Sen. Johnny Isakson of Georgia.
During my time here working with Senator Isakson, I am taking calls from constituents, conducting research on important contemporary issues for the senator, sitting in on congressional hearings, and working with the Veterans Affairs Committee and the Ethics Committee, both chaired by Senator Isakson. Being from Atlanta, I have loved this opportunity to work with a senator from my home state. My internship has allowed me to establish a connection with people and the government, which has enabled me to gain meaningful career experience. Working on the Hill has created an incredible opportunity for me to learn specifically how the government works in the legislative branch.

Other Roanoke students participating in the Lutheran College Washington Semester program this fall include:
Garrett Channell '20, an intern at the Library of Congress.
Samuel McKnight '20, who is interning at the Russian/Ukraine Portfolio at the Institute for the Study of War.
Josephine Dennis '19 an intern at the Japan U.S. friendship Commission.
Elizabeth Ober '20, who is interning in the U.S. Capitol office of U.S. Rep. Carol Shea Porter of New Hampshire.
Gaston Ocampo '20, an intern for the Inter-American Dialogue, a think tank in the field of international affairs.
Mary Orrell '19, who is interning at the National Portrait Gallery.
Michelle De La Cruz '20, an intern at the Department of Justice Programs and Events Office.