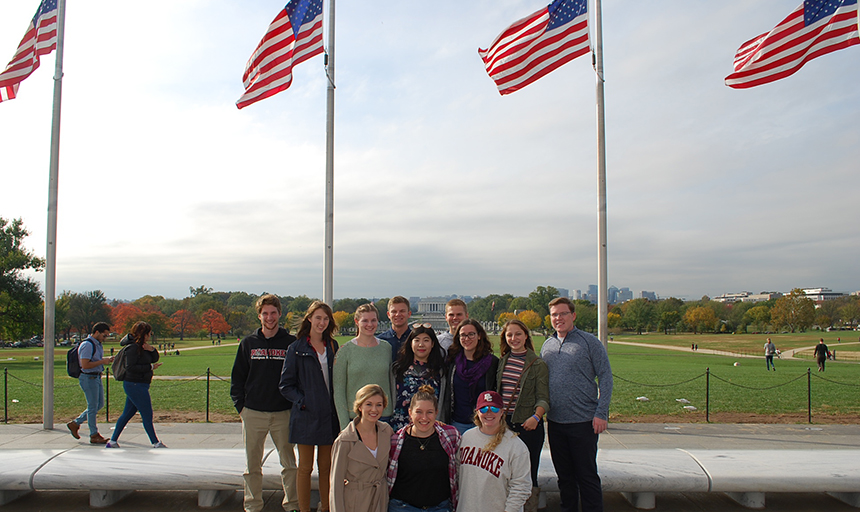 Students gain real experience in Washington Semester internships
The 2017-18 academic year marks Roanoke College's 31st year providing real-world experiences in the nation's capital for students through what is now known as the Lutheran Washington Semester Program.

The group of students in the program this fall semester is "extraordinarily strong," says Dr. Todd Peppers, Henry H. & Trudye H. Fowler Professor in Public Affairs at Roanoke who serves as the College's program coordinator and is a member of the LCWS board. The 12 students "represent a diverse array of majors, minors and concentrations across the campus," Peppers says. They include:
Ryan Duregger '19 - Congressional Sportsman Foundation
Matthew Franklin '19 - Center for Security Policy
Regan Grimmett '19 - New York Governor's Federal Relations Office
Erin Hannon '18 - Amnesty International, Gender, Sexuality, and Identity Office
Anika Holzer '19 - Search for Common Ground
Alixandra Hunter '19 - American Enterprise Institute, Foreign and Defense Policy Department
Choki Im '18 - International Leadership Foundation
Bailey Martin '19 - National Archives, History Office
Kristin Read '19 - Mil Mujeres (law firm doing pro bono work for immigrants and refugees)
Zachary Ryan '19 - Association of the United States Navy
Kristin Shriver '18 - Library of Congress, Government Relations Office
Christa Waterwiese '19 - United States Trade and Development Agency, Congressional and Public Affairs Office
Alli Hunter shared a bit about her internship at the American Enterprise Institute, Foreign and Defense Policy Department.
I am interning at the American Enterprise Institute (AEI), a think tank located near DuPont Circle in a gorgeous Beaux Arts building, once home to Andrew Mellon.
I work in the Foreign & Defense Policy Department, focusing on the Middle East Program and Communications. My work is a healthy balance of department-level tasks, research for AEI scholars, and event tracking/staffing. Examples of actual research thus far include missile defense debates in Congress from the Reagan Era onward, and China's influence in the Middle East.
At the department-level, I focus on audience development, identifying outside scholars who could contribute expertise to AEI publications and events (in effect, filling the "tank" with more "thinkers").
I particularly enjoy staffing the fascinating events AEI hosts-which are broadcast on the institute's website and often C-SPAN-but I am also encouraged to attend gatherings at other think tanks (though, AEI's facilities remain unsurpassed in beauty).
As an International Relations major aiming for a career in national security or counterterrorism, the think tank world appealed to my propensity for research and analysis. I discovered AEI while applying to other security-oriented think tanks, but after a fateful summer visit with the Hertog Foundation, I resolved that AEI was my dream internship. I heard back from no other locations. Miraculously, I was offered the position one week after waltzing into the stunning, marble-tiled rotunda entrance for the first time! I am proud to represent Roanoke College on Think Tank Row in the District. Every day, I am both grateful and bewildered to spend my semester in such a delightful way.
Choki Im works for the International Leadership Found where she helps with the Civic Fellowship Program.
I'm working at International Leadership Foundation (ILF). It is a 501(c)-3, non-profit organization, and we work for advocacy of Asian American Pacific Islander (AAPI) leaders in decision making position nationally. ILF's main program is Civic Fellowship Program. The program provides AAPI undergrad students internships in Washington DC at federal agencies.
Thanks to my work, I have attended conferences at least once a week. It has allowed me to meet diverse people like Rep. Ted Lieu (D), Rep. Mike Honda (D), and Linda Sarsour. In addition to them, I have met a lot of people working in D.C.
Matthew Franklin, a social media intern at the Center for Security Policy (CSP), shares about his D.C. semester experience.
Roanoke prepared me for my internship in that their rigorous curriculum teaches you to have good time management, which in a professional setting with deadlines that have to be met, is pivotal to have. In addition, the classes I've taken in Political Science and International Relations have given me solid background knowledge that I have applied to help me in the research I do at CSP.
One of the biggest challenges I met when going up to D.C. was missing the entire Fall season for baseball. The Washington Semester was one of the big draws for me coming to Roanoke, but so was baseball. Coach McGuire and the whole baseball staff have been very understanding that school comes before sports, and they were some of the biggest advocates for me coming to D.C. in the first place. I was able to come down to Salem for one weekend when we had our ring ceremony as well as the Fall World Series, so I haven't been totally disconnected from the team.
This internship will make me career ready in that it has given me professional experience that only a real job can provide. Not only have I learned how a company operates internally and have been able to personally contribute to the company, but I am able to talk with people in my office who previously held positions in the CIA, Pentagon and White House, which are all places I would love to work after school. CSP has been a great way for me to start my professional network, and it will definitely come in handy come graduation in 2019.