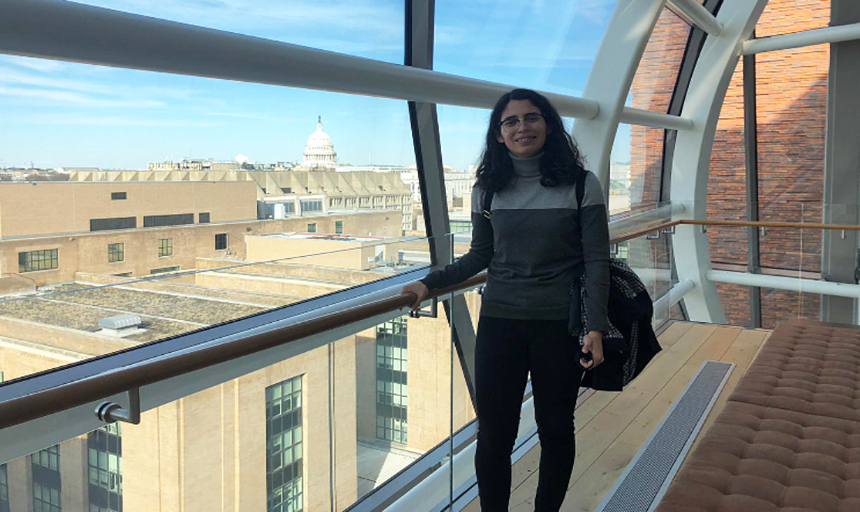 Natalie Hidalgo Lopez '22, at the Museum of the Bible, a few blocks from the National Mall in Washington, D.C. The U.S. Capitol can be seen in the background.
Students gain valuable, real-world experience through Washington Semester internships
The 2020-21 academic year marks Roanoke College's 34th year providing life-changing experiences in and near the nation's capital through the Lutheran College Washington Semester program.
This spring semester, five students are participating in the program.
Natalie Hidalgo Lopez '22 is interning at the Rockville, Maryland-based law firm of Parker, Simon & Kikolis, LLC, where she assists with administrative duties and has even helped write legal documents such as powers of attorney and Assistant Secretary's Certificates. Time in the office has given Lopez valuable hands-on experience on different cases, which has helped her better understand the law and legal procedure.
"As an international student, I never thought I would have the opportunity to live in the capital of one of the most influential countries in the world," said Lopez, a political science major with a legal studies concentration, who is from Ecuador. "I can honestly say that it has been an incredible opportunity."
Izzy Ubaydi '22 is interning virtually with the InterFaith Council of Metropolitan Washington, an organization that provides a platform for faith communities to unite as one voice. Ubaydi's internship duties include assisting the primary development officer with the management of more than 15,000 donor records; brainstorming and researching potential avenues for new revenue and donor outreach; managing the social media accounts; and facilitating weekly staff meetings.
"I love having a virtual internship because I am able to work at my own pace without the stress of 'all eyes on you' while you are in the office," said Ubaydi, a political science major. "I was talking with my supervisor, and we feel that not being in the office has allowed us to make better content, create better reports, and develop things that we wouldn't have thought of if we were in the office."
Other students participating in the Lutheran College Washington Semester program this fall include:
Amanda Gwaltney '21, an intern at Becky Lee's Fund, a non-profit organization working to end domestic violence through education, advocacy and service.

Skye Grochowski '22, an intern at Brett A. Parson Consulting in Washington, D.C.

Emily Cranford '22, an intern at Legacy Premier Foundation, a global developmental nonprofit that empowers underserved communities through human capital development and socioeconomic empowerment.
"While we have a smaller group of Roanoke College students attending this semester, they, like earlier groups, are bright and hard-working individuals who are eager to take advantage of all the program has to offer," said Dr. Todd Peppers, Henry H. & Trudye H. Fowler Professor in Public Affairs at Roanoke who serves as the College's program coordinator and is a member of the LCWS board.