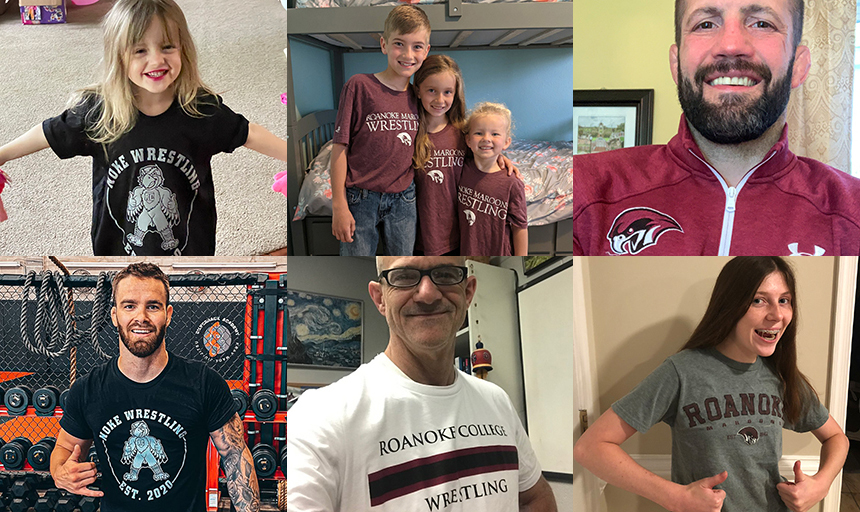 Roanoke coaches, students, faculty - even kids - got in on the #WrestlingShirtADayInMay action!
Images courtesy of Nathan Yetzer (above, in upper right corner), Roanoke College head wrestling coach.
Roanoke Wrestling bests some of the biggest in a Twitter T-shirt campaign
To generate some excitement about Roanoke College's new wrestling program, which begins competition this fall, Maroons participated in a viral Twitter campaign called #WrestlingShirtADayInMay.
The campaign, held this spring, "encouraged wrestling programs throughout the United States to take a picture wearing a t-shirt from their favorite college wrestling team," said Nathan Yetzer, head wrestling coach at Roanoke.
Results were tracked by Jim Dutrow, former wrestler at James Madison University and former Woodbridge (Virginia) High School wrestling coach, who created the campaign two years ago to increase awareness about the sport. The campaign became a way to recognize schools with wrestling programs and to thank them for their support of wrestling.
This year, Roanoke College won the campaign for non-Division I colleges and universities, Yetzer said, with hundreds of people submitting photos of Roanoke College wrestling shirts throughout the month of May.
"We beat big schools like Virginia Tech, UVA, Penn State and others," Yetzer said. "We actually finished second overall in the entire country, losing only to The Citadel."
Dutrow tweeted that @NokeWrestling "has totally crushed #WrestlingShirtADayInMay this year!"
Roanoke College wrestling competition begins Nov. 7 with the 2021 Southeast Open, to be held in the Cregger Center Fieldhouse and gym. Click here for a full season schedule.
Go Maroons!