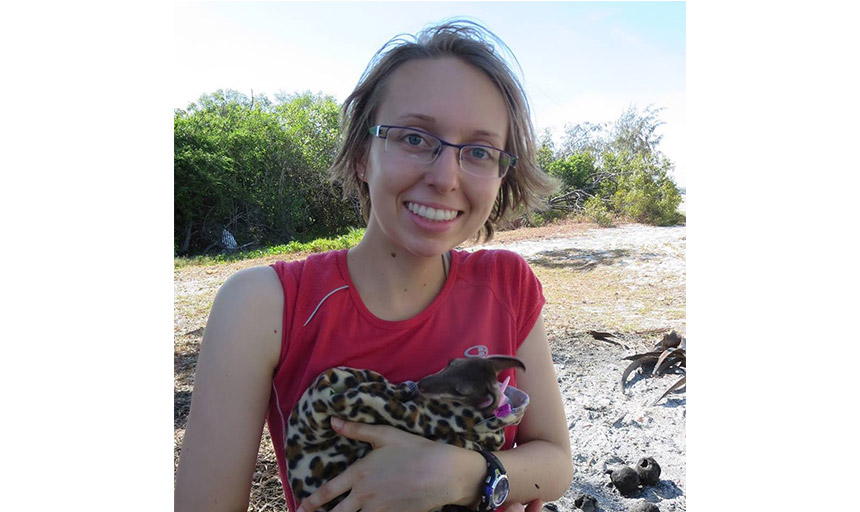 Emily Edmonds '15 holds a baby wallaby in Austraila.
7.27.2017
By Roanoke College News
Roanoke alumni among many serving in global mission program
Jill Disbro '14 didn't know what she wanted to do with her life. She was fresh out of Roanoke College and still hadn't made a decision. She started searching for a program that allowed her to go abroad, and she remembered when a Young Adults in Global Missions recruiter visited campus her senior year.
She decided to apply for the program to experience a new culture.

The Young Adults in Global Mission program, sponsored by the Evangelical Lutheran Church in America, sends college graduates ages 21 to 29 around the world for various kinds of service. Students have the opportunity to serve in many different countries, such as Argentina, Southern Africa, Australia, Madagascar, Rwanda, Mexico, Cambodia, Senegal and the United Kingdom. The program has been popular among Roanoke alumni for years.
"Every fall a representative, a young adult coming off the Global Mission assignment comes to campus and typically visits for about two days and talks to our students and tells them about the program," said the Rev. Chris Bowen, Roanoke's dean of the chapel, who strongly promotes this mission opportunity for students.
The program relies on donations. It costs approximately $15,000 to provide for one student.
Disbro made her decision to serve for a year after the program's discernment weekend, which is the weekend students are placed in the country where they will serve. She was assigned to Tepoztlan, Mexico, where she taught English and learned to understand "God's mission as one of relationship building and mutual sharing in the journey toward justice and liberation," she said.
After her year with YAGM, Disbro served a year with the Episcopal Service Corps in Philadelphia. Disbro now works for a multi-service non-profit program called Lutheran Settlement House in Philadelphia. There, she is an adult education program coordinator.
"I have never felt happier or more fulfilled as I do serving in this community."
Emily Edmonds '15, who is serving in Australia through Young Adults in Global Mission
For the past year, Emily Edmonds, a 2015 graduate of Roanoke College served in Hope Vale, Australia. At first, after she graduated from Roanoke, she pushed off her passion for serving others when she decided the YAGM program didn't fit into her life.

"After graduation though, I realized my grand plan wouldn't make me happy so I decided to follow what I believed to be God's path for me," Edmonds said.
In Australia, Edmonds set her own daily schedule where she could meet others and discover the community. She worked in a church consignment shop, wrote and recorded devotions for the radio station, went to the Indigenous Knowledge Center inside the community and spent time at the Arts and Culture Center.
Now back in the the United States, Edmonds said she doesn't know what she is going to pursue next, but "I have never felt happier or more fulfilled as I do serving in this community."
Haley Toresdahl '15 served in Cambodia with Life With Dignity, an organization that helps poor families in rural areas. She lived at one of the Life With Dignity project houses and taught English.
Toresdahl said she sees her faith differently now, after living in a culture that was largely Buddhist.
She was inspired by her year in Cambodia and now, she is working for the Evangelical Lutheran Church in America's World Hunger Team.
"These lessons you'll take back and share with the church and other people," said Toresdahl about how her time in Cambodia.