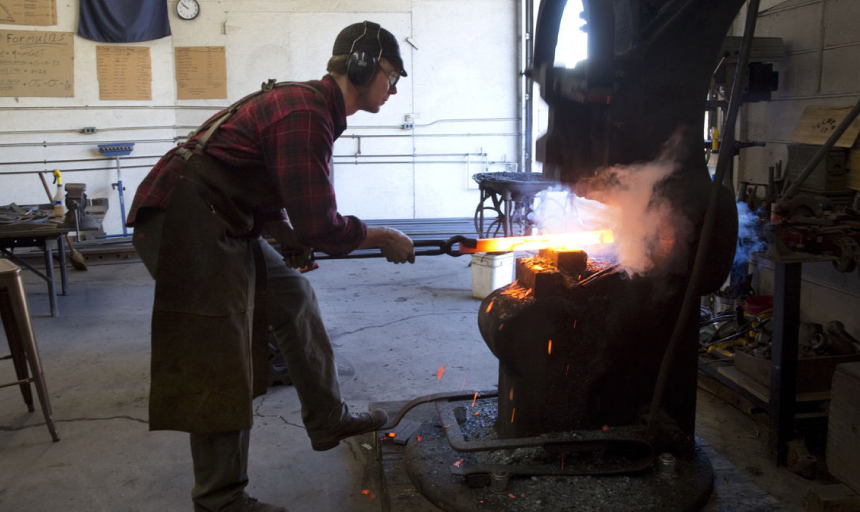 Stephanie Klein-Davis/The Roanoke Times
1.08.2018
By Mike Allen, Roanoke Times
Young blacksmith forges Roanoke career
Reprinted by permission of The Roanoke Times.
The steel bar glowed red as Jed Curtis used tongs to place it in the mouth of an antique industrial forging hammer manufactured in 1906.

Working a foot lever, he used the machine to shape the glowing bar. Sparks sprayed as the 100-pound hammer repeatedly pounded the metal.
After a few cycles of returning the bar to the propane forge, then returning it to the hammer for further pounding, it started to resemble the object he had in mind: a piece of a decorative railing.
Curtis, 27, a 2013 Roanoke College graduate with a Bachelor of Science in chemistry, set up a blacksmith shop called Heart and Spade Forge in August 2016 along Shenandoah Avenue Northwest in Roanoke. His degree, as it turns out, dovetails well with his anachronistic occupation.
He has chemical formulas written out in large symbols on pieces of cardboard taped to the wall of his shop, and he can expound with enthusiasm about how the forging process affects different metals on a molecular level. After all, as he puts it, "You really gotta know what you're working with."
His hand-forged sets of carbon steel cookware and garden tools just won the gear category in Virginia Living Magazine's Made in Virginia 2017 Awards.
The magazine's editors gushed especially over Curtis' Star City Cookware line. "Its graceful, ergonomically inclined handles hot-riveted to skillets, which were designed with guidance from professional chefs, are gifted with unique non-stick qualities that render them beautiful and functional," the editors wrote. "Each piece is stamped with a star, signifying a lifetime guarantee and a forever tie to the Star City."
Curtis puts that star mark on everything he makes, as a way of designating them as "made in Roanoke."
Though he said he's not making a major profit, especially when considering the long hours he puts in, Curtis has also sold hundreds of his handmade pans and garden tools, and customers who purchase them are paying top dollar.
"People are still interested in hand-crafted expression within a medium," Curtis said. The hand-forged garden tools start at $75, with a complete set $295. For cookware, prices on the shop's website range from $145 for an 8-inch skillet to $1,000 for a complete set of his 611 line of cookware. The 611 pans, named after the famed Norfolk & Western steam engine owned by the Virginia Museum of Transportation, are all numbered, and as you might guess, only 611 of them will be made.
His less expensive pans he calls his "Everyday" line, because he makes one every day, a process that can take him 14 hours.He also gets commissions to make things like banisters and gates, which he gives flourishes such as twists or curls. "It's jewelry for your architecture," he said.
"I was drawn to his eagerness, his creativity, his talent," said Billy Webb, who owns Total Home Care Remodeling in Roanoke County. Webb commissioned Curtis to make a stair rail. "Metal work is going to be a lost art. It was refreshing to see someone who had studied to get a chemistry degree pursue what he loved to do - create things."
Curtis takes pleasure in working small, too. He has made bolts with heads shaped to look like acorns, and he makes his own decorative rivets.
A Waynesboro native, Curtis discovered an interest in smithing in first grade during a visit to the Frontier Culture Museum in Staunton, and it has stayed with him all his life. Even before he went to college, he would travel in the summers to Chautauqua County in western New York to spend time with his uncles and participate in an antique equipment show. Naturally, he worked in the festival's blacksmith shop.
During one of those festivals, Curtis discovered the business potential of his favorite vocation. He was making flowers out of metal, but for show, not with a plan to sell them. A visitor asked to buy one. "I said, yeah, make me an offer." After that, "I couldn't keep them in the shop."
Through that festival, he found a mentor, Mitch Fitzgibbon, who was preparing to retire from blacksmithing. Most of Curtis' impressive collection of antique forging tools, including the 1906 industrial hammer, came from Fitzgibbon.
"I really bought pretty much all of his tools," Curtis said.

At Roanoke College, he met his wife-to-be, Hannah Cline, now Hannah Curtis - they married two months ago. Hannah Curtis works as a public relations specialist for Carilion Clinic. They own an Australian shepherd named Layla. "She's the branch manager," Jed Curtis quipped.
After Curtis earned his degree, he got a job teaching high school chemistry in Augusta County. Although he enjoyed teaching, he never stopped thinking about new projects to forge. "I have so many ideas," he said. "I'm so obsessed with this."
Before he opened his shop in Roanoke, he had his equipment set up in a coal barn on his parents' farm. "I was playing with it," he said. "I was seeing what I could push the metal to do."
At first he planned to work only on architectural elements, but those jobs resulted in leftover pieces he wanted to find a use for - and that led to his award-winning tools and cookware.
He would love to take on projects even bigger than those he's done so far. As one example, "I've never done a driveway gate."
For Curtis, when he's heating and shaping metal, "It's like writing a sentence or writing a song. "For more information on Heart and Spade Forge, call 540-471-9112 or visit heartandspadeforge.com.
See this story, with more images, at roanoke.com.