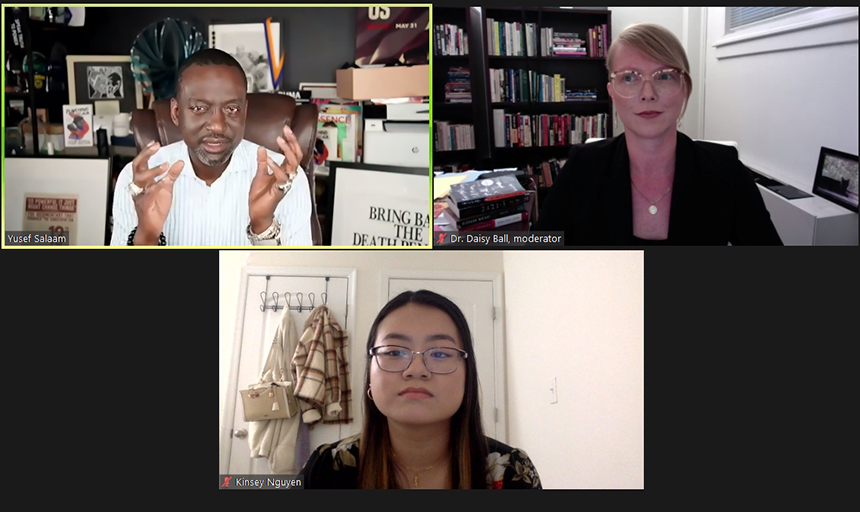 In Black History Month keynote, Yusef Salaam talks about finding hope in tragedy
When Yusef Salaam, civil rights advocate and member of the Central Park Five, began his program with Roanoke students on Feb. 23, his first words were heavy.
"I was introduced to the world at the age of 15 as a pariah, as the scum of the earth," Salaam said.
Salaam, along with four other teenage boys of color, was jailed for the rape and attack of a jogger in Central Park in 1989 only to be proven innocent in 2002. The group, commonly known as the Central Park Five, is now referred to as the Exonerated Five. Despite having his youth taken from him, the message Salaam shared with more than 180 students was one of hope.
The virtual program, titled "An Evening with Yusef Salaam," was the keynote event of the College's Black History Month celebration in February. The celebration also included lectures; a poetry performance; and a one-day symposium that included panel discussions addressing issues of current social and racial interest, service learning activities, and a candlelight ceremony in remembrance of the enslaved people who played a formative role in the College's history.
During his Feb. 23 presentation via Zoom and YouTube, Salaam detailed how his Islamic faith grew while he was in prison. He said he began to "find freedom in prison, even though I was in bondage," as he discovered meditation and read the sacred texts or many world religions. This faith journey behind bars helped establish a foundation for the rest of his life, he said, and gave him the "spiritual eyes" to look at his experiences in a positive light.
"When you open [your spiritual eyes], you see things differently," Salaam said. "It gives me the opportunity to see the Central Park jogger case as a love story between God and his people."
He explained that while the case was a grave injustice, the fact that they were eventually exonerated proved that the truth doesn't stay buried. Now, he is using his platform to speak truth to power and educate people on disparities in the criminal justice system.
Nine students had the opportunity to ask questions, with topics ranging from his experiences in prison, to his writing style, to his faith, to the way he was represented in the media at the time of his arrest, and to his thoughts on police in America. Salaam's answers were valuable for students majoring in criminal justice, religious studies, psychology, communications and more.
Kinsey Nguyen '23 posed the first question to Salaam and asked about the 2020 book "Punching the Air," which Salaam co-wrote with Haitian-American author Ibi Zoboi. Nguyen, who is majoring in criminal justice, said she was nervous, excited and honored as she asked her question.
"Being able to hear his story from his own point of view was illuminating, and how he managed to turn all those negative feelings into something bigger than himself was truly inspiring," Nguyen said. "Dr. Salaam was a great guest speaker to listen to, and I am so grateful that I had the opportunity to ask him my question and listen to all the insightful words he had to give."
Salaam answered questions with great detail and thoughtfulness, sprinkled with wit and humor. He quoted people ranging from the Rev. Dr. Martin Luther King Jr. to "the great philosopher Cardi B," Salaam's description of the popular rapper, songwriter and actress. Salaam read excerpts of his own poetry and told the story of writing one poem out on a napkin in prison.
"Being able to hear his story from his own point of view was illuminating, and how he managed to turn all those negative feelings into something bigger than himself was truly inspiring."
Kinsey Nguyen '23
Dr. Daisy Ball, assistant professor of public affairs, moderated the discussion after a brief introduction from President Michael C. Maxey. Director of Multicultural Affairs Natasha Saunders closed the program by thanking Salaam and organizers of the event, including the Campus Activities Board. Saunders also had the students, staff members and faculty on the call give Salaam a round of applause.
Viewers tuned in from 13 different states from Florida to Montana, as well as Washington, D.C. and Ontario, Canada.
During Salaam's 75-minute talk, there were numerous bits of wisdom. One student asked if Salaam had any advice for students looking to learn more about Black history and become better activists. Salaam said that speaking truth to power and educating people is integral, but actions often speak the loudest.
"Don't just teach people," Salaam said. "Show people."