Preparing for Life After Graduation
At Roanoke, our goal is to help you grow into a confident, directed person who can go out into the world and live a meaningful life centered on your passion. Developing broad perspective and critical reasoning skills are essential to this, but so are practical skills. As part of building your personal plan, you'll learn to communicate your ideas persuasively, organize projects, work effectively with others, and provide leadership.
Our core curriculum is designed to develop these practical skills through study, group projects and presentations. As you assist professors with research, participate in the Summer Scholars program, or take on independent study, you'll develop written reports and oral presentations. You'll be encouraged to present at regional and national conferences and to publish your findings. As you take part in real-world learning programs, as 90% of Roanoke students do, you'll have many chances to hone your communication and organization skills in real-life situations. As you participate in club activities, sports or group projects, you'll learn how to work in teams and lead others. When you leave Roanoke, you'll have your own plan and a set of practical skills to realize it--a valuable edge in today's highly competitive job market.
"I need to speak clearly to get my job done. That's critical. Every single one of my courses at Roanoke College required writing. I took opportunities to speak, as an admissions tour guide and in club meetings. Speaking publicly helped me focus my thoughts and ideas."
Chris Turnbull '00, Senior Media Relations Consultant, Carilion Clinic
Career-building skills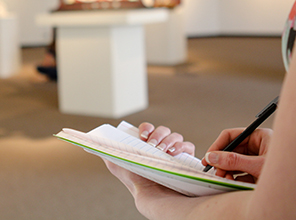 Writing. Communicating clearly and accurately is essential in every profession. Those who can write well, from one-paragraph emails to multi-page reports, are more likely to convince others of their recommendations and build support needed for action. Through your regular course work, you'll develop strong writing skills you'll use throughout life.
Presentations. Making persuasive presentations—to another individual or to a room full of people—is key to selling your ideas and yourself. Many courses at Roanoke require presentations; through them, you'll learn how to organize, design and give presentations with confidence—an advantage over peers who are anxious about public speaking.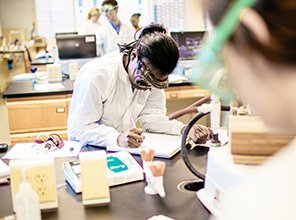 Research. While the world seems awash in information, we lack useful data and insight. At Roanoke, you'll learn to conduct research that tests hypotheses, uncovers new findings, and develops ideas—all critical to strategic decision-making and the creation of new systems, products and processes. Research at Roanoke.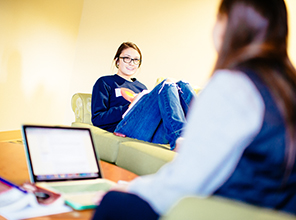 Working with others. There are few situations in life where you don't work with others. Jobs, clubs, churches and causes all ask us to work together to get things done that we can't do alone. At Roanoke, you'll have many opportunities to learn how to work effectively with others, from group projects in classes to participation in clubs and organizations. You'll learn how to organize projects, share work, deal with different personalities, and contribute to a common goal.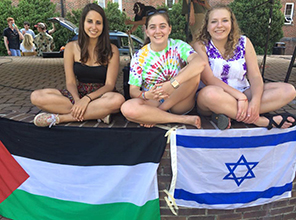 Leadership. Successful organizations are run by people at every level who know how to lead. At Roanoke, we encourage everyone to take on leadership roles and learn the basics of team leadership. You'll develop the style of leadership that suits you best. You'll have many chances to lead through class projects, social events, organizations, athletic teams and service work, where you'll get hands-on experience organizing, managing and motivating teams of people.