Facilities
History Department Facilities and Resources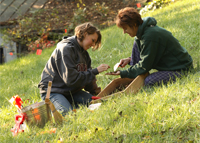 Archaeological Excavation Site
The Monterey House grounds, on the corner of Roanoke's campus, are the site of an on-going archeological excavation. The house was built around 1850 and provides an excellent opportunity for students exploring 19th-century history.
Artifact Processing Lab
This laboratory contains the necessary equipment for cleaning and processing artifacts. Students are directly involved in all aspects of the operation of the lab.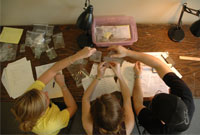 History Resources at Roanoke's Fintel Library
Roanoke's library contains resources often used by history students and scholars, such as Civil War newspapers, JSTOR, Periodical Index Online, Harper's Weekly 1857-1912, Iter and many others.
Living History Lab
The College maintains a variety of period-accurate costumes, accessories and historical pieces that relate to American consumerism. The costumes are used for class demonstration, special events and during Founder's Day activities such as "Dress Up Day."
Logan Gallery
The first floor of the History Department's renovated Bank Building includes a large open space that is used for events and exhibits.
Roanoke College Archives and Henry H. Fowler Collection
The Archives is a wealth of records, including the College's records since its founding in 1842. It also contains a collection of rare books such as a fourth edition Martin Luther Bible printed in 1564-65. The Henry H. Fowler Collection comprises the papers of one of Roanoke College's most distinguished alumni from the Class of 1929, best recognized in national and international circles as President Lyndon B. Johnson's Secretary of the Treasury.
Other Local Resources:


Archives of the ELCA's (Evangelical Lutheran Church in America) Virginia Synod
Roanoke County Courthouse Records Room