Jazz & Wind Ensembles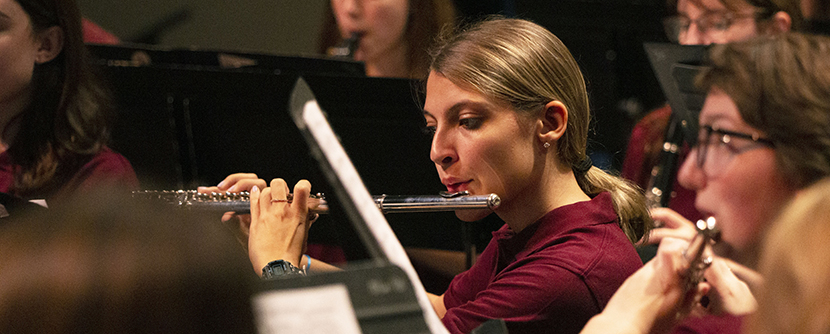 Play on!
If you play an instrument and would like to continue making music we hope you'll consider playing in the Wind Ensemble or Jazz Ensemble. These are open to any student by audition. These groups present concerts on campus in the Olin Theater, and play for campus and community events.
The Wind Ensemble brings students together to perform both the standard band repertoire as well as more contemporary works by currently active composers. These newer works for band tend to incorporate a wide range of musical styles which make the experience challenging and fun!
The Jazz Ensemble plays music from the classic big band repertoire as well as Latin, fusion and funk pieces. The Jazz Ensemble is also a great opportunity for piano, bass and guitar players to get involved in music at Roanoke!
Ryan Hunt '18
Music Major, Marketing Concentration
Ryan Hunt joined the jazz and wind ensembles to get experience that he believes will help him in his career goal to play piano professionally. The wind ensemble repertoire challenges Hunt to try new styles of music and different genres, such as jazz and improv. Hunt also worked as a photographer for the College's Public Relations Office and he was a senator with the Student Government Association.


Have some fun!
Concerts highlight both the ensembles strengths and their versatility. Past concert themes include Movie Night, Holiday Spirit, and Extravaganza.
Interested in joining us?
We have regular auditions and scholarships available — open to non-majors! Please contact Dr. Marc LaChance, by email or (540) 375-2357 for more information and visit our Music Performance Scholarships page.
School Spirit!
Come join the Pep Band!
We practice on Fridays and go to work on Saturdays performing at home basketball games. Mix it up and show your school spirit! Be a part of this dynamic group or work your way up to leadership-this is a great place to develop skills related to arranging, conducting, and event planning.
Rebecca Hudon '17
Biology Major, Chemistry & Music Minor
Rebecca Hudon, a Rhodes Scholar finalist and Phi Beta Kappa member, began playing the clarinet in middle school. When she came to Roanoke, it only felt natural to continue playing the instrument that she loved. She said the wind ensemble and music in general give her an artistic outlet. Hudon also sang with Mainstreet, a women's acapella group and volunteered with Habitat for Humanity.
Community Involvement
Roanoke College Pep Band performed in the Pink Parade and Party which raised awareness for breast cancer.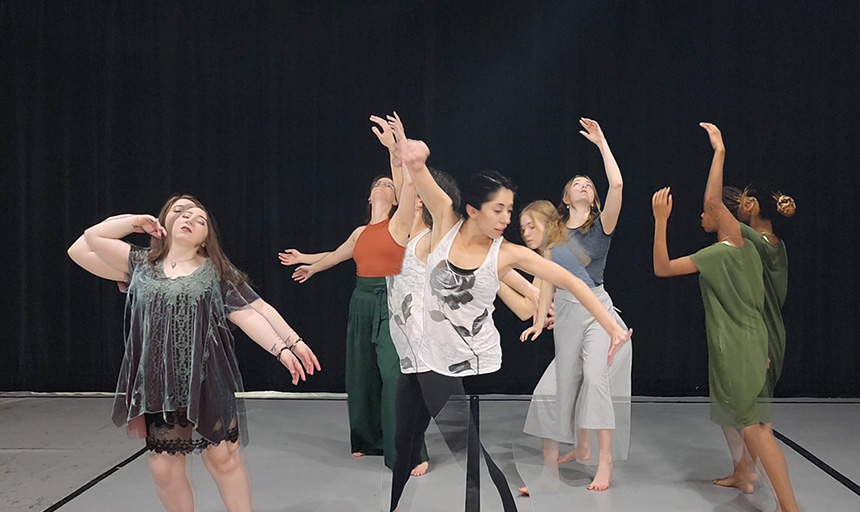 Mental Health in Motion is excited to premiere an original work inspired by the first-year seminars INQ 110: Being in a Body and INQ 110: (Dis)Ability Narratives taught respectively by Roanoke College professors Dr. Rosenthal and Dr. Milbrodt.
Date | Time: Tuesday, November 1, 2022 | 7:00 PM
Location: Ballroom, Colket Center