In Summer Orientation, you begin your journey through a series of presentations and activities, an immersive (overnight) residential experience, and other opportunities to examine who you are, what interests you, and how you'll tackle the challenges you'll face – in college and in life. You will leave here with:
a better sense of what makes you YOU;
an understanding of how you fit in and belong to our community of Maroons;
tools to tackle academic and life challenges and an ability to learn from and push past them; and
a course schedule you've helped create and are excited about.
This event is designed for fall start students. There is programming for families as well!

Please consider the information below before you register for an orientation session and book travel. Once you have selected a session, it is difficult to accomodate changes.
Choose from one of the four two-day, Overnight Sessions:
Session #1 June 20 - 21
Session #2 June 22 - 23
Session #3 June 26 - 27
Session #4 June 29 - 30
Registration:
Set Up Multifactor Authentication. Student must be present with their mobile device to complete this step.
Students register by navigating to Enrollment Tasks > Be Ready! Due June 1 > Annual Enrollment Profile and login with RC account information.
Registration is listed under section #2.
STUDENT start and end times: Plan to arrive for your student to pick up their room key and put their belongings in the room between 9 a.m. and 9:45 a.m. on Day 1 of their registered session. The Welcome will begin at 10 a.m. Students will stay busy all the way through Day 2 at 12:30 p.m.
FAMILY start and end times: Programming for families also begins at the Welcome. Day 1 lunch is provided for families. Programming on Day 1 ends by 5 p.m. with dinner on your own. Day 2 begins at 8 a.m. with optional residence hall tours, and the first session begins at 9 a.m. Day 2 ends at the same time as students, 12:30 p.m.
Fees: All lodging and meals are covered for New Maroons as they will be together as a class for their entire stay at orientation.
Attendance: If you have a conflict that will prevent you from attending, it is important that you contact us at orientation@roanoke.edu as soon as possible.
Parents, guardians, family and guests: We encourage you to attend as there is programming especially for parents, guardians, family and adult guests. However, we also understand that some cannot be away from other obligations at that time of year. Students should still attend even if their family members cannot. There are no programs for younger siblings. For parent/guardian overnight accommodations, please visit Virginia's Blue Ridge page for information about local lodging, restaurants and more.
Frequently Asked Questions
Am I at a disadvantage if I can't come to the first session? No! For many courses open to first-year students, available seats are divided evenly across the different orientation sessions.
What should I bring to the two-day overnight summer orientation?
Photo identification (driver's license, passport, etc.)
Change of clothes (sneakers, light rain jacket, athletic apparel for some activities)
Closed-toe shoes
Sleeping bag and pillow
Towel and toiletries
Book bag, water bottle, something to write on and write with
If you bring a cell phone, we ask that you keep it turned off during all orientation presentations.
What tasks do I need to complete before June 1?
What tasks do I need to complete after June? Visit Enrollment Tasks for a complete list of required and recommended tasks
Do new Maroons have to stay on campus? Yes! All students will sleep and have meals on campus. Students occupy one residence hall, sharing rooms with classmates. Many questions regarding overnight accommodations can be answered by visiting Residence Life and Housing. If you have a specific question, please call 540-375-2308.
Where will my parent(s) or family stay during orientation? For parent/guardian overnight accommodations, please visit Virginia's Blue Ridge page for information about local lodging and restaurants.
Can I bring my siblings to Orientation? Accompanied minor siblings are allowed, however there is no program for younger siblings.
How does course registration process work at orientation? Don't stress about choosing classes before orientation. We are here to help. You don't need to figure this out before coming. During orientation, you'll have a group meeting with a faculty member who will walk you through the course options and help you think about what classes you need and want. The normal load is four courses, so we'll help you make decisions about those courses. You'll be taking:
one section of first-year seminar (INQ 110 or HNRS 110),
a foreign language class (unless you place out based upon prior experience)
two courses to help you find a major or meet another requirement.
At the group meeting, you'll hear about options for our first-year seminar courses, and you'll make some choices about which seem most interesting to you. Since you will have completed your foreign language placement test before orientation, you'll learn whether you need more language courses to complete the requirement. This will let you make choices about which language to pursue. Most students haven't settled on a single major yet, so we'll also talk about how taking certain classes can help you find a major. That is a process that may take you a couple of semesters. After the group session, you'll have a one-on-one meeting with a faculty member who will help you choose specific courses based on your interests and needs.
Will I be able to see my parent(s)/family during orientation? Even though programming for students and parents is separate, you may see each other about campus. Transitioning to college comes with a lot to see, hear and think about. We encourage student and parents to take notes on all the things you learn so when you do get back together, many conversations can happen after orientation.
Is there transportation to and from the airport or train station? Transportation can be provided to and from the Roanoke Regional Airport or the Roanoke Amtrak Station if your new Maroon is traveling alone. Students can be picked up as early as 8 a.m. on the morning of Day 1 and can be dropped off at the station after 5 p.m. on Day 2. Please book travel accordingly; it may be difficult to accommodate outside of this time frame.
Transportation requests are to be send to orientation@roanoke.edu by June 1.
What happens after June orientation? Keep checking your Roanoke College email! You will be notified of additional information and opportunities regarding the housing portal, business office, and details regarding August Welcome Week orientation.
What happens in August? Opening day is August 27, 2023. Details regarding move-in process and activities will be sent to your RC email address. DO NOT FORGET TO CHECK YOUR INBOX!
What if my preferred session is closed? If a session is listed as "0 remaining," please register for another session AND email orientation@roanoke.edu to get on a waitlist if one of these sessions is your only option. Session spots will fill on a first-come, first-served basis. If spots become available, students will be contacted through their RC email.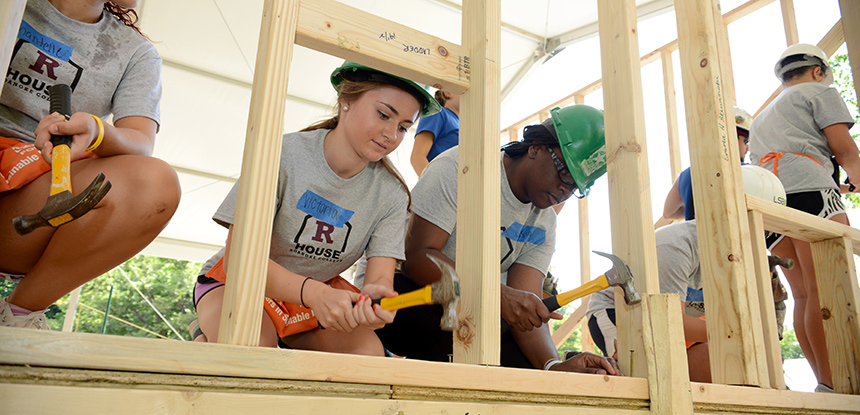 Each year, Roanoke College builds a house with Habitat for Humanity for a family in need in the Roanoke Valley. During orientation, the incoming students get to participate in building the "R House." Students receive hands-on experience in everything from raising the walls to hammering down the roof sheathing.