Roanoke is an exceptional school nestled in the center of the vibrant Roanoke Valley, which serves as the crown jewel of Southwest Virginia. So it's no surprise that many of our students come from this region and choose to commute from home. Our college has established avenues for every student, including local students, to become an essential member of the campus community. As a local student, you'll have access to most of the same amenities and conveniences as your classmates who live on campus, giving you the chance to make friends, take care of yourself, and shine in academics and extracurriculars.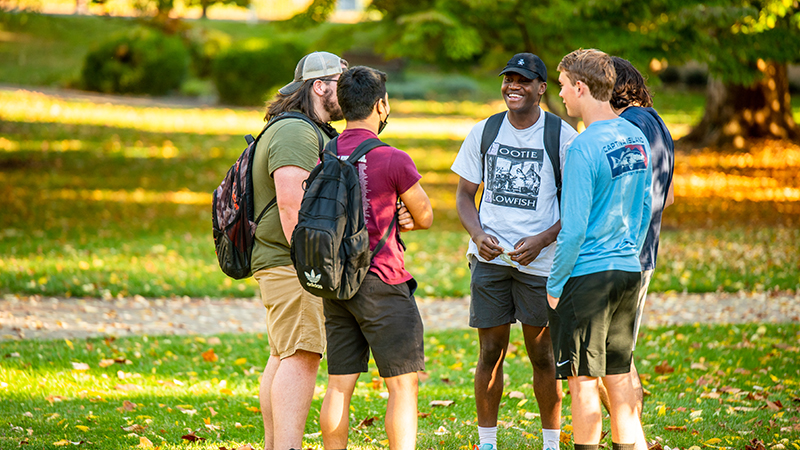 Answers to your questions
Can I live at home?
Yes, even though we encourage all students to live on campus, you can live off campus if it's within a 30-mile radius and you live with a parent.
Can I park on campus?
Yes, you can purchase a commuter parking pass.
Is there a place for me to hang out between classes?
Yes, you can go to the library or a commuter lounge. Our commuter lounge provides comfortable seating, computer stations, and access to kitchens and laundry rooms.
Do I have to have a meal plan if I live off-campus?
No, it's not required to choose a meal plan for off-campus, but students may choose any of the plans if they desire.
Can commuters take advantage of health services and counseling?
Yes, commuters have access to all health-related services, including our telehealth options.
Can commuters use the gym, go to games, etc.?
Yes, commuters have the same rights and privileges as residential students.
Around 22% of Roanoke students are commuters.
The Bridges Program is a partnership among Roanoke College, Roanoke City Public Schools, Salem City Public Schools and Roanoke County Public Schools that aims to identify aspiring teachers of color in local high schools, educate them at Roanoke College and place them back in area school divisions after graduation from Roanoke.