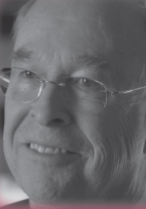 Dr. Kenneth Ross Garren was born in Augusta, Ga. and has one brother, Johnny. His father worked for Greyhound and his mother worked at Sears. Garren spent his last two years of high school at William Fleming. His introduction to Roanoke College took place during a high school track meet on the Roanoke campus. Little did he know that his two-minute jaunt around the Maroons' track would result in a 38-year journey at Roanoke that began as a student.

Garren married his high school sweetheart, Sheila Johnston, his junior year at Roanoke College. The couple tied the knot on Sept. 2, 1961. He graduated in 1962 with a Bachelor of Arts in mathematics. Following in the footsteps of his only brother, Garren was employed as an aerospace engineer at the NASA Langley Research Center, working on such notable projects as the Gemini and Apollo space programs. In addition, he served in the Army National Guard and the U.S. Army Reserve, where he achieved the distinguished rank of Colonel, Infantry, U.S. Army Reserve.

Garren also found time to acquire a master's degree in mathematics from the College of William & Mary and a PhD in mathematics from Virginia Tech. In 1967, he accepted a position at Roanoke College as a mathematics professor, leaving NASA's aerospace program for an emerging passion for teaching students.
As a mathematics professor, he motivated and inspired young adults with a genuine concern for their success. Seventeen years later, Garren moved into administration as associate dean of academic affairs and later served as the vice president and dean of the College.
At home, the Garren household would multiply over the years with the birth of Garren's three children - David, Steven, and Kristi. All would later attend Roanoke College and have the distinct honor of receiving their diploma from their father.

In 2001, after 34 years of service at Roanoke, Garren retired, but his heart would always be with the students. He decided to apply for the position of president of Lynchburg College. In 2001, Garren was inaugurated as president of Lynchburg - the 10th since the College's founding in 1903.

During his tenure at Lynchburg, he has grown enrollment and initiated and led multiple building projects. Dr. Garren serves on the Southern Association of Colleges and Schools, the City of Lynchburg Education Foundation, and the Virginia Foundation of Independent Colleges, just to name a few. He also received countless awards, such as the Silver Patrick Henry Medallion for Patriotic Achievement from the Piedmont Chapter of the Military Order of World Wars, the 2010 Humanitarian Award from the Virginia Center for Inclusive Communities, and most recently, the 2014 Mayor and Vice Mayor's Award of Excellence from the City of Lynchburg.
A Roanoke College student, professor and vice president, and a college president with unwavering dedication and passion for the betterment of students and the community - Ken Garren is a much loved husband, father, grandfather, and tireless community leader. Roanoke College is proud to present the 2014 Roanoke College Medalist Award to Dr. Kenneth Ross Garren.
Ken Garren received the Roanoke College Medal in 2014.