The Goode-Pasfield Center for Learning & Teaching
Fintel Library - 220 High Street - Salem, VA 24153

Phone 540-375-2247 - Toll Free 1-877-762-4557
E-mail clt@roanoke.edu - Fax: 540-375-2485
The Goode-Pasfield Center for Learning & Teaching provides students with a comfortable, welcoming place where they can realize their academic potential as independent and resourceful learners. The Center features programs for students at all levels of academic accomplishment.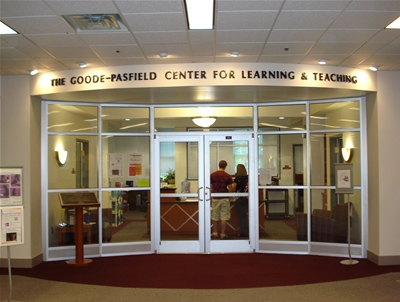 The Center for Learning & Teaching is located on the first floor of Fintel Library.
Academic Advising
Holistic advising to help you clarify your goals and values
Accessible Education Services
For students with a documented disability who seek academic accommodations
Academic Coaching
Learn from other students
Subject Tutoring
Receive help by trained peer tutors on any subject
The Writing Center
Students at all levels of competence can meet with trained peer writing tutors
Workshops and Playshops
Workshops designed to enhance study skills and promote academic success
---
Looking for the Teaching Collaborative? Click here!