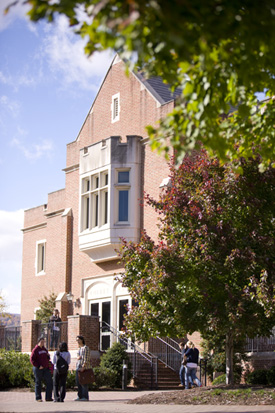 The Colket Center is the new campus center at Roanoke College, named in recognition of Mr. and Mrs. Tristram C. Colket Jr. of Paoli, Penn. Mr. and Mrs. Tristram C. Colket Jr., are the parents of Bryan Dorrance Colket '98. The family's $5 million challenge gift motivated our $5 million in additional gifts for 86 donors whose gifts were $10,000 and more. The Colket Center was a major priority of the College's capital campaign, entitled "The Difference." The $12 million Colket Center is the largest building project in Roanoke College's 158-year history.
The dining area was named Sutton Commons in honor of Donald M. Sutton who served as a staff member at the College from 1956 to 1983. Inside the Colket Center, several major donors chose to honor Roanoke College staff who had been meaningful in their lives. The Mamie Patterson Conference Room is named for a retired professor of Spanish. Another meeting room is named for Fran Ramser and Jean Beamer, who are retired from the physical education department.
The building project began in May 1999 immediately after graduation. The challenge for the contractors, architects and college community was to complete the building on the same site as the previous Sutton Student Center while providing meals and dining space to students during the academic year.
The Colket Center and Sutton Commons boasts 60,000 square feet-an expansion from the 40,000 square feet in the previous campus center.
It is located in the Back Quad, in an informal setting. It is a place for campus and community wide gatherings. The Colket Center opens up to High Street, affording impressive collegiate views into the campus from High Street. The panoramic view of the athletic fields is completed by a view of the mountains to the north.
The Colket Center draws students from all across campus for meals, postal needs, books, and meetings. The atrium opens the floors of the center to one another, giving students immediate access and understanding of the activities upon entry. A student at the main floor can see other students gathering below for an event or people gathering upstairs for a lecture in the Ballroom. This three-dimensional quality adds to the vibrancy of the site.
The Sutton Commons expanded seating capacity from 388 to 530 seats to meet the long-term increase in student enrollment.
The Colket Center provides expanded meeting space for student groups, study groups, SGA offices and other programs functions.
The larger, brighter Roanoke College Bookstore and post office are in the lower level of the new center.
Entertainment facilities, such as a television lounge, a game room, and a snack bar offer informal gathering and a location for student social events.
WRKE (college radio station) has a studio in the first floor of the Colket Center.