International Student Engagement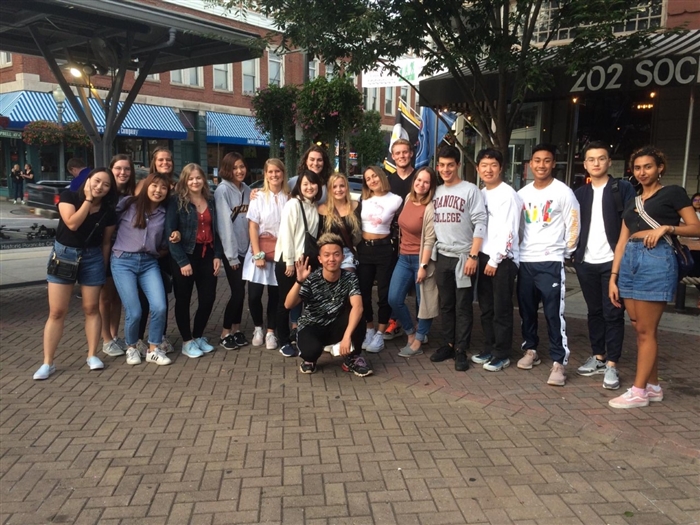 At Roanoke there are many opportunities for students to get involved, share their cultures, connect with the local community, and become friends with U.S. students as well as other students from around the world.
Global Engagement Mentor-Mentee (GEMM)
The Global Engagement Mentor-Mentee program is designed specifically for new or continuing international students who are interested in developing strategies for dealing with both personal and academic issues, identifying goals, and establishing a sense of direction in your Roanoke College journey.
Both mentors and mentees benefit from this program by increasing your social and academic confidence which will help build your character, gain self-awareness, challenge you, and help maximize your potential.
Are you wondering if you would be a good mentor?
A good mentor is someone who is:
dependable and reliable
welcoming and
open to meeting new people and learning about new cultures
Additionally, you don't have to be a social butterfly or an "extrovert" to be a good mentor!
If you think you would like to be a part of GEMM or if you have any questions you can contact Sarah at lupton@roanoke.edu
I really hope you will take advantage of this great opportunity.
Student Clubs

Over 100 student clubs and organizations, including academic, arts, athletic, leadership, media, multicultural, political, service, and social groups, are open to all Roanoke College students. Among them is the International Club, which has international and U.S. student members. The club sponsors social cultural events, day trips such as hikes and visits to nearby historical sites, and weekend trips to Washington, DC and Charleston, SC. The International Club is always looking for student leaders to join! For more information, contact Sarah Lupton at lupton@roanoke.edu
International Education Week
A national celebration of international education and understanding through cultural exchange occurs every November across the U.S. at colleges and universities. This joint initiative between the Department of State and the Department of Education is celebrated at Roanoke College through photography, music, food, films, and student presentations.
International Festival
As the culmination of International Education Week, Roanoke College presents the International Festival, featuring the sights, sounds, and tastes of countries around the world. Hundreds of people attend to see the display tables hosted by students, faculty, and staff representing our many countries and to enjoy international music, dance, and refreshments.
Friendship Family Program
Through the Friendship Family Program, new international students have an opportunity to get to know a local American family who help students when they first arrive, invite them to community events, and share holiday meals with them. These local families become an important "home away from home" for our international students.
The Office of International Education is seeking more Friendship Families for our international students.
Help welcome students from around the world by:
Sharing a special holiday meal with them
Inviting them to local cultural or community events
Taking them out to your favorite local restaurant
Attending a campus event with them
Being extra support for them when they are homesick
Global Engagement Fellows/Study Abroad Student Emissary (SAS-E)
SAS-Es serve as returnee contacts for their host program and represent RC study abroad at campus-wide events, programs for new study abroad participants, and promotional outreach activities.