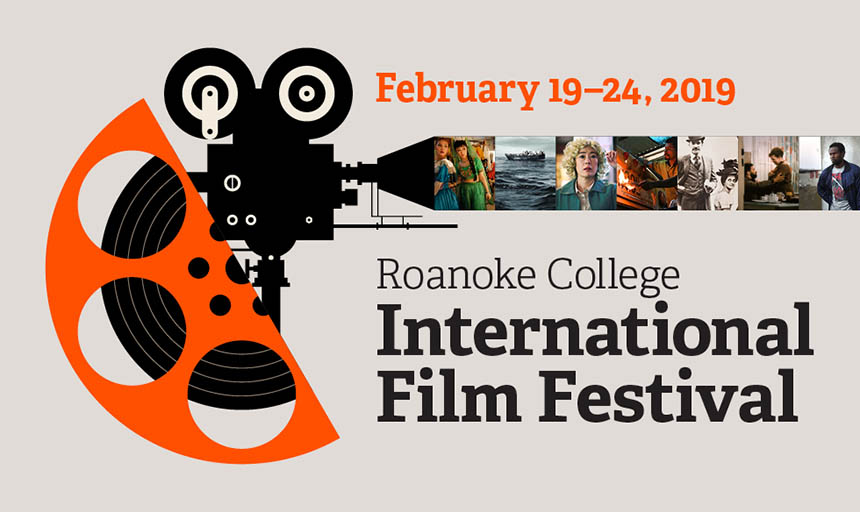 Inaugural Roanoke College Film Festival
Contact: Liz Groff, groff@roanoke.edu
With the enthusiastic support of Roanoke College professors and film specialists, the Department of Modern Languages at Roanoke College has organized an International Film Festival in order to promote international cinema within the larger Salem and Roanoke communities and also at the College. We will be showing seven films which represent the seven foreign languages offered at Roanoke College February 19-24, 2019 and will hold screenings at the Grandin Theater and the Taubman Museum.
Each screening will be followed by a panel-led discussion. Please visit the festival website for more information on the films.
Van transportation will be available to the off-campus screenings at Grandin Theater (Wednesdays) and the Taubman (Sunday). The van will leave Bast parking lot on Wednesday at 4:15 p.m. and Sunday at 1:15 p.m.
Detailed Film descriptions and synopsis.
The World (2004, Jia Zhangke, Chinese) Tuesday, Feb. 19, 6:00pm, Antrim Chapel

Discussion Panel Participant: Dr. Stella Xu (History)
At the Beijing World Park, a theme park that displays small versions of famous world monuments, one of the performers, Tao (Zhao Tao), is dating a guard named Taisheng (Taisheng Chen). However, they have a difficult bond, full of jealousy and miscommunication. While Tao forms friendships with other performers, Taisheng develops a fascination with Qun (Yi-qun Wang), a woman trying to join her husband in France. Despite their differences, Tao and Taisheng attempt to continue their relationship.
Fire at Sea (Fuocoamare, 2016, Gianfranco Rosi) Wednesday, Feb. 20, 5:00pm, Grandin Theater, 1310 Grandin Rd SW, Roanoke

Discussion Panel Participants: Prof. Giuliana Chapman (Italian); Dr. Josh Alvizu (German)
Winner of the Golden Bear for Best Film at the Berlin Film Festival 2016, Gianfranco Rosi's incisive, poignant and deeply moving portrait of the Mediterranean island of Lampedusa – and the humanitarian crisis occurring in the seas around it – is both a masterly work of documentary filmmaking and a timely call for urgent action. Situated 150 miles south of Sicily, Lampedusa has hit headlines as the first port of call for hundreds of thousands of African and Middle Eastern refugees hoping to make a new life in Europe. After spending months living on the island and engaging with its inhabitants, Rosi accumulated an incredible array of footage, portraying the history, culture and daily lives of the islanders. Focusing on 12-year-old Samuele, as he explores the land and attempts to gain mastery of the sea, the film slowly builds a breathtakingly naturalistic portrait of the Lampedusan people and the events that surround them. The result is a lyrical, poetic and searingly powerful documentary that casts neither judgment nor aspersions, but simply shows the world to the viewer – to utterly devastating effect. (website)
Oh Lucy! (2017, Atsuko Hirayanagi) Thursday, Feb. 21, 7:00pm, Wortmann Ballroom, Colket Center

Discussion Panel Participant: Dr. Soon Khoo (Screen Studies)
OH LUCY! follows Setsuko (Shinobu Terajima in an Independent Spirit Award-nominated performance), a single, emotionally unfulfilled woman, seemingly stuck with a drab, meaningless life in Tokyo. At least until she's convinced by her niece, Mika (Shioli Kutsuna, Deadpool 2), to enroll in an unorthodox English class that requires her to wear a blonde wig and take on an American alter ego named "Lucy." The new identity awakens something dormant in Setsuko, and she quickly develops romantic feelings for her American instructor, John (Josh Hartnett, Showtime's "Penny Dreadful"). When John suddenly disappears from class, Setsuko travels halfway around the world in search of him, and in the outskirts of Southern California, family ties and past lives are tested as she struggles to preserve the dream and promise of "Lucy."
La Camioneta (2012, Mark Kendall) Friday, Feb. 22, 7:00pm, Antrim Chapel

Discussion Panel Participants: Dr. José Banuelos Montes (Spanish); Dr. Charlene Kalinoski (Spanish)
Every day dozens of decommissioned school buses leave the United States on a southward migration that carries them to Guatemala, where they are repaired, repainted, and resurrected as the brightly-colored camionetas that bring the vast majority of Guatemalans to work each day. Since 2006, nearly 1,000 camioneta drivers and fare-collectors have been murdered for either refusing or being unable to pay the extortion money demanded by local Guatemalan gangs. LA CAMIONETA follows one such bus on its transformative journey: a journey between North and South, between life and death, and through an unfolding collection of moments, people, and places that serve to quietly remind us of the interconnected worlds in which we live.
Hester Street (1975, Joan Micklin Silver) Saturday, Feb. 23, 2:00pm, Antrim Chapel

Discussion Panel Participants: Dr. Annie Berke (Film Studies, Hollins); Dr. Zachary Ingle (Screen Studies); Dr. Josh Alvizu (German); Les Epstein (Chair, Department of Theater Community High School of Arts & Academics)
It's 1896. Yankel Bogovnik, a Russian Jew, emigrated to the United States three years earlier and has settled where many of his background have, namely on Hester Street on the Lower East Side of New York City. He has assimilated to American life, having learned English, anglicized his name to Jake, and shaved off his beard. He is working at a $12/week job as a seamster, the money earned to be able to bring his wife Gitl and his son Yossele to America from Russia. Regardless, he has fallen in love with another woman, a dancer named Mamie Fein. Nonetheless, he is excited when he learns that Gitl and Yossele are indeed coming to America. His happiness at their arrival is dampened when he sees that Gitl is not "American" looking like Mamie and has troubles assimilating as quickly as he would like. Except to Mamie, he tries to show a public façade that everything is fine at home with Gitl. But can their marriage survive these differences, and if not, will Gitl be able to manage in this new land where she has few supports?- Huggo
Ali: Fear Eats the Soul (1974, Rainer Werner Fassbiner) Saturday, Feb. 23, 7:00pm Wortmann Ballroom, Colket Center

Discussion Panel Participants: Dr. Josh Alvizu (German); Dr. Zachary Ingle (Screen Studies)
The wildly prolific German filmmaker Rainer Werner Fassbinder paid homage to his cinematic hero Douglas Sirk with this update of that filmmaker's 1955 All That Heaven Allows. A lonely widow (Brigitte Mira) meets a much younger Arab worker (El Hedi ben Salem) in a bar during a rainstorm. They fall in love, to their own surprise—and to the outright shock of their families, colleagues, and drinking buddies. In Ali: Fear Eats the Soul, Fassbinder expertly wields the emotional power of classic Hollywood melodrama to expose the racial tensions underlying contemporary German culture (Criterion).
Hope (2014, Boris Lojkine) Sunday, Feb. 24, 2:00pm, Taubman Museum, 110 Salem Ave SE, RoanokeDiscussion Panel Participant: Dr. Liz Groff (French)
Deep in the Sahara desert, as they try to get to Europe, Leonard, a young man from Cameroon, rescues Hope, a Nigerian woman. In a fiercely hostile world where safety requires staying with one's own people, these two try to find their way together, and to love each other.
Share
02/19/2019 12:00 AM
02/24/2019 11:59 PM
America/New_York
Inaugural Roanoke College Film Festival
Seven films representing the seven foreign languages offered at Roanoke College will be shown on campus and at locally at the Grandin Theater and the Taubman Museum.
Roanoke College
Liz Groff, groff@roanoke.edu
true
MM/DD/YYYY
Add to Calendar