Comprehending King: Black History Month at Roanoke College 
On Jan. 18, 2021, Roanoke College joined in the national observance of the birth and legacy of the Rev. Dr. Martin Luther King Jr., a man whose name has become synonymous with engendering change through nonviolent means.
This celebration continues throughout February, the month nationally designated to recognize the role of Black Americans in U.S. history. College events and programs will include a keynote speaker, service learning activities, panel discussions, and more.
A focal point of these activities will be a quote that appears in Dr. King's 1958 book "Stride toward Freedom: The Montgomery Story:" "We adopt the means of nonviolence because our end is a community at peace with itself."
Information about Black History Month events will be shared throughout the month in this space. Below is a list of currently scheduled events and activities. More are in the planning stages and will be added once firm details are available. Please check back for regular updates.
Sponsors:  Office of Multicultural Affairs; Academic Affairs and Student Engagement; International Education; the Center for Spiritual Life and Campus Ministry; Center for Civic Engagement; Residence Life & Housing; Student Activities & Colket Center; Roanoke College Admissions; Religion and Philosophy Department, and Peace and Justice Concentration; Department of Sociology and Public Health; Department of History; the Center for Studying Structures of Race; Fintel Library; Department of Modern Languages; Community Programs; Dining Services; Office of Marketing and Communications; Department of Education; Department of Psychology; Department of Public Affairs; Department of Environmental Studies.
#RCBHM2021
Black History Month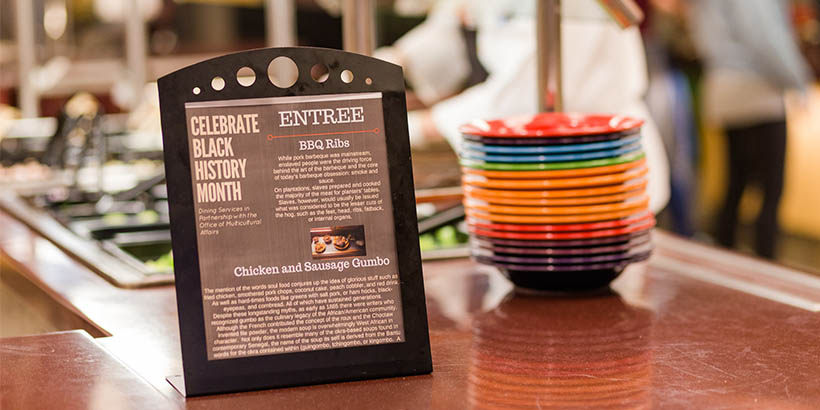 Commons paid tribute to Black History Month in 2019 by featuring traditional African American cuisine.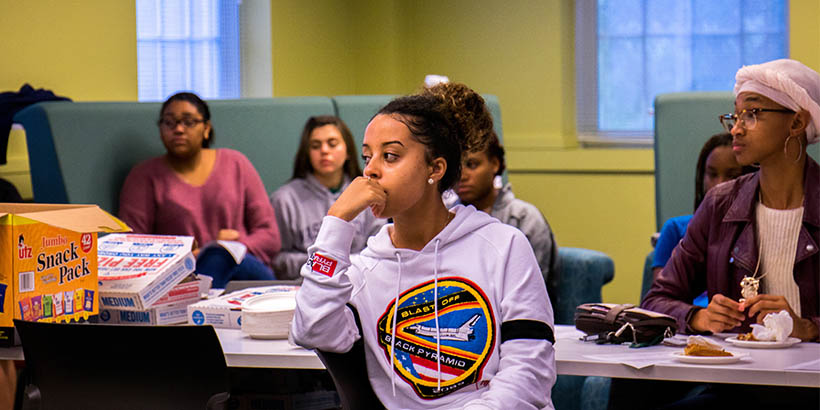 Diversity Dine-In at Fintel Library on Feb. 14, 2019. Topic: "Black Faces in White Spaces."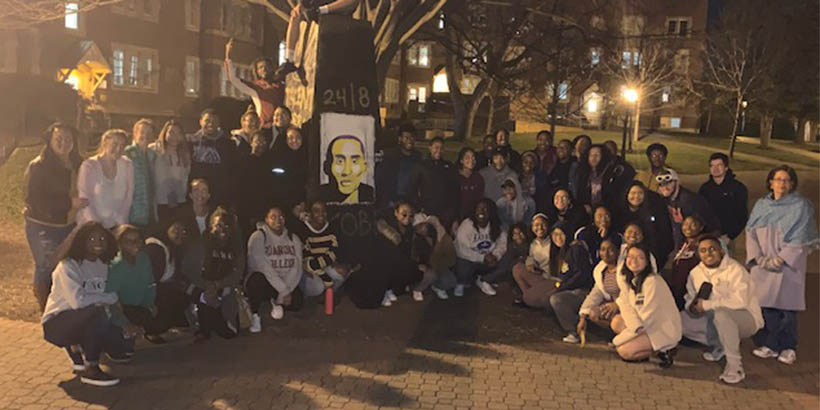 Students gather on Feb. 23, 2020 at The Rock, painted in remembrance of NBA great Kobe Bryant.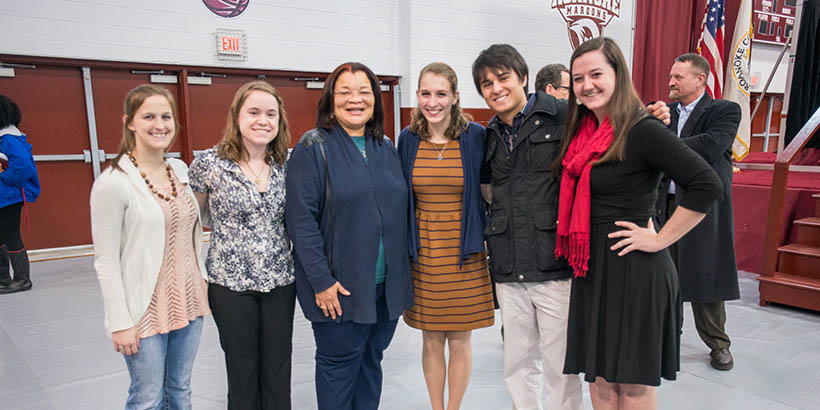 Alveda King, civil rights activist, former member of the Georgia House of Representatives and niece of Dr. Martin Luther King Jr., poses with students after speaking at Roanoke College on Feb. 10, 2014.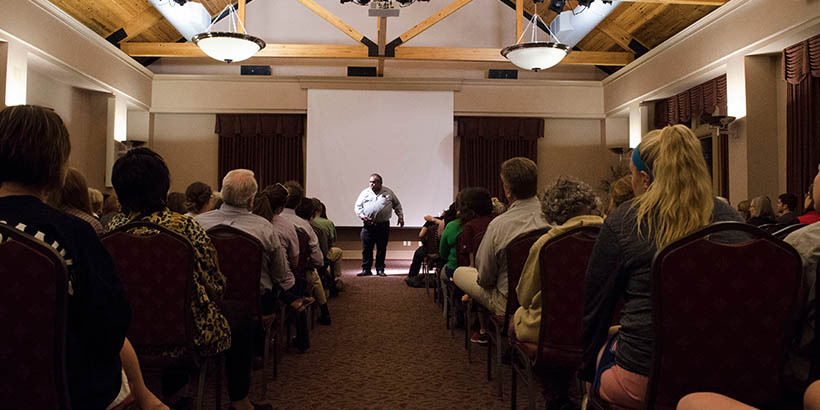 Daryl Davis, author of "Klan-destine Relationships: A Black Man's Odyssey in the Ku Klux Klan," spoke at Roanoke College on Feb. 22, 2018.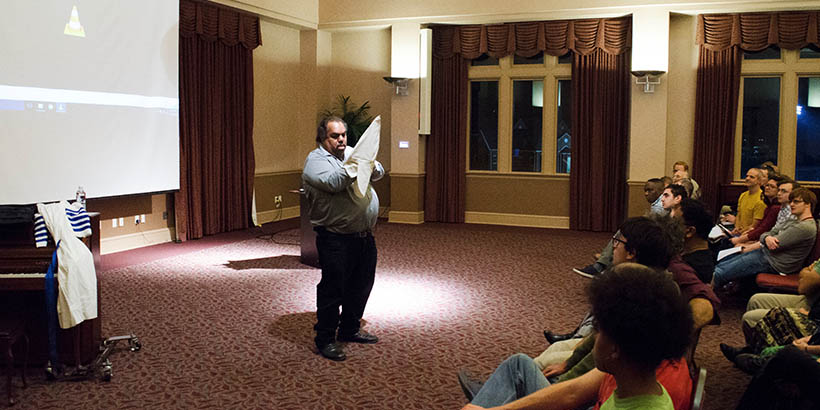 Daryl Davis, author of "Klan-destine Relationships: A Black Man's Odyssey in the Ku Klux Klan," displays a Klan hood during his presentation at Roanoke College on Feb. 22, 2018.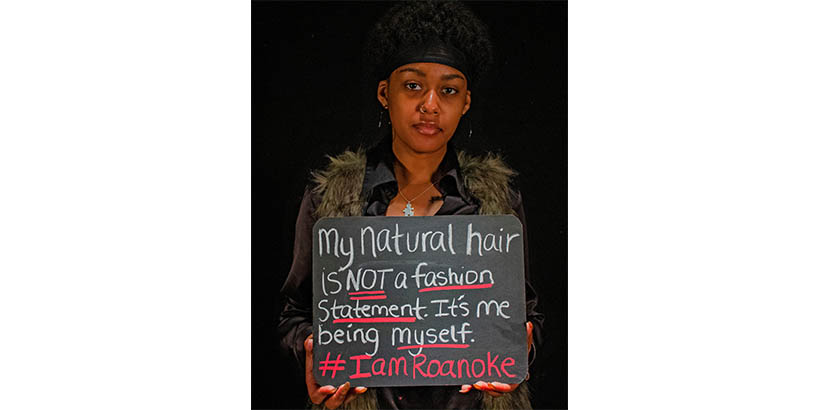 On Feb. 19, 2019, students took part of a #IAmRoanoke campaign, an initiative highlighting the faces and voices of underrepresented students.