Maroon Momentum 175
175 years.
Amazing that in that very wide swath of time, a Lutheran school for boys that started in a humble cabin now fills acres in Salem with beautiful spaces for learning, research, wellness and community.
Today Roanoke College is a place where students learn from an innovative core curriculum and specialize in majors that allow for depth of study and research. It is a place where virtually all students participate in internships, creative projects, research, community service or study away.
Without question, Roanoke College has evolved. But evolution has not come at the sacrifice of ideals we cherish. Individual students matter here. Classes remain small, for instance, fostering an environment in which professors know their students, and can mentor and encourage them.
One of the longstanding truths about Roanoke College is that the Roanoke Experience (faculty+classroom+campus+community) equals more than most students might have dreamed for themselves. I know students who come to Roanoke with a clear path in mind and wind up graduating further along that path than they dreamed possible. Others find themselves at Roanoke and gain the well-founded confidence to influence the world in positive ways.
Exceeding expectations has also happened with the College. Committed men and women have contributed their work, their time and their treasure to see Roanoke College grow and accomplish more than the years before.
Now, as we look to our 175th anniversary, we celebrate where that Maroon Momentum led us.
We have made enormous progress in those 175 years. We celebrate what has been accomplished. We anticipate with excitement what lies ahead for our College.
Go Maroons!
-- Michael Creed Maxey
Roanoke's 11th President
Then & Now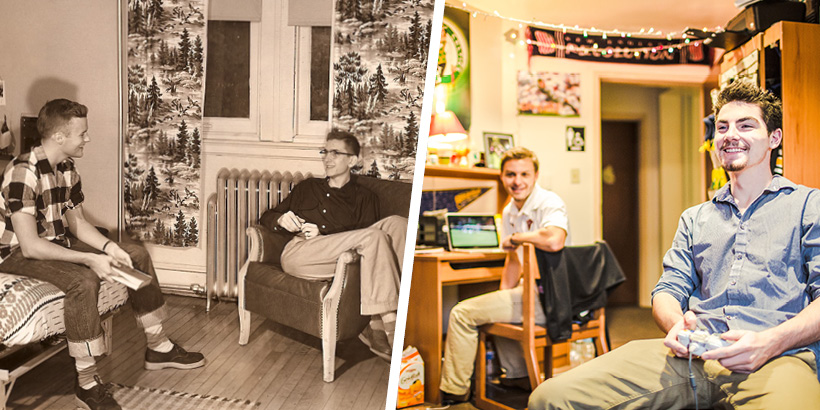 Dorm life in Sections during the 1950s. Dorm life today, in the Market Street Complex.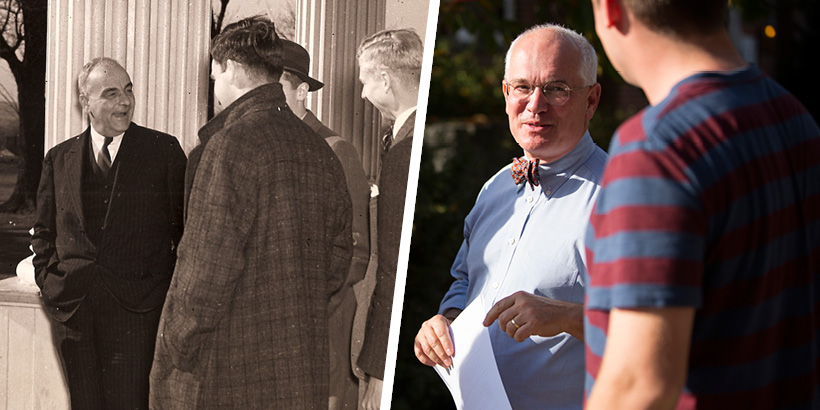 President Charles J. Smith with students in the early 1940s. The tradition of a College leader who connects personally with students continues with President Michael C. Maxey.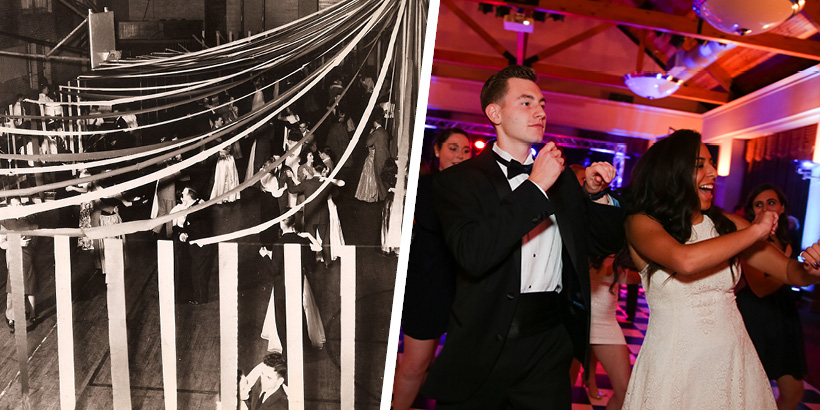 A dance in Alumni Gym, circa 1940s. The President's Ball 2016.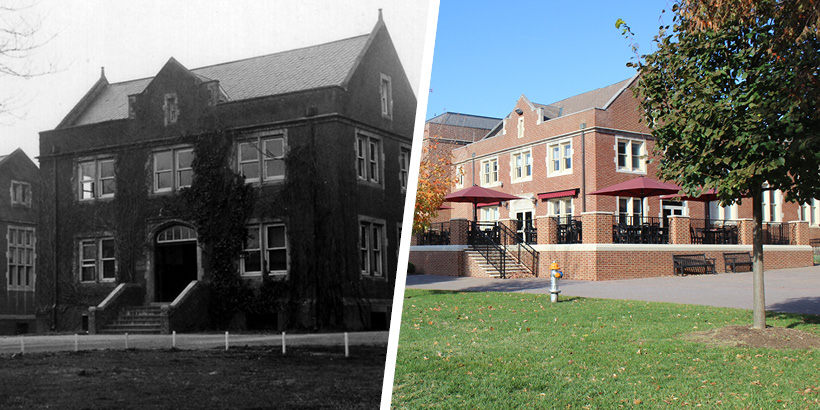 The Commons and Lab-Theatre, likely in 1930s. The two were officially joined in 1962, creating additional space in the dining hall and the Cavern.
The Colket Center, renamed such after a $12 million renovation that began in 1999. In 2015, the Sutton Pation, seen in the foreground, was added.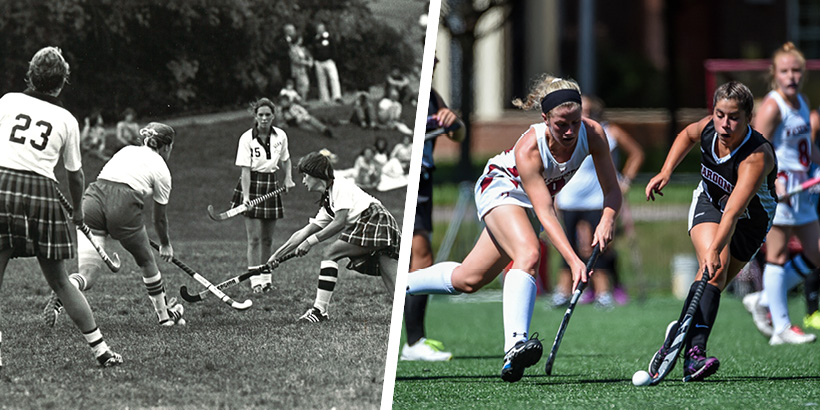 Field hockey in the 1980s. A September 4, 2016 win against Washington College.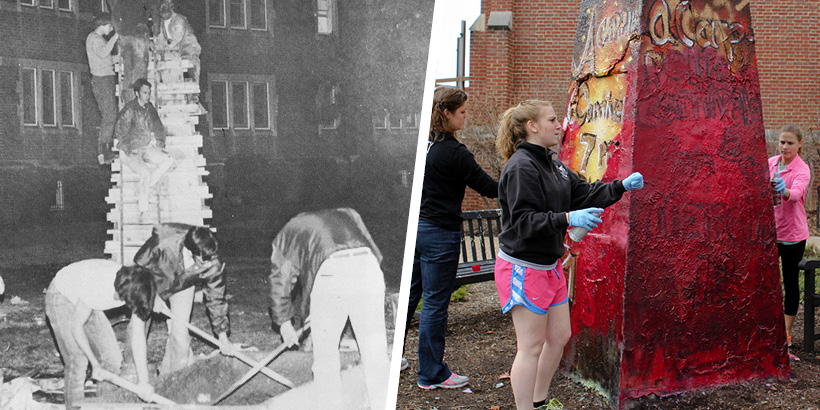 Construction of the Monument, a 10-foot-tall concrete pylon, in 1970. Students today, painting waht is now known as "The Rock."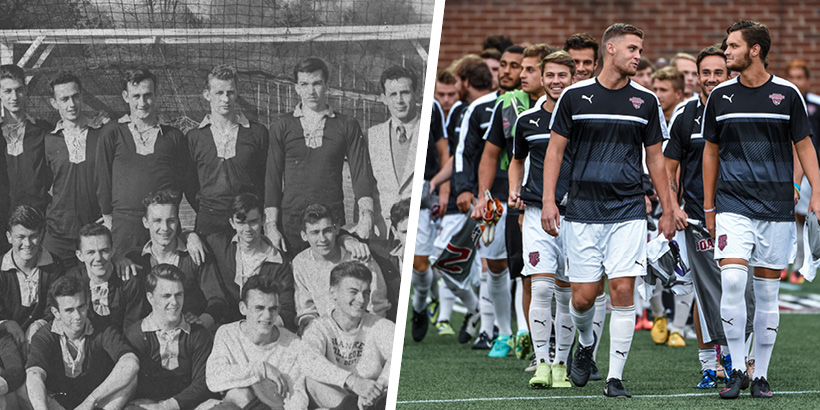 Men's Soccer team in the late 1940s/early 1950s. Men's Soccer team at a September 2016 match against Messiah College.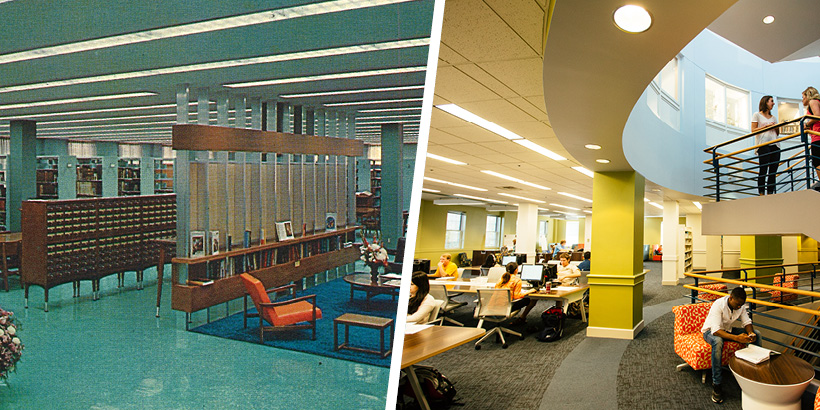 The interior of the College library in 1962. The main floor of Fintel Library after a sprucing-up in 2014.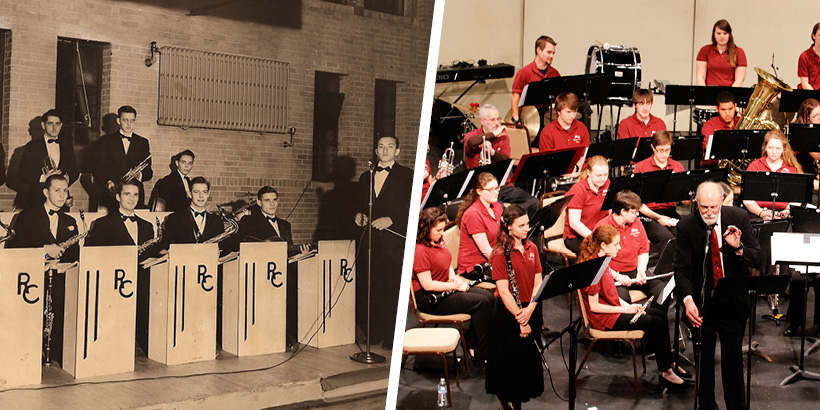 The Collegians Orchestra, 1941. The Jazz & Wind Ensemble Joint Concert in March 2016.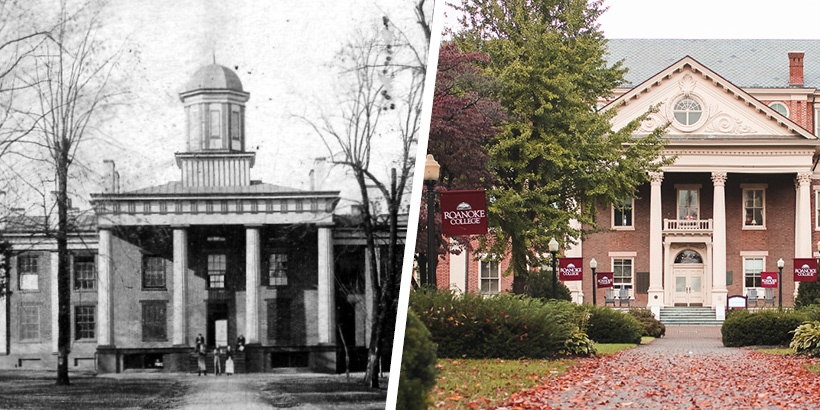 The Administration Building as the new century approached (circa 1890s). The Administration Building today, with Heritage Walk in place.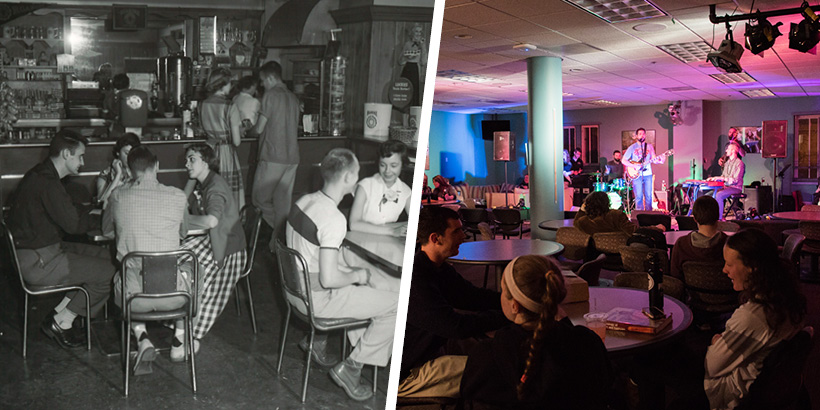 The Cavern, when it opened in the fall of 1947. The Cavern today, during a Wednesday Night Live performance.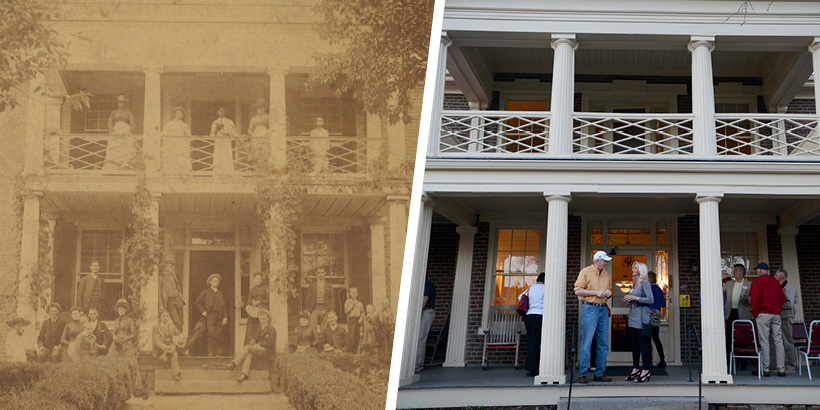 The front porch of Monterey House in 1898. 40th Reunion attendees gather on the Monterey front porch during the 2015 Alumni Weekend.
175th anniversary events
On Aug. 28, 2017, the Quantico Marine Corps Band will perform in honor of the College's 175th anniversary as a kick-off to the new academic year. The band, one of nine Marine Corps bands, will play popular patriotic with unexpected featured pieces that will surprise even the youngest audience members.
Date | Time: Monday, August 28, 2017 | 7:00 PM
Location: Roanoke College, Morris M. Cregger Center, Arena
The Elderscholar Program is a five-week lunch and lecture series for adults 55 and older, featuring, Roanoke College faculty and guests speaking on areas of their expertise. Following each lecture, there will be a time for questions and answers. Lunch in the Sutton Commons follows.
Date | Time: Thursday, September 28, 2017 | 12:00 PM
Location: Roanoke College, Colket Center, Ballroom
Mark your calendars - you don't want to miss this annual event! All Roanoke College Faculty, Staff and Students are invited to join together with President and Mrs. Maxey for a semi-formal evening with friends, food and fun.
Date | Time: Saturday, November 11, 2017 | 8:00 PM
Location: Roanoke College Colket Center and Sutton Commons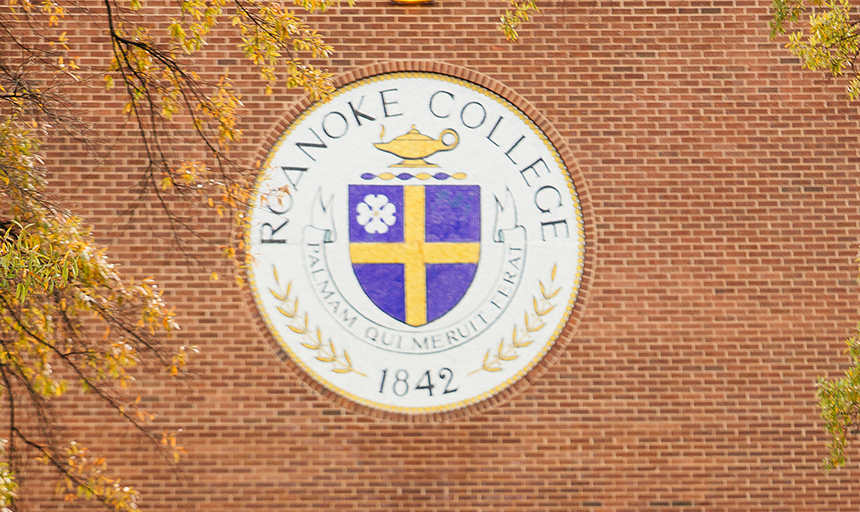 Roanoke College Seal
The seal of Roanoke College shows a blue shield emblazoned with a gold cross, representing Roanoke College's relationship with the Lutheran Church; the cross symbolizes the Christian values inherent in our culture. The lamp above the shield symbolizes the lamp of knowledge. On the shield is a white dogwood flower, symbolizing the Commonwealth of Virginia. The motto on the ribbon beneath the shield honors academic achievement and reads "PALMAM QUI MERUIT FERAT," translated to mean, "Let him who earns the palm wear it." The palm is symbolic of the palm leaf given in honor of excellence in ancient Greece.