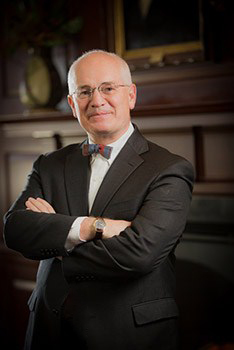 As Roanoke College's 11th president, Michael C. Maxey focused on student learning and success, the campus quality of life and advancing Roanoke's dramatic progress. He was committed to a close relationship between the College, its students and the local community for the betterment of all.
Maxey was elected president by a unanimous Board of Trustees vote in 2007, having already served 22 years at the College in many capacities. He retired in 2022.
When asked what he is most proud of at Roanoke, Maxey said, "Roanoke offers a high-quality educational experience, but people at Roanoke dream about and act to improve what happens for students here. It has been satisfying and delightful to work for a place that never rests on its laurels but strives to achieve new heights for what can happen for students here. I am especially proud of the unique approach Roanoke has for liberal learning, its rigorous majors, and the personal interest our faculty and staff take in student success."
"Roanoke develops students holistically. We prepare students for responsible lives of learning, service and leadership. Students develop skills to understand and engage in the world as informed citizens. The strength and depth of our academic majors give students opportunities to feed their passions and further develop their skills."'
Maxey is a strong advocate for liberal arts colleges, contending that the skills learned through the intellectual and leadership opportunities there serve our democracy by preparing outstanding citizens.
On the national level, Maxey is active with numerous educational organizations. He serves as chairperson of the Lutheran Educational Conference of North America (LECNA) and on the executive committee of Council of Presidents of the Evangelical Lutheran Church in America (ELCA). He is past chairman of the network of ELCA colleges and universities. President Maxey is a member of the Board of Directors of the Educational and Institutional Insurance Administrators (EIIA) and the Board of Trustees of the Southern Association of Colleges and Schools Commission on Colleges (SACSCOC). He also is a past chair of the President's Committee of the Old Dominion Athletic Conference.
At the local level, Maxey served as chair and vice chair while on the United Way of Roanoke Valley Board of Directors. He also serves on the Board of Directors of the Business Council of the Roanoke-Blacksburg Region and the Roanoke Regional Chamber of Commerce Board of Directors. Maxey was named Citizen of the Year by the Salem-Roanoke County Chamber of Commerce in 2007 and has twice been named a Paul Harris Fellow by the Salem Rotary Club. He also served as past Board of Directors chair of Salem Historical Society. Maxey is a member of College Lutheran Church in Salem.
President Maxey is a native of Bassett, Virginia. His higher education began at Wake Forest University, where he earned a Bachelor of Arts in history and master's degree in counselor education. Later, he earned a certificate of advanced graduate study at the University of New Hampshire, and attended the Institute of Education Management at Harvard University. Maxey, a student of history, counseling and conflict resolution, received an honorary Doctor of Divinity from Lutheran Theological Southern Seminary in Columbia, South Carolina.
Maxey and his wife, Terri, have three sons: Michael, Stuart and Jack. Terri Maxey, who has worked in admissions and financial aid at four colleges, including Roanoke, shares a passion for Roanoke College and is dedicated to serving the students, faculty, staff and alumni through her active work at Roanoke.
Maxey began his presidency by declaring "I believe in Roanoke College" in an address to faculty and staff. As president, he expresses that belief through his leadership and vision for Roanoke. He is often found on campus speaking with students, faculty and staff. Those interactions nourish his belief in what Roanoke College does to benefit students and society.
Updated July 2022
Articles by President Maxey
See articles and videos from President Maxey's retirement celebrations.
"I am confident there are more Abraham Lincolns growing up today. Creating for them a path to upward mobility - a ladder on which they can climb - requires good educational experiences from early childhood schooling through post-secondary learning. It requires high expectations for achievement. It also requires scholarship support and great programs to make the path to upward mobility accessible."
Roanoke Times
February 1, 2015
"We implore you to get involved. Speak your minds. Put your beautiful brains and talent for getting things done to work in our community. We could be so much more than we are."
Roanoke Times
March 19, 2017
"Many students from other parts of Virginia and the United States remain here after graduating. Higher education is part of the brain gain in that these institutions attract and retain educated talent to the region."
Roanoke Times
December 22, 2014