Sabrine U. O'Hara - 2004 to 2007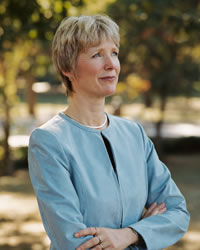 When Dr. Sabine U. O'Hara began her term at Roanoke College in August of 2004, she found a college experiencing a period of growth. Earlier in the year, it had installed a chapter of the Phi Beta Kappa Society, the nation's oldest and most prestigious academic honor society with chapters then at only 270 colleges in the country. Roanoke also was ranked among the nation's best liberal arts colleges by U.S. News & World Report; its enrollment had reached a new record of 1,900 students, and on top of that, the College had completed its 49th year in a row with a balanced operating budget - a remarkable achievement in higher education.

O'Hara, who was the 10th president at the then 162-year-old College and the first who was a woman, was determined to build on the College's growth. Early in her administration, she led a strategic planning process that identified goals for the College and then started putting them into action. As a result, Roanoke refined its focus to concentrate more on integrative learning, established new learning goals and started exploring ways to strengthen students' first-year experience. The College also created an Undergraduate Research Assistant Program, began several construction projects, completed successful fundraising initiatives and laid the groundwork for the next capital campaign.
Among the most visible changes completed during O'Hara's tenure were those dealing with campus buildings. The College constructed four new residence halls, which were actually the first new student housing built on campus since 1968. Roanoke also renovated two academic buildings and completed the Donald J. Kerr Stadium, which has an artificial turf field and seating for more than 1,000.
O'Hara, who was born and educated in Germany, was known for her expertise in sustainable economic development and global education. Also during her time on campus, Roanoke established the Goode-Pasfield Center for Learning & Teaching, offering support services to students, and created the Joanne Leonhardt Cassullo Professorship in Art History.
After completing almost three years leading the College, O'Hara announced that she had accomplished her key objectives and was ready to move on. The campus was indeed stronger and had set goals to continue moving forward on its path toward a successful future. In May 2007 at her last Roanoke College commencement, O'Hara handed diplomas to 410 graduating seniors - the College's largest class ever. Likewise, the Admissions office had recently set records for both the number of applications received for the following fall and the number of incoming freshman. And, as before, Roanoke College continued its consecutive streak of balanced financial operations - at this point extending it to 52 years.