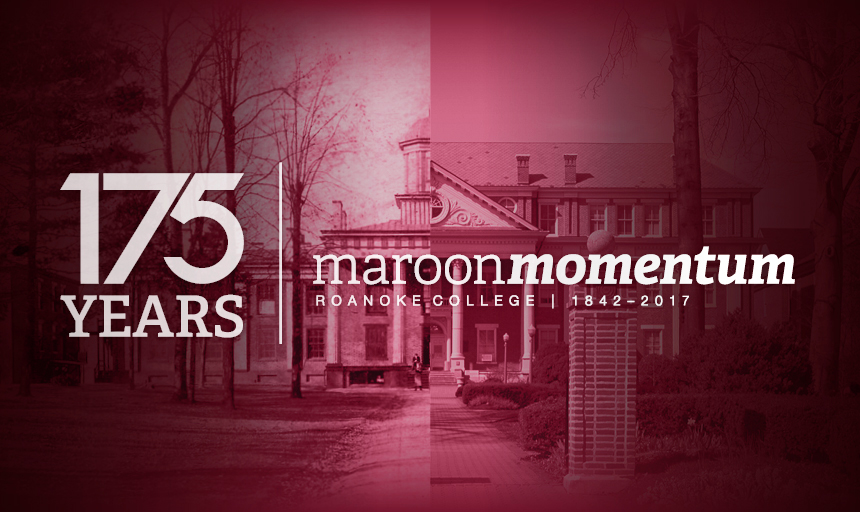 1.13.2017
By Roanoke College News
Roanoke marks important anniversaries in 2017
Roanoke College kicks off a year of celebration in 2017. This year marks two anniversaries important to the College: the 175th anniversary of the College's founding and the 500th anniversary of the Lutheran Reformation.

Maroon Momentum 175
The theme of the 175th anniversary celebration is Maroon Momentum. Throughout the year, Roanoke will celebrate its history as well as the incredible progress the College has made, particularly that of the past 25 years.
The first 175th event will be the campus kickoff at Maroon Madness on Jan. 25 in the Cregger Center. Roanoke College Athletics and Student Government Association (SGA) will sponsor the annual event during a men's and women's basketball doubleheader.
At 5 p.m., Roanoke women will face Hollins University, also celebrating its 175th anniversary this year. The men's game against Emory & Henry follows at 7 p.m. The event will feature free food, T-shirts, giveaways and much more. Between games, there will be a special performance by Steve Max, a full-time professional "Simon Sez" (Simon Says) caller. Known nationally for his appearances on TV and at NBA and NCAA basketball halftimes, Max has taken this classic kids' game to a whole new level! Stay tuned for more details next week.
Reformation 500
As the second oldest Lutheran college in the United States, Roanoke College is also part of this year's worldwide celebration of the 500th anniversary of the Reformation. Observances marking the posting of the 95 Theses by Martin Luther in 1517 will be ecumenical and forward-looking as we seek to learn from Catholic, Pentecostal, Orthodox, Reformed, Evangelical, Jewish and secular perspectives. A variety of free public lectures will be held throughout the year. The first is Thursday, Jan. 19, featuring Dr. Richard Lischer of Duke Divinity School, who will present "The 'Martin Luther' in Martin Luther King, Jr."
Many more events and activities will be scheduled in the spring and fall semesters to celebrate these important milestones. Watch the web calendar for additional events.
Roanoke magazine
The current issue of Roanoke magazine features the 175th anniversary, with vignettes on the progress Roanoke has made since its 150th anniversary in 1992. An upcoming issue of the magazine will examine the Reformation's impact on the College's movement into the future.
Maroon Spotlight
Roanoke College has created "Maroon Spotlight," a way to recognize and honor members of the College community who have made a significant impact in areas such as the sciences, military, education, religion, government service, innovations and more. Consider nominating an alumnus or alumna for this honor. Find out more at Maroon Spotlight.