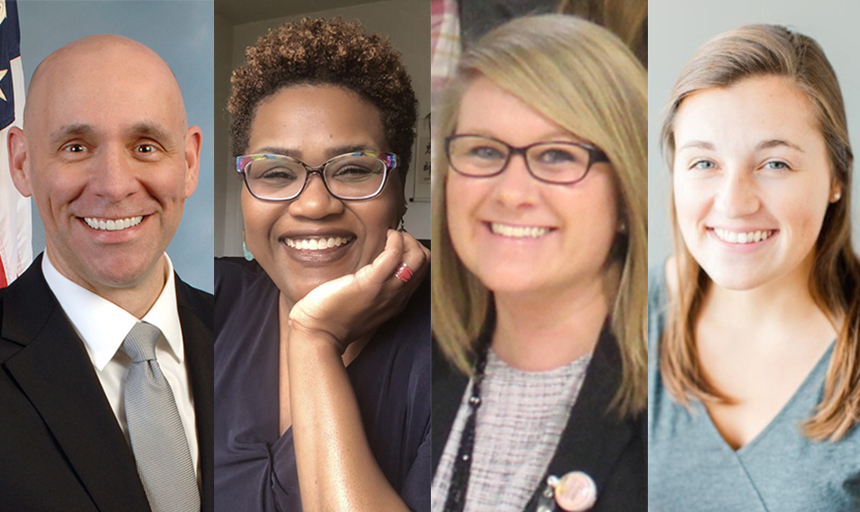 From left to right, Stanley Meador '96, Dr. Cheryl Hopson '95, Amanda Surratt '08 and Emma Fedison '19.
Alumni News - April 2021
Stanley M. Meador '96, once recognized as a National Association of Police Organization "Top Cop," has been named special agent in charge of the FBI's Richmond Field Office in Virginia.
FBI Director Christopher Wray announced Meador's appointment on March 29.
Meador most recently served as the chief of staff to the deputy director at FBI Headquarters in Washington, an appointment he assumed in 2020.
Meador began his career as a special agent in 2002 and was first assigned to the Spokane Resident Agency in Washington. He worked violent crime, gangs, [American] Indian Country crimes, intelligence matters, and spearheaded the creation of the Safe Streets and Safe Trails task forces.
In 2009, Meador transferred to the Las Vegas Field Office, where he worked public corruption, violent gangs and criminal enterprises. He was promoted in 2013 to supervisory special agent and transferred to the International Operations Division (IOD) at Headquarters, where he served as program manager of Legal Attaché offices in the Middle East. Meador was later promoted to chief of the Asia Unit in IOD, overseeing 11 Legal Attaché offices.
In 2015, Meador was promoted to supervisory senior resident agent of the Wilmington Resident Agency of the Charlotte Field Office, where he oversaw criminal and national security programs. In 2019, he was named an assistant special agent in charge in the Philadelphia Field Office. He led the office's largest branch — administrative and special operations ­— overseeing 12 programs and all crisis management matters.
Prior to joining the FBI, Meador served as a special agent with the Virginia Department of Alcoholic Beverage Control. He holds earned a bachelor's degree in criminal justice from Roanoke, and a master's degree from American University in Washington, D.C.
Meador received a Declaration of Valor for his response to the Pentagon during 9/11. In 2017, he received a National Association of Police Organization "Top Cop" honorable mention award for his role in locating a 6-year-old girl who had been abducted from her home. Read more here.
Alumni Weekend: Virtual Edition is April 15-17! Our goal is to bring Maroons together from all over the world to celebrate. Click here to register.
Other alumni news:
Dr. Cheryl Hopson '95, assistant professor of English and African American Studies at Western Kentucky University, recently received tenure and promotion. Hopson also is a poet, essayist and the author of two books, "Fragile" and "Black Notes." Currently, she is writing a monograph on Black American author, anthropologist and filmmaker Zora Neale Hurston.
"Poetry is one of the ways we learn to empathize. We learn to understand, if not experience, others' emotions. When that happens, we are not alone. We are in community," Hopson said in a recent Kentucky Foundation for Women blog post. "It is the richness of art that causes us to engage in conversations that are transformative, uplifting and edifying for all of us."
Hopson holds a bachelor's degree in English from Roanoke, a master's degree in English from Radford University, and a Ph.D. in English from the University of Kentucky.
Amanda (Hodge) Surratt '08 has been named Augusta County Public Schools' teacher of the year in the category of Business, Grades 6-8. Surratt has spent four years at Wilson Middle School as the Business Teacher. She has served as the team leader for the Exploratory Department; co-chair of the Social Committee; a committee member of the School Instructional Team; a peer mentor; and the advisor for the yearbook and Future Business Leaders of America (FBLA). Surratt holds a bachelor's degree in chemistry from Roanoke.
Emma (Blair) Fedison '19, who will receive her master's degree in economics from George Mason University in May, recently co-published a paper investigating the prospects for COVID-19 economic recovery in North Carolina. Fedison published the paper with Dr. Ed Lopez, who is director of the Center for the Study of Free Enterprise at Western Carolina University.
Their findings? "That North Carolina is relatively well-positioned for recovery because their state fiscal health is in good order," Fedison wrote in an email, "but improving economic freedom would facilitate more bottom-up growth and generate a more balanced recovery."
In addition to completing work on her master's degree, Fedison has entered a new job at the U.S. International Trade Commission. As an International Economist Research Assistant in the ITC's Office of Economics, Fedison performs economic analysis and conducts research on the relationship of the United State to the global economy. Blair majored in actuarial science, economics and Spanish at Roanoke College.
Classmates of Richard J. Seed III '57, who died on May 2, 2020, have launched a fundraising effort to place his name on one of the many individual space and room "naming opportunities" in the new Science Center.
Seed left his mark at Roanoke as both a soccer and track star. From 1953 to 1956, he played halfback on the Maroons' soccer team. From 1954 to 1957, he participated in the high jump and hurdles as a member of the track team. He reigned as high jump champion for both the Mason-Dixon and Little Eight conferences.
After graduating from Roanoke and receiving a master's degree from Catholic University, Seed entered Officer Candidates School at Quantico, Virginia, where he was commissioned as a second lieutenant in the U.S. Marine Corps. He served for 22 years before retiring from military service, during which he received two Bronze Star Medals.
Seed, who was inducted in the Roanoke College Athletics Hall of Fame in 1975, taught middle school in Stafford, Virginia, and high school in Westmoreland County, Virginia. He was also a very proud coach of the girls' volleyball team at Washington & Lee High School in Montross, Virginia.
Surviving family members include wife Barbara (Healy) Seed '59, three children, three granddaughters and one sister.
For more information about contributing to The Dick Seed Project, please visit www.roanoke.edu/GiveRC and select 'Other,' or contact Jack Williams, Director of Regional Programs, Roanoke College Resource Development, at (540) 520-3005.
Have news to share? Send it to us at rcmagazine@roanoke.