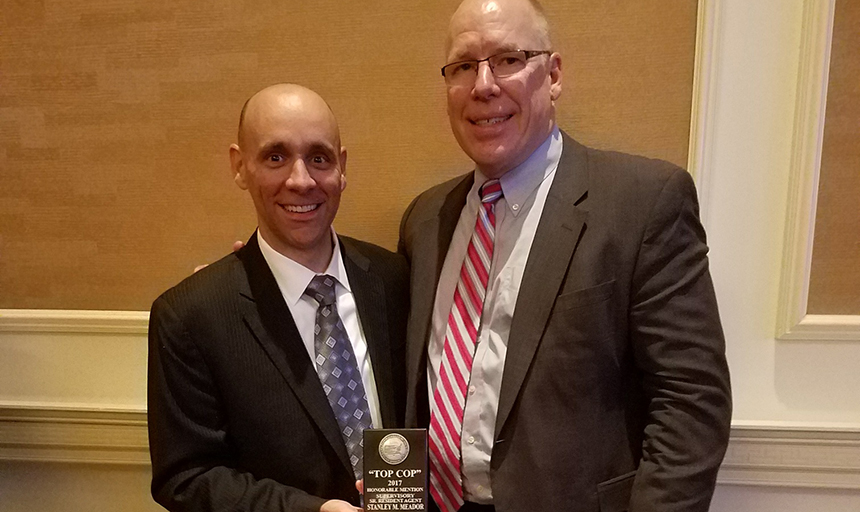 Stanley Meador, left, receives the Top Cop award from John Strong, Special Agent-In-Charge of the FBI Charlotte Division.
7.31.2017
By Roanoke College News
Meador recognized as a Top Cop
A Roanoke graduate who is an FBI agent, has been recognized with a national tribute award for law enforcement officers. Stanley Meador '96, of Wilmington, North Carolina, received a National Association of Police Organization "Top Cop" honorable mention award at a ceremony in Washington, D.C. in May.
Meador, the Supervisory Senior Resident Agent with the FBI in Wilmington, was recognized for his role in locating a girl who was abducted from her home last September. Working with the New Hanover County Sheriff's office, Meador played a crucial role in helping locate the 6-year-old, who was found alive chained to a tree in the woods.
The story is even more amazing knowing Meador's backstory. Just three days before finding the girl, Meador, who was battling colon cancer for a second time, had completed his 24th round of chemotherapy. On September 11, 2001, Meador, a then Virginia Alcohol Beverage Control Agent, responded to the Pentagon moments after the attack. He and a group of co-workers spent several days sifting through the post attack rubble. For their efforts, he and his fellow Agents received Declarations of Valor presented by then Virginia Governor James Gilmore. The Galax, Virginia native told his hometown newspaper, the Galax Gazette, the toxic materials at the Pentagon after the attacks may have contributed to his colon cancer. Meador was accepted into the World Trade Center Health Organization which helps provide medical monitoring and treatment for 9/11 responders.
Meador was a criminal justice major at Roanoke.
The Maroon Nation congratulates Stanley Meador, thanks him for his service, and wishes him healing and strength in his fight against cancer. Go Stanley!
Read more about Meador's story: