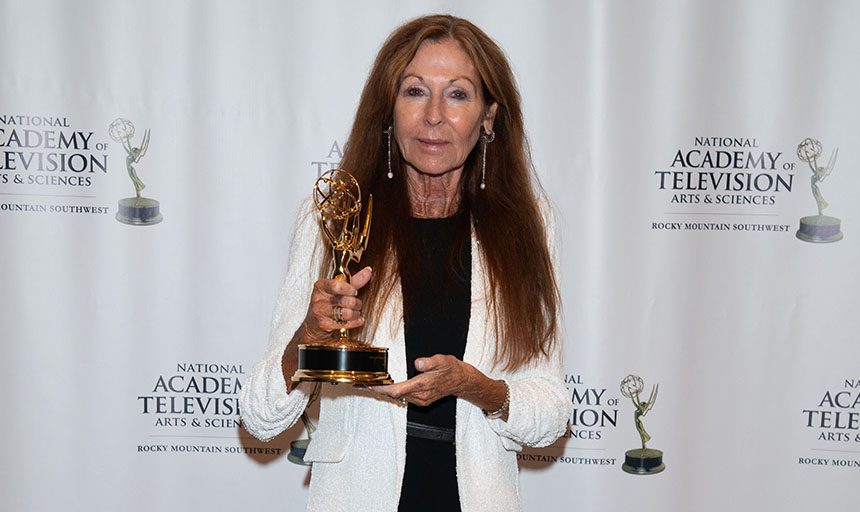 Pamela Pierce '72 holds the Governor's Award at the 2019 Rocky Mountain Emmy Awards.
Alumni News Updates
Recent news about Roanoke College alumni who are making an impact around the world.
Silver Bullet Productions, a non-profit educational film company headed by Pamela Pierce '72 received the Governors' Award at the 2019 Rocky Mountain Emmy Awards on Sept. 14, 2019 in Scottsdale, Arizona. The award, presented by the Board of Governors of The Rocky Mountain Southwest Chapter of the National Academy of Television Arts & Sciences, recognizes unique achievements by an individual or organization that has made a significant impact on the television industry and the community. "This recognition for our use of film as a vehicle for change, that allows authentic voices to be heard, will further our mission to educate," said Pierce, who is CEO of Silver Bullet Productions. Through award-winning documentaries, Silver Bullet promotes awareness and preservation of culture and heritage. The company received an Emmy in 2013 for its documentary film "Canes of Power." Roanoke College hosted a viewing and discussion of Silver Bullet's most recent documentary, "Defending the Fire," in 2018, with Pierce, who majored in sociology at Roanoke, in attendance.
The Honorable Mawine G. Diggs '06 has been commissioned as the Republic of Liberia's deputy minister for administration for the Ministry of Foreign Affairs. The President of Liberia, H.E. Dr. George Manneh Weah, commissioned Diggs and other ministers and officers of the Ministry of Foreign Affairs, during a ceremony on Aug. 9, 2019. Diggs, who was born in Liberia, previously served as director-general of the Republic of Liberia's National Commission on Higher Education. She majored in sociology at Roanoke, holds an M.Ed. from Clemson University and is pursuing a Ph.D. in education from Kansas State University. Here, President Weah presents Diggs with a certificate during the commissioning ceremony.
Dr. Matthew Troutman '05 has been appointed Head of School at Thomas Jefferson School in St. Louis, Missouri. Troutman will assume the position on July 1, 2020. He holds a B.S. in physics from Roanoke, an M.S. and a Ph.D. in physics from Clemson University, and an M.Ed. from the Klingenstein Center for Independent School Leadership at Teachers College, Columbia University. Troutman, who currently serves as Thomas Jefferson School's director of teaching and learning, has also held such posts as associate director of academics, chair of the mathematics department, and assistant college counselor. He also serves on the school's Committee on Diversity, Inclusion, Equity, and Social Justice; the Admissions and Enrollment Committee; and the Student Travel Committee. He founded the Thomas Jefferson School's Robotics Team and has coached varsity girls' soccer and junior varsity boys' soccer. Troutman has served on the school's Advancement and Strategic Planning Committees of the Board of Trustees and chaired the steering committee and self-study for the school's 2018 Independent Schools Association of the Central States reaccreditation. Thomas Jefferson School is an independent, non-sectarian boarding and day school for grades 7-12. It is ranked as the 29th Best Boarding School in America by niche.com.
Caitlin A. Mitchell '13 has been inducted into North Carolina Lawyers Weekly inaugural Rising Stars class. Mitchell, nominated by Judge Phil Berger, Jr. of the North Carolina Court of Appeals, was one of 30 young lawyers across North Carolina who were honored at a program and luncheon in May. The award recognizes lawyers who have been out of law school 10 years or less, and have already made a strong impact in the legal community. Criteria for selection included career accomplishments, contributions to the profession, contributions to the development of the law, contributions to the bar and the state, and efforts to increase access to justice. Mitchell was an English major at Roanoke. She holds a J.D. from Elon University and is an associate attorney with Young Moore and Henderson, P.A. in Raleigh, North Carolina.