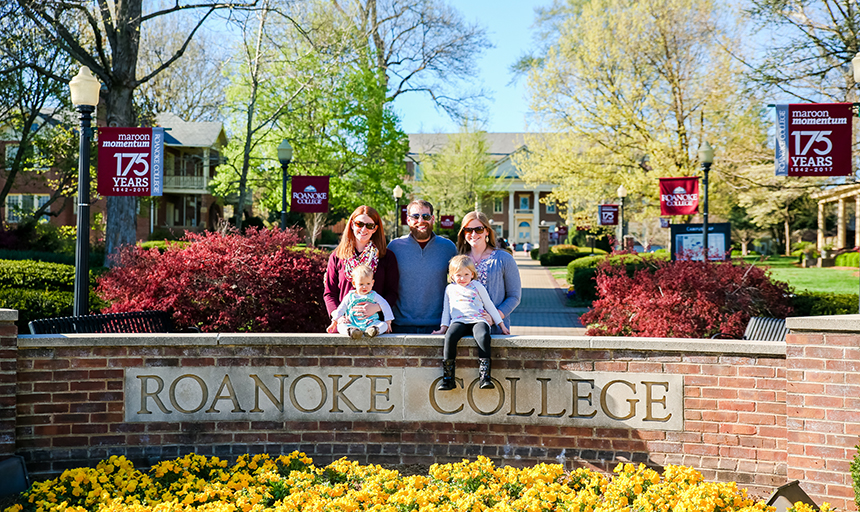 4.02.2018
By Roanoke College News
Noke Hour storytelling event and more new additions to Alumni Weekend
During Roanoke College's annual Alumni Weekend, alumni and students can look forward to reunion gatherings, Greek life luncheons, majors and minors reunion sessions and campus tours. This year, however, brings new additions to the highly anticipated weekend's events, including a social media ambassador reception, family karaoke night, a rite of remembrance and the first annual Noke Hour.

In the style of the Moth Radio Hour, a popular podcast and radio show, the first annual Noke Hour will feature a series of engaging stories from alumni and current students. We'll hear from Anne Roemer '97, a NASA employee; Tyler Coles '14, recent Roanoke College graduate and student at Vanderbilt Divinity School; Hayley Moe '18, current student; and Bob Rotanz '78, a member of the 1978 NCAA National Championship men's lacrosse team. You won't want to miss hearing their stories in the arena at the Cregger Center from 11:30 a.m.-12:30 p.m. on Saturday, April 14th.
The first ever Alumni Weekend Karaoke Night is a family-friendly affair with food and beverages for purchase. Hosted by the Office of Multicultural Affairs, you can find this karaoke party in the Cavern starting at 7:30 p.m. on Friday night, April 13th.
The Rite of Remembrance is a gathering to give thanks for Maroons who have passed in the past year. It will be a time of prayer and reflection with a reading of names and a ringing of the bell on the Back Quad by the Bell Tower. You can participate in this special annual event at 8:30 a.m. on Saturday, April 14th.
The Social Media Ambassador reception will be held for those who have agreed to act as an ambassador for the College on Instagram, Facebook, and Twitter by liking, sharing, and promoting our posts. Anyone interested in becoming a social media ambassador may attend. The event will take place in the Kime Conference Room, Colket Center on Friday, April 13th at 3:30 p.m.
The inaugural Maroon Connections: Alumni Career Fair will take place on Thursday, April 12th on the main floor of the Colket Center. Students can find available jobs and potential internships through this event as well as network with alumni in their desired field and seek advice about how to succeed in the job application process. Alumni from all over the country will set up tables to inform about their organization, potential careers and internship programs available to students and other recent graduates. Space is limited, so alumni are encouraged to sign up early for a table. Students are invited to attend this free event throughout the evening.
Alumni weekend is also a time to recognize the distinguished Maroons among us. This year's Roanoke College Medalists honored include Dr. D. Rae Carpenter Jr. '49, and Mr. A. Wesley Graves VI '63.
In athletics, please join us for the dedication of the new Hall of Fame display in the Cregger Center Arena and recognize the 2018 inductees in a celebration designed to honor those who have made history in the athletic programs at Roanoke College. The 2018 honorees are Mr. Page Moir, longtime men's basketball coach; Dr. Finn Pincus, longtime men's and women's track & field/cross country coach; and Ms. Erin Hansen Sigmon '08, women's soccer and women's basketball student-athlete.
The following classes will also be celebrating a milestone reunion: class of 1968 (50th reunion), class of 1973 (45th reunion), class of 1978 (40th reunion), class of 1993 (25th reunion), class of 1998 (20th reunion), class of 2003 (15th reunion), class of 2008 (10th reunion) and class of 2013 (5th reunion).
All information can be found here.