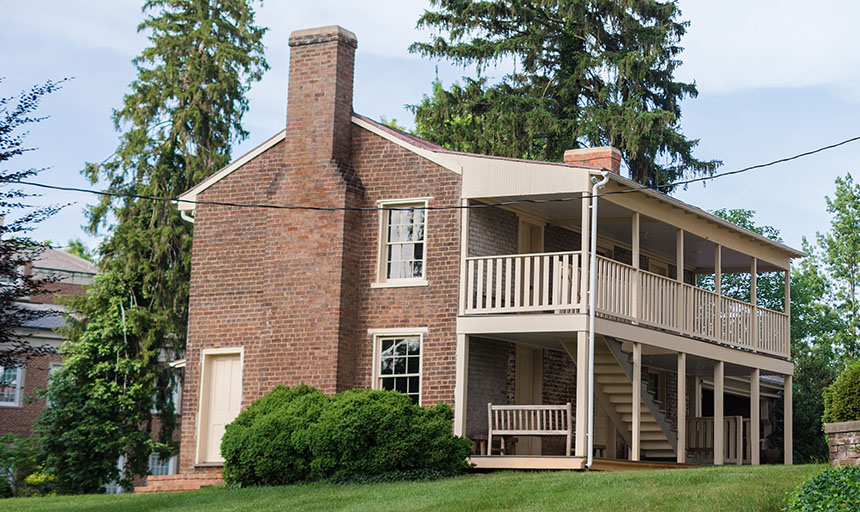 Roanoke College creates center to study issues of race
Roanoke College has established an academic center dedicated to the study of historical and contemporary issues dealing with race and the legacies of slavery in modern American society.
The Center for Studying Structures of Race will serve as a venue for teaching, research and community engagement about issues of race, and emphasize the examination of forms of institutional racism at local, national and international levels.
Dr. Jesse Bucher, associate professor of history at Roanoke College, will serve as director of the Center.
"The Center will ensure a continuing institutional focus on racism and its pernicious effects in American society," said Dr. Richard Smith, vice president and dean of the College. "Its events will provide opportunities for students, faculty and staff to understand more deeply the legacies of racism, to discuss remedies to address them, and to take action to promote change."
Efforts to develop the Center began more than a year ago. It will be located in the renovated quarters of slaves owned by a family who lived in a private residence, built in 1853, that was purchased by Roanoke College in 2002.
While Roanoke College did not own slaves, the College's earliest buildings — the Administration Building and Miller Hall — were constructed using the labor of enslaved people. The name of the Center invokes the historical significance of that piece of Roanoke College's history, as well as the former slave quarters as physical "structures."
"We need to have an honest and ongoing conversation about the College's physical and financial heritage from slavery," Dr. Bucher said of the Center's founding purpose. "Just as importantly, we must use those conversations to reflect on our own present day. The goal of this Center is to teach and learn about and become compassionate about the ongoing presence of institutional racism in our society."
The Center will lead Roanoke College's efforts to address the legacies of slavery and institutional — or "structural" — racism at Roanoke College, and inform College plans, already underway, for a campus memorial to honor the enslaved workers who built the Administration Building and Miller Hall.
"Issues of racial inequality that national and international protests have recently called attention to are not new problems, and they must be thoroughly examined and addressed. There are no quick answers, but through the Center we will get students thinking about race, get faculty to teach about race, and get staff and the community to engage in the issues."
Dr. Jesse Bucher, associate professor of history and director, Center for Studying Structures of Race
The Center plans to host a variety of events open to the public, aimed at encouraging civic engagement and civil, informed debate. Activities planned for later this year — including a reading group that will visit the work of African-American science fiction author Octavia Butler, and the creation of an artist-in-residence program, first featuring artist Karen Collins — have been postponed due to state and national COVID-related orders, Bucher said.
The Center's opening comes at a time when the College, the Commonwealth of Virginia and the nation are in need of addressing issues of race throughout American life — the protests that have followed the death of George Floyd and the removal of statues that have served as symbols of past and present racism in the United States.
A monument to Confederate soldiers stands at the corner of Main Street and College Avenue near Roanoke College's West Hall, on a plot of land owned by Roanoke County.
"It has been a major focal point for student conversations about the legacies of race," Bucher said.
These structures, and the origin and purpose in which they are steeped, "have been around for hundreds of years," Bucher added. "They will not be resolved overnight. A college community is built around the notion of introspection. We can set a good example."
For specific questions about the Center for Studying the Structures of Race, please contact Dr. Jesse Bucher, director, at bucher@roanoke.edu. Dr. Bucher holds a bachelor's degree in history from The College of New Jersey and a Ph.D. in African History from the University of Minnesota-Twin Cities. His teaching interests include African studies, world history, postcolonial studies and environmental history. Bucher was MacArthur Fellow at the Interdisciplinary Center for the Study of Global Change at the University of Minnesota and a postdoctoral fellow in the Programme on the Study of the Humanities in Africa at the Centre for Humanities Research at the University of the Western Cape.
Roanoke College is a founding member of the Universities Studying Slavery project, a collaboration of nearly 65 U.S. and international colleges and universities. Participating institutions work together to address historical and contemporary issues dealing with race and inequality in higher education and in university communities.