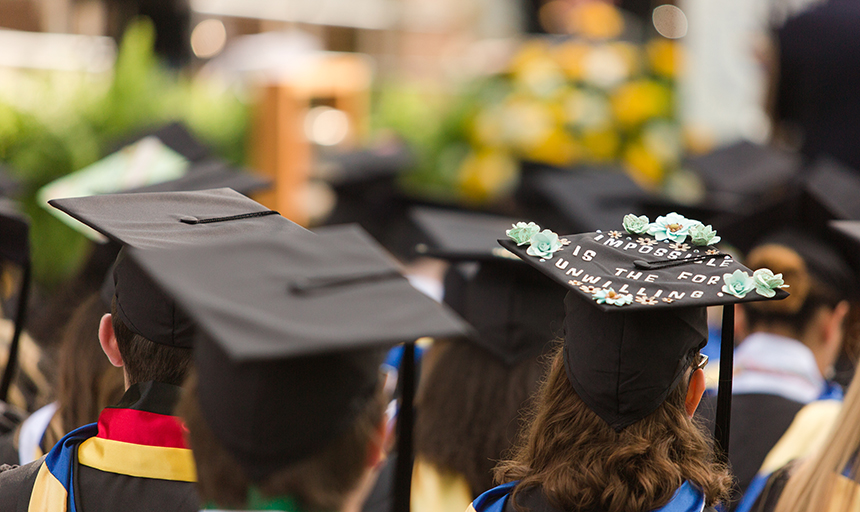 Class of 2022 Commencement Preview
The Class of 2022 is ready to take the Commencement stage for the first on-campus ceremony since the start of the pandemic. The Class of 2022 is comprised of over 450 graduates who will receive a bachelor of arts, bachelor of science or bachelor of business administration degree.
Commencement and Baccalaureate ceremonies begin at 4 p.m. Friday, May 6 with Baccalaureate in the Morris M. Cregger Center arena. Commencement ceremonies begin at 10 a.m. on Saturday, May 7 on the Turbyfill Quad. Commencement exercises are open to all family members and guests, with no ticket required.
This year marks Roanoke College President Michael Maxey's last commencement ceremony before he retires this summer. Maxey will preside over the ceremonies, shaking each graduate's hand as they receive their diploma.
Three honorary degrees will be awarded during the ceremony. Dr. Peter Hotez, public health scientist and frequent media commentator during the pandemic, will receive an honorary Doctor of Science degree. Hotez has spent his career developing vaccines designed to attack a number of disease-causing human parasites. Maxey will receive an honorary Doctor of Humane Letters degree. Roanoke College First Lady Terri Maxey will receive an honorary Doctor of Education degree.
Baccalaureate is the annual worship service for the graduating class. The Rev. Christopher Bowen, the Timothy Pickle Dean of the Chapel, presides over the service. All graduates, families and guests are welcome to attend Baccalaureate.
Commencement will be held on the Turbyfill Quad rain or shine. In the event of severe inclement weather conditions, Commencement exercises will be moved to the Salem Civic Center, 1001 Roanoke Boulevard, Salem. If necessary, the announcement of a move indoors will be made the morning on Saturday, May 7 via Maroon Alert, social media and the website.
Graduates finish with exams on Tuesday and will enjoy Senior Week Activities through the rest of the week. Academic departments will celebrate with their graduates on Friday, May 6. The schedule for all Commencement Weekend activites can be found at roanoke.edu/commencement, where all the details are available.