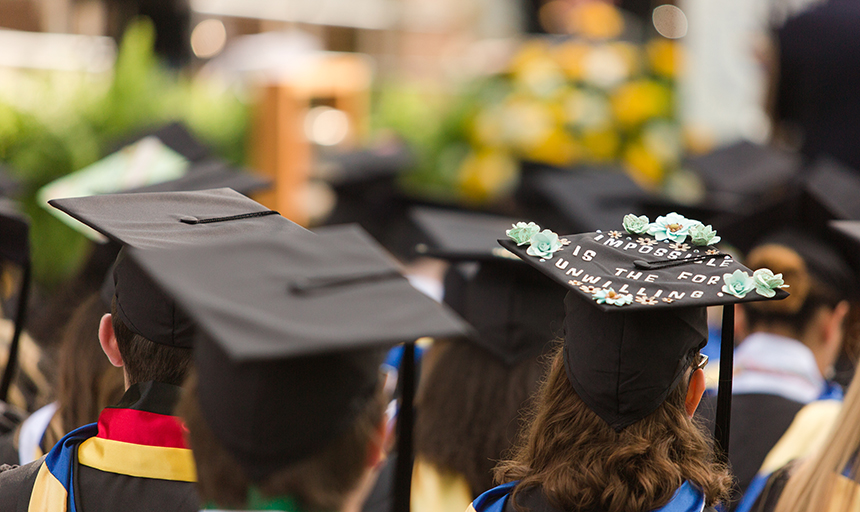 Commencement Update from President Maxey
Dear Maroons,
Today I am writing to you with news related to the Class of 2020 and Class of 2021 commencement ceremonies planned for next month.
Commencement Ceremonies
I am so pleased to be able to welcome the Class of 2020 and the Class of 2021 to separate in-person commencement ceremonies this year. According to Virginia Gov. Ralph Northam's current orders, we will be allowed to hold in-person commencement ceremonies for our graduates and a limited number of guests. We are planning the in-person commencement ceremonies at the Salem Football Stadium, a venue that allows room for graduates and guests and enables all of us to maintain appropriate social distance to meet COVID-19 guidelines. As a reminder, the ceremonies will occur:
Saturday, May 22 at 10 a.m. for the Class of 2020

Saturday, May 29 at 10 a.m. for the Class of 2021

Both ceremonies will be held rain or shine, so please be prepared for all weather conditions.
Complete information can be found on the commencement webpage.
Answers to frequently asked questions can be found here and additional information about the Salem Football Stadium, including directions, click here.
Both ceremonies will be streamed live, for remote viewing, at www.roanoke.edu/commencement.
As a reminder, due to the ever-changing nature of COVID-19 cases on campus and in our region, we are also preparing for a virtual ceremony in case it should become necessary.
Important Deadlines
Several important deadlines for commencement are approaching soon. Please make your plans and reservations now.
UPDATED: May 10

– Deadline for indicating your plans to attend commencement ceremony AND the deadline to register the four guests that each graduate may invite has been extended from April 30 to May 10. You may not have more than four guests. For security, the link to the registration form has been emailed to your mail.roanoke.edu email account. Please click the link from that email and let us know if you plan to attend and who your guests will be.

May 10

– Deadline for submitting graduate photos for virtual ceremony video. Those who

submit their photos

by April 30 will be entered into a drawing for $100 gift card for the Roanoke College Campus Store.
In addition to a photo of each graduate, we are also interested in your celebration videos. Whether you are a member of the Class of '20 celebrating at home in your living room, or the Class of '21 celebrating your impending graduation on campus or in Salem, we'd love to have clips to include in the College highlights.
As you might expect, we will be operating under strict COVID-19 guidelines at the Salem Football Stadium.
Guests of each graduate will need to arrive together and sit together in a designated "pod." Masks must be worn by everyone in the venue, and at least six feet of physical distance should be maintained.
Baccalaureate and Senior Week events
Chaplain Chris Bowen is planning the in-person Baccalaureate ceremony for the class of 2020 and 2021. The ceremony will be streamed for all to view, and in-person attendance will be limited to graduates only.
The ceremony for the

Class of 2020

will be held on May 21 at 6 p.m. in the Cregger Center Arena.

The ceremony for the

Class of 2021

will be held on May 27 at 5 p.m. in the Cregger Center Arena.
We are working through ways we may be able to conduct other traditional Senior Week activities for each class. The Office of Alumni & Family Relations will share more about those plans in the coming weeks.
I look forward to seeing you all as we celebrate the momentous achievements of the Class of 2020 and the Class of 2021!
Please keep an eye out for more specific details from our commencement organizers, all of whom I thank for working hard to plan these special occasions in the most unusual of circumstances.
Please stay healthy — and Go Maroons!
President Michael C. Maxey