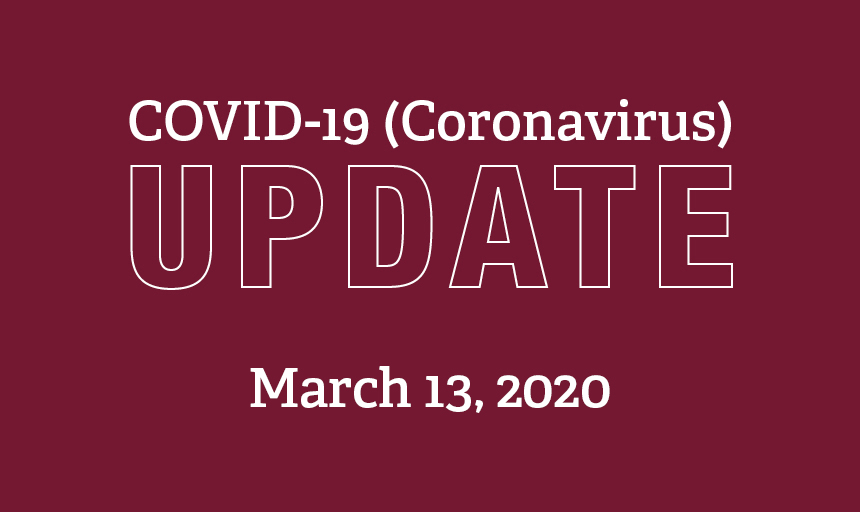 Negative result for student's COVID-19 test, Athletics suspended
As Roanoke students are packing to return home, Roanoke College continues to respond to circumstances related to novel coronavirus COVID-19.
Negative COVID-19 Test
The College was notified today that test results of one student who was tested for COVID-19 came in as NEGATIVE. This student remains in isolation, along with four other students who are also in isolation because of potential low-risk exposure to the virus.
While the negative test result is good news for the Roanoke College community, we all must continue to remain vigilant in preventing the spread of the virus. Cases of COVID-19 have been confirmed in 46 states and Washington, D.C.
Athletics suspended
The Roanoke College Department of Athletics announced today that it is suspending all NCAA Division III athletically related activities effective immediately. The indefinite suspension will be re-evaluated upon resumption of face-to-face classes at the College.
"While it's never an easy decision to disappoint our student-athletes, it's important that we all learn to keep things in perspective," said Director of Athletics, Scott Allison. "At this time, it's imperative that we do our part to continue to protect the health of our community and the world at large."
Student athletes must leave their residence halls no later than Sunday, March 15 at 6 p.m. Students are encouraged to make a reasonable effort to remove all perishable or personal items of value. If that isn't possible, be sure to take all essential items (computers, chargers, class materials, insurance cards, medical IDs, medicine, passports, MaroonCards, etc.). Please secure all windows and doors to your room before departing.
Any student athletes who cannot leave by Sunday, should complete the form at roanoke.edu/breaks to request permission to stay.
Taxi Vouchers
Taxi vouchers are available at the Colket Center information desk until 5:00 pm today. After 5:00pm or through the weekend, taxi vouchers may be picked up at Campus Safety.
Ride Sharing
The Dean of Students Office is coordinating a free shuttle service from campus to the downtown Roanoke Amtrak train station/bus station and the Roanoke airport at select times throughout the weekend beginning tonight at 5PM. The RC van will pick-up students from Bast parking lot. To request shuttle service, please complete this form.
Additionally, a ride-sharing form has been created to facilitate student carpools. To access the form, please click this link. Please note that the College will not be monitoring this form; students using the form are expected to contact one another.
Health Services and Counseling office
Student Health and Counseling will be open Saturday and Sunday from 10 a.m. to 2 p.m. if students need their services.
Residence Life Office
Residence Life Office will be open Saturday and Sunday from 10 a.m. to 4:30 p.m. A reminder that all students must be out of the residence halls by 6 p.m. Sunday, March 15 unless they have obtained permission from Residence Life to stay.
Information Technology
Information Technology is working hard to respond to all needs and questions related to online classes. More information will be provided next week.
The IT Help Desk offers phone-in computer support from 8 am to 5 pm, Monday - Friday (540) 375-2225. Submit a ticket online anytime at

support.roanoke.edu

(when prompted, log in using your MyRoanoke username and password)

InsideRoanoke

- Provides access to Inquire, Self Service, and your MyRoanoke, as well as a link to Microsoft 365 e-mail web access.

Remote access to lab computers and the Z drive through the

Roanoke College Remote Computing

software. RCRC is the ability to remote into an on-campus lab computer from your own electronic device from anywhere in the world! This gives you the ability to use software that is only available on campus while you are at home, in your dorm room, or out of town.

See the full list of RCRC software

No-cost downloads of

Microsoft Office Professional for PC or Mac

,

SOPHOS

(Endpoint Protection Software) and

Mathematica

All students have access to 1TB storage on Office 365/OneDrive accessible directly at

roanoke.edu/mydrive

. We recommend moving any important documents stored on student Z drives to OneDrive before departing from campus.

Students without internet may use the campus library or libraries in your region. Some cities offer free wifi in some areas. More options are becoming available as more schools go online.
The Brackety Ack
The student newspaper did not print the Brackety Ack this week but stories are posted online. You can read their coverage here.
Elderscholar
All events including the Elderscholar Lecture Program, scheduled this semester have been canceled. We will make every effort to reschedule the spring lecture topics in the fall semester.
Please let us know if you prefer a refund or would like to apply your payment to the fall semester, by sending us a note at elderscholar@roanoke.edu.. If you know an Elderscholar who did not receive notification via email, please have them call (540) 375-2323.
A message from the College: Our highest priority continues to be the health and well-being of students, faculty, and staff. We are working to act as fairly, compassionately and consistently as possible.
Stay healthy Maroons!