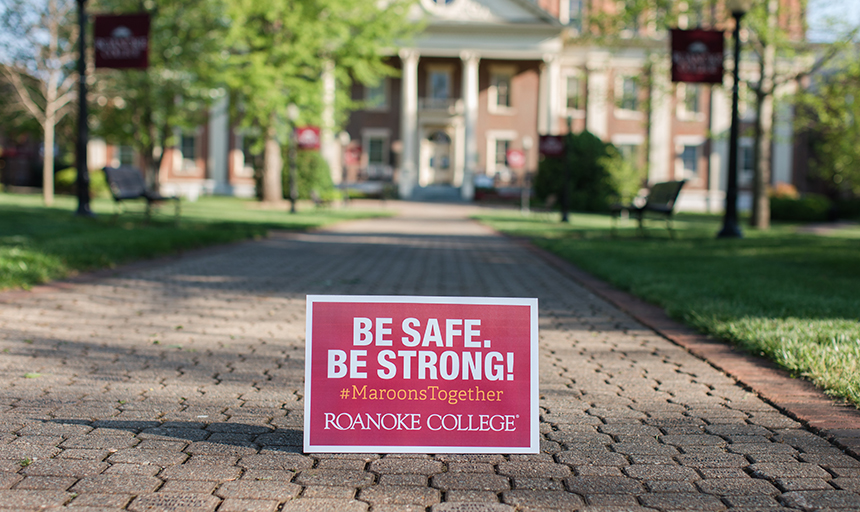 5.12.2020
By Roanoke College News
Campus community organizes COVID-19 response project, Maroons Serving with Purpose
Roanoke Maroons are responding to the needs in our community to help lessen the spread and impact of COVID-19. Maroons Serving with Purpose has launched with several service projects that tie in with existing community partnerships between Roanoke College and community organizations. All Maroons, regardless of location, are invited to participate in this effort and make a difference in the Roanoke community or in your own neighborhood. Share your efforts on social media with the #MaroonsTogether tag.
Maroons Make Masks
As the pandemic hit the United States, Maroons Make Masks was born from the Students Interested in Careers in Healthcare (SICH) club that was founded earlier this academic year. The group has led a movement that has resulted in people sewing and donating 2,340 masks. Masks that are made in Salem or the surrounding area are being donated to Bradley Free Clinic in Roanoke. To date, 161 masks have been donated to the clinic.
Dr. Cathy Sarisky, associate professor of chemistry, created the website for Maroons Make Masks, MaroonsMakeMasks.org. As the service effort expanded into other areas, Sarisky updated the website to track other types of donations and community service activities, such as letter writing to senior citizens in retirement communities.
The website will now track all donations to the Maroons Serving With Purpose initiative. Whether you sewed masks, donated towels to Trust House (a Roanoke Valley program for homeless individuals, families and veterans experiencing crisis) or wrote letters to senior citizens, log your activity on MaroonsMakeMasks.org so the College can track the difference Maroons are making in their communities.
Donations of medical equipment
Dr. Tim Johann, associate professor of chemistry, coordinated the donation of goggles from the College's chemistry department to Carilion Clinic. He talked to WFXR about the donation.
Bradley Free Clinic volunteers
Two students will be working full time at the Bradley Free Clinic this summer, working as volunteers assisting with medical scribing and more. Dr. Johann is coordinating the volunteer efforts.Those interested in volunteering should contact Dr. Johann at johann@roanoke.edu.
Dr. Ken McGraw, associate professor in the English and Communication Studies Department, is working with the Bradley Free Clinic to capture volunteer stories during this historic time.
He is coordinating the work of two Roanoke College students, Sarah Riddell '21 and Bryn Haden '22, who are producing profiles and conducting interviews with some of the volunteers at the Bradley Free Clinic during this historic time. These interviews will be turned into short form social media posts and long form narratives for their newsletter. These stories will highlight the essential work being done by these volunteers and the BFC.
Letters of thanks and connection
The Rev. Chris Bowen, dean of the chapel, is organizing a campaign to send cards and letters to senior citizens living at Brandon Oaks, a Lutheran retirement community in Roanoke. Those interested in providing letters and cards should contact Chaplain Bowen at bowen@roanoke.edu or call (540) 375-2300.
Also, Maroons can send letters or cards to any senior living facility or as a thank-you message to health care workers on behalf of Maroons Serving with Purpose. Letter-writers are encouraged to log their actions and contributions on the Maroons Make Masks site.
Trust House
Trust House has become the Roanoke Valley quarantine shelter for individuals who have tested positive for COVID-19 and who are experiencing homelessness after their release from the hospital. By opening their doors to those suffering during this pandemic, Trust House is supporting the most vulnerable citizens of the Roanoke Valley. To successfully provide, from their shelter, sub-hospital care for individuals experiencing homelessness, Trust House is in need of the following donations:
twin-size bed linens (used or new)
towels (any size, used or new)
games for single players (deck of cards, puzzles, coloring books, etc.)
table trays, lap desks, etc.
hygiene products
trash bags
pillows
Personal Protective Equipment (gloves, face masks [sewn or bought], etc.).
You can help Trust House by sending any of the items listed to: Trust House, 422 Elm Ave., SW, Roanoke, VA 24016, or by dropping them off in the donation box located on the Morehead Hall porch on the Roanoke College campus. Directions for printing postage can be found on the MaroonsMakeMasks.org page.
Roanoke College Garden
Jesse Griffin, director of the Center for Civic Engagement, has been overseeing the student-managed Roanoke College community garden after students had to leave campus. Students who are in the Roanoke area, as well as some faculty members and their families, have been making sure the garden is weeded and watered. Griffin has arranged to donate the food harvested from the garden to the Roanoke Rescue Mission and the Salvation Army of Roanoke, which has been providing meals for Trust House clients during the pandemic response. Students who would like to get involved, should email Griffin at griffin@roanoke.edu.
Internships at the Virginia Department of Health
Toni McLawhorn, director of career services, has worked in recent months to create a formal internship relationship between Roanoke College and the Virginia Department of Health. The timing fits well, in that VDH currently has a number of pressing needs directly related to COVID-19, but also public health in general. McLawhorn is working to place a student in the local regional VDH office this summer to focus on community emergency preparedness for situations like COVID-19.