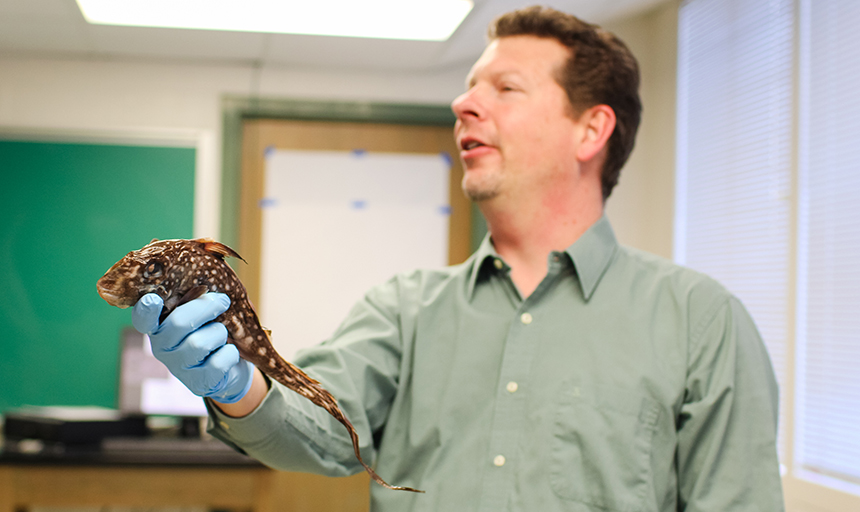 The Roanoke College connection to Fred Rogers's Neighborhood
There's a 1974 episode of Mr. Roger's Neighborhood where his sister, Nancy Elaine, visits with her two young boys. It's a family themed episode, so Mr. Rogers shows his nephews the trolley and the big stoplight before one plays a tune on the piano and the other, younger brother asks to feed the fish.
That boy still maintains an interest in marine life; in fact, he's an expert in just about all forms of life. It is Roanoke College biology professor Dr. Brooks Crozier, whose mother, Nancy Elaine, is Fred Roger's younger sister.
"And his message of everybody is special in their own way ... to respect that there are differences among people and this is good and we should celebrate that."
Dr. Brooks Crozier, speaking about his uncle, Fred Rogers
"In that episode, my brother plays the piano and he's been fantastic his entire life. He's extremely good. Then I go over and look at the stoplight," Crozier says. "And I asked if I could feed the fish. To this day if you came over to my office you would see a large aquarium in there. I've had an aquarium for years, and I remember feeding the fish as clearly as if it was yesterday."
Crozier remembers growing up with his Uncle Fred, Aunt Joanne and cousins, visiting them in Nantucket during summer breaks. Now, he says he thinks about the many lessons Rogers imparted on his audience when teaching, like looking for helpers when things get bad. "And his message of everybody is special in their own way," Crozier said, "to respect that there are differences among people and this is good and we should celebrate that."