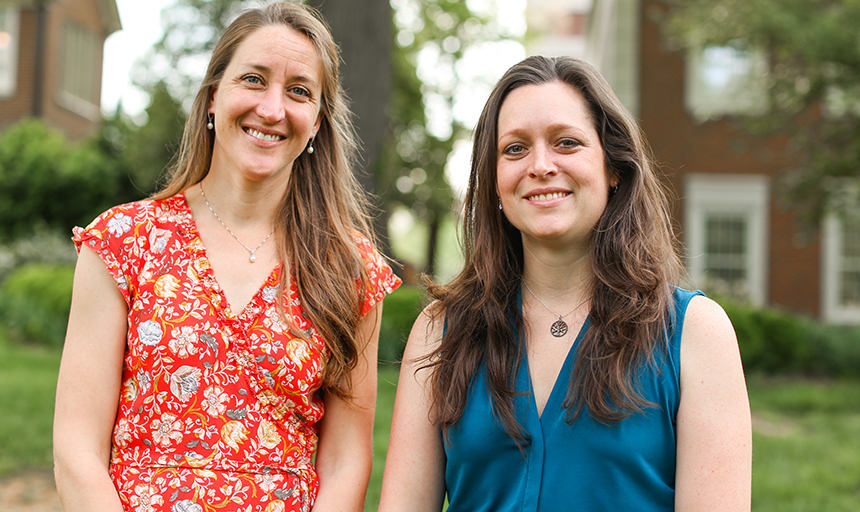 Dr. Liz Ackley and Dr. Lindsey Osterman
Dr. Osterman and Dr. Ackley honored with Dean's Council awards
Two Roanoke College faculty members were recognized this spring with Dean's Council awards. Dr. Lindsey Osterman, assistant professor of psychology, won the Dean's Exemplary Teaching Award and Dr. Liz Ackley, Brian H. Thornhill associate professor of health and human performance, received the Dean's Professional Achievement Award.
Osterman, according to her nominator, "has a consistent record of offering high-quality learning experiences … that reflect a dedication to instilling critical thinking skills in our students."
"Her student evaluations are consistently outstanding and students indicate that she is especially responsive to their questions," Dr. Richard Smith, vice president and dean of the College, said. "Students also say she challenges them to achieve academically and encourages them to think critically. Maintaining a high level of rigor while receiving some of the highest teaching evaluations in the department is a testament to Osterman's dedication to the craft of teaching."
Ackley was nominated by multiple colleagues who described her as "one of the most active and productive members of our faculty … someone we can all look up to as an exemplar of the highest levels of achievement." One nominator, alluding to the College's Freedom with Purpose statement, said that Ackley's "professional life is purposeful" and that "it teaches a love of learning and fosters the desire to lead productive lives."
Ackley has received numerous grants—both internal and external. Two hallmarks of her work have been research enacted in partnership with local government and organizations and alongside student researchers. The Community Healthy Living Index, under Ackley's direction, has influenced local policy and community projects by encouraging healthy behaviors in young people. The new Center for Community Health Innovation, founded and directed by Ackley, supports initiatives to reduce community health inequities across the Roanoke Valley.
Congratulations to two of Roanoke's finest faculty members!