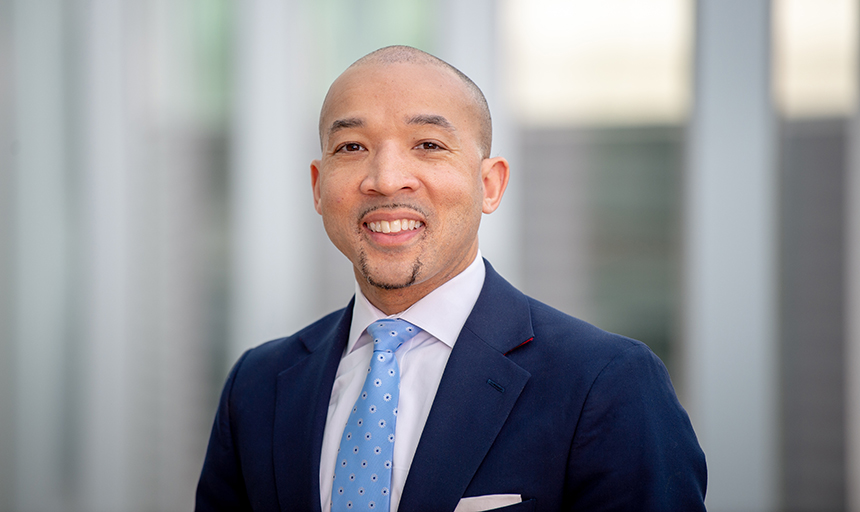 Dr. Paris Butler '00, is assistant professor of surgery at the Pennsylvania Hospital.
Photo: Daniel Burke Photography
Widening the opportunity for excellence
In 2016, Dr. Paris Butler '00 made history.
He wishes someone had done it long before him.
That year, the University of Pennsylvania's Perelman School of Medicine — the first medical school in the United States — hired Butler on the school's surgical faculty. That made him, at the time, the first African American plastic surgeon at what was then the 251-year-old medical school.
"Some suggest that I should consider it as a huge compliment," Butler says. "Although I feel blessed and honored to have this opportunity, I tend to perceive it more as, 'It was 2016 when I was hired. That's a really long time before such a faculty appointment was accomplished.' Once again, I greatly appreciate the institution for hiring me and recognizing that there was a need that I could thankfully fill. However, that opportunity likely should have been offered well before my time."
Butler has worked and studied from coast to coast, and has witnessed the lack of diversity in hospitals and medical schools. He's taken it upon himself in recent years to track hires of Black medical professionals and to bring attention to the issue.
Butler, a member of Roanoke College's Board of Trustees, has written articles over the years for medical journals about disparities in health care and diversity in the field of academic medicine.
He wrote one of those articles this year for The American Journal of Surgery. Following the death of George Floyd, a Black man, during his May 25 arrest in Minneapolis, Minnesota, the American Journal of Surgery asked Butler to write an article for them. Butler wasn't sure at first, but as he saw protests and demonstrations raging throughout the country, he thought that the article — titled "When excellence is still not enough" — could be an opportunity to express his thoughts.
"It was therapeutic for me. As I chose not to go out and protest, due to my obligation to take care of my patients, my writing served as my venue to express myself," Butler says. "I'm privileged with a platform to be able to write and for it to be relatively well-received in American surgical journals."
This year, issues of race and medicine have been at the forefront of many Americans' minds. The COVID-19 pandemic has heightened awareness about health care disparities, while the social movement in the wake of Floyd's death has forced many people to reexamine the foundations of race relations in this country.
Butler has found himself at the intersection of those major issues, particularly on June 5, 2020.
Clad in scrubs and white coats, Butler and dozens of his colleagues walked out of the hospitals and clinics at 1 p.m. and knelt in the Pine Garden in front of Pennsylvania Hospital for eight minutes and 46 seconds — the length of time that a white police officer in Minneapolis had his knee on Floyd's neck.
"I started kind of looking around to see if there were any surgeons that looked like me in academia. Yes, there were some, but there were very few, and I was concerned about it."
Dr. Paris Butler '00
Change in plans
Paris Butler's journey has included a number of surprises and changes of plan along the way.
As a student at West Springfield High School in West Springfield, Virginia, Butler was accepted to a slew of prestigious schools — Cornell University, the United States Air Force Academy and the University of Michigan, among others. Even as he and his father drove to visit Roanoke College during his senior year, Butler's father was trying to convince his son to choose one of the other schools to which he had been accepted.
Something about Roanoke intrigued Butler, though, and not just the fact that he'd have an opportunity to play basketball there.
Father and son toured the campus, and Butler got to hang out with some of the basketball players. Butler's father had a meeting with Michael C. Maxey — current president of the College, who at the time was vice president for College Relations, and dean of admissions and financial aid — and suddenly the senior Butler's opinion changed.
"The whole ride home, my dad was very different," Butler recalls. "He said, 'This is not that far. Your mom and I can see you play. It's a really beautiful campus. The academic credentials are good. You need to give it some consideration.'"
Butler was pleasantly surprised, and he agreed. A few months later he came to Roanoke, playing basketball and studying biochemical engineering. Early into his time on campus, Butler's academic path — and the trajectory of his life — changed, due to one attentive professor.
Dr. Dar Jorgensen, Thornhill Professor of Biology, immediately noticed Butler's work ethic and maturity.
One day, Butler got a test back with a note written on it. The note was from Jorgensen, who wanted to see him after class. So Butler went and spoke to Jorgensen, and the two of them talked about what Butler might be interested in doing after college.
Jorgensen suggested Butler give some thought to the medical profession. Jorgensen talked about how little diversity there was in the medical field, and said he thought Butler had a real aptitude for it, Butler remembers.
Butler gave it some thought. He talked with his parents. He gave it more thought. Then he decided he would go for it.
Butler immediately started excelling.
"He never stopped trying to get better at everything he did," Jorgensen recalls. "He self-critiqued, I think, more effectively than any undergraduate student I've ever known. He was just never satisfied — always wanted to improve in whatever he was doing."
To read the full version of the story, please click here and turn to page 13.