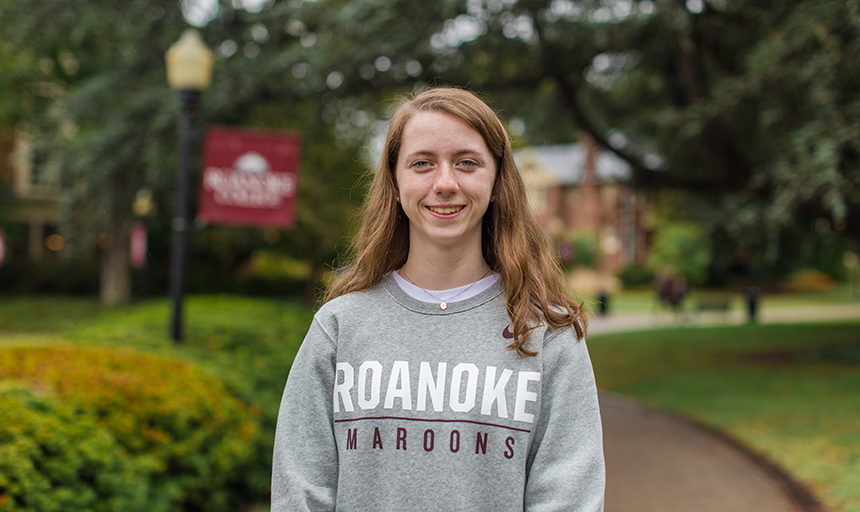 Gracie Goodpasture '23 (center) is flanked by her parents and Molly Fuller (far right), CEO of Girl Scouts of the Commonwealth of Virginia and Mary Ellen Hess (far left), vice chair of the Girl Scouts of the Commonwealth Council and Commissioner of Employment for the Commonwealth of Virginia. The photo was taken after Goodpasture received the National Gold Award, the Girl Scouts of America's highest honor.
Sophomore earns Fulbright honor to study in Wales
Gracie Goodpasture '23 has been at Roanoke College for just one academic year, but she's already earned multiple honors. In October 2019, the Girl Scouts of America gave Goodpasture their highest honor, the National Gold Award.
A few months later, Goodpasture was accepted into the Fulbright UK Summer Institutes program, and she will be going to Wales in the summer of 2021. Specifically, she will be taking part in the Fulbright Aberystwyth University Summer Institute, where she and others from the U.S. and UK will study sustainable agriculture.
The program is right up Goodpasture's alley.
"I'm a science person, and I love chickens too," Goodpasture said.
Goodpasture, from Ashland, Virginia, intends on majoring in Biology at Roanoke, and will either minor or major in Spanish. She's also in the Honors Program. From a young age, she was enthralled with agriculture. In particular, she developed a love of chickens and farm-to-table education.
She developed her own breed of chicken — the Goodpasture breed — and created a curriculum to help teach students at the schools in her area about the importance of eating healthy foods without chemicals or processing.
Goodpasture wrote about these past accomplishments in her application for the Aberystwyth program, and received word earlier this spring that she had been selected. She said she's particularly excited about learning from those in Wales and from those from around the United States about how their approaches to agriculture differ.
"I'm really looking forward to just seeing different perspectives," Goodpasture said. "I know that I have a completely different perspective than somebody coming from Texas or Florida or something like that. I'm really looking forward to meeting everybody and just being exposed to different perspectives and opinions and cultures in general."
"I'm really looking forward to meeting everybody and just being exposed to different perspectives and opinions and cultures in general."
Gracie Goodpasture '23
The three-week program will include a few days of classes a week, as well as a weekly trip to farms and events around Wales. They will attend the Royal Welsh Show, the pinnacle event in the British agricultural calendar. The Royal Welsh Show includes livestock competitions, workshops, entertainment and more.
Though it's still early in her collegiate career, Goodpasture said she has her sights on becoming a pediatrician or a pediatric oncologist.
Students have been going to the Fulbright UK consistently for the past few years, including Destinee Harper '21 just last summer. Roanoke College Director of Major Scholarships and Fellowships Jenny Rosti has put Goodpasture in touch with current and former students who have participated in the program, and Goodpasture said hearing from them is making her look forward to the program even more.
"They're kind of hyping everything up about Wales in general and the UK," Goodpasture said. "They're really excited, so that's cool."
The US-UK Fulbright Commission's Fulbright Summer Institutes are open to freshmen and sophomores with a minimum 3.7 GPA, Rosti said. It's an extremely difficult program to get into, and Rosti said it's impressive that Roanoke students have had so much success in recent years.
"The Commission does not release applicant numbers for the four programs, but I know of one university that put up over 100 students from its Honors Program and had a single winner," Rosti said. "That Gracie is our ninth student in seven years to secure a slot is a testament to her and our Roanoke College students' excellence."