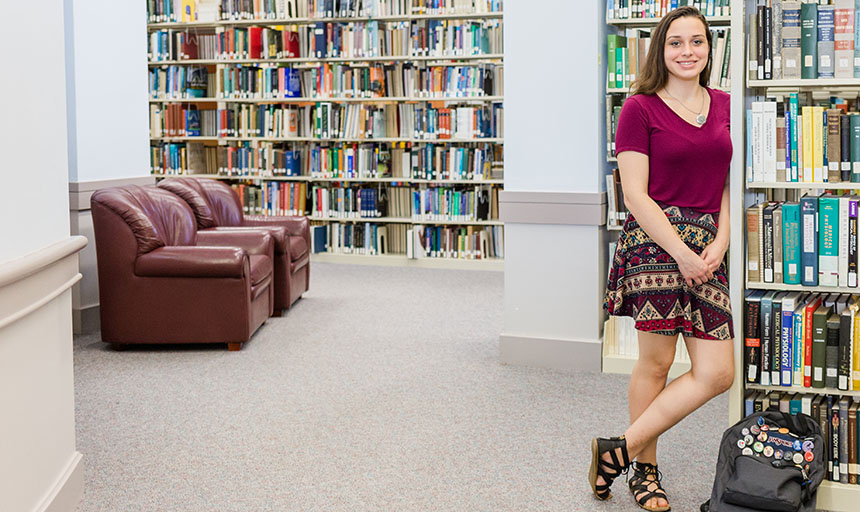 Jenna Novosel '20 from Living Lutheran magazine. Photo by Ashley Eagleson.
11.27.2018
By Roanoke College News
In Case You Missed this news …
Lots of news in the past month and with the holidays, it's easy to miss something. Here's the latest round up of news from the Maroon Nation.
Roanoke Rising Campaign concludes as largest in Roanoke College's history
On Oct. 26, Roanoke College announced the record breaking conclusion of its Roanoke Rising Campaign. The campaign, publicly launched in April 2013 with a goal of $200 million, concluded having raised a total of $204,047,431.
Professor Robert Schultz's art and teaching profiled in magazine cover story
Recently retired, Dr. Robert Schultz is an award-winning author and exhibiting artist whose unique interests and works are the subject of an article in Private University Products and News.
Freshman swimmer Maria Vinson named ODAC Swimmer of the Week two weeks straight
Vinson, a freshman from Richmond, Virginia, picked up her second straight weekly honor after leading Roanoke to a dual meet win over Randolph-Macon. Richmond TV station WRIC also named her the "8News Athlete of the Week" and featured her in a story.
Quote
"My experience this past summer as a Fulbright Summer Institute participant in the United Kingdom allowed me to find confidence in myself that I never thought possible. Not only did I experience academic validation, I also learned I can be a world citizen. "
Jenna Novosel in Living Lutheran, Nov. 2018
Volleyball standout Linsey Bailey garners AVCA and ODAC honors.
Freshman Linsey Bailey was named as an Honorable Mention All-American by the American Volleyball Coaches Association, the latest honor for the athlete, who has already earned AVCA All-Region, ODAC Rookie of the Year and First-Team All-ODAC honors. Read about her accomplishments here and here.
Junior Jenna Novosel featured in national Lutheran magazine
Jenna Novasel shares why Roanoke College is her college of choice and how her Lutheran faith impacts her sense of purpose in the world. Roanoke student photographer Ashley Eagleson provided the photo for the magazine. The article can be found in the print and online versions of Living Lutheran.
IPOR takes on national polling effort
Roanoke's Institute for Policy and Opinion Research partnered with Siena College and the New York Times to conduct polls in strategic political races nationwide. WDBJ-7 covered the story.
Former Virginia Tech football coach Frank Beamer speaks on campus
Pi Lambda Phi Fraternity partnered with the Center for Leadership and Entrepreneurial Innovation to host an evening with Coach Frank Beamer in October. WXFR-TV covered the event. Click here for a video clip.
Dr. Liz Ackley's research and community health initiatives moving forward
Health and human performance professor Dr. Liz Ackley's work with Invest Health is making an impact in the Roanoke community. A Roanoke Times article reports on plans to bring a grocery story to an underserved area, and you can learn more about Ackley's research initiatives here.
Antrim Chapel Organ restored and dedicated in honor of Dr. Donald Moe
Dr. Moe, who was the first person to play the Casavant pipe organ when it was originally installed in 1970, returned to perform a recital of the newly-restored instrument. Read about it here.
Roanoke's summer lip synch video featured in Salem magazine
Roanoke College rose to the social media summer challenge and created an entertaining musical video that featured faculty, staff and first responders from the City of Salem and our own campus safety office. An article in Salem magazine details the collaboration and how Whitney Anderson and Carissa Divant of the College's public relations office pulled the campus and community together for the video in just days.
Students gain valuable experience in Washington Semester internships
Thirteen Roanoke students are living and working in the nation's capital through the Lutheran College Washington Semester program. More here.
Theatre graduate Devault named founding director of Humanity Theatre Project
Daniel DeVault '11 has been named founding artistic director for the Humanity Theatre Project, whose mission is to "utilize theatre as a catalyst for establishing human connections and creating critical conversations about empathy." Broadway World carried the story.