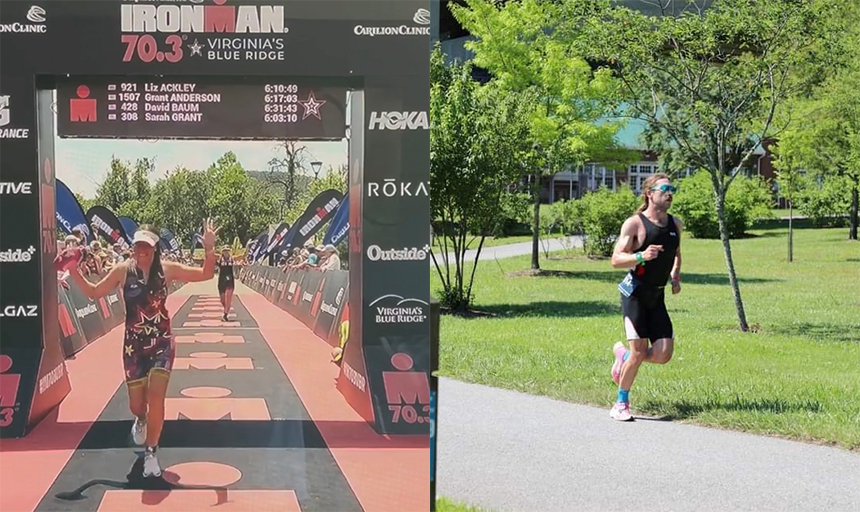 Dr. Liz Ackley (left) and Connor Kinkema '22 both raced in the recent Ironman in Roanoke. Kinkema finished fourth overall.
Maroons compete in Ironman race in Roanoke Valley
Connor Kinkema '22 searched a crowd of over 2,000 Ironman participants for one familiar face. He was looking for Dr. Liz Ackley, the Brian H. Thornhill Associate Professor of Health and Human Performance at Roanoke College. Not only had he and Ackley worked together on research at the College, but they had also been comparing notes on their preparation for the Ironman race that took place in Roanoke on Sunday, June 5.
Kinkema found Ackley before the race started, and they quickly embraced and wished each other luck. Then they embarked on the challenging task of completing an Ironman — a 1.2-mile swim, a 56-mile bike ride and a 13.1-mile run.
Kinkema, who is a professional triathlete, finished fourth overall. Ackley finished 21st in her age group, smiling as she crossed the finish line in her first-ever Ironman. Micah Spruill '11, a member of the Roanoke College Board of Trustees, also finished the race.
Ackley and Kinkema have been conducting research into pre-workout nutrition, and Ackley said the fact that they were working together on something that could help them in the Ironman was fitting.
"I think one of the things about doing research with undergrads is it just builds this amazing personal relationship with them because you're going through something that's innately difficult," Ackley said. "But to also share a competitive sport with somebody and to be able to understand that each other is going through this grueling training and grueling racing and injuries…it just brought the experience full circle."
Kinkema, who was a standout swimmer and track and field athlete during his time at Roanoke, said it was helpful to have someone to compare notes with as he prepared for the race.
"It was really cool to have that at Roanoke," Kinkema said. "And since triathlon is not a sport we have at the College, it's cool to have a foundation of people that compete in that area."
"I'm excited to see that Roanoke College is really embracing what's going on in the Valley. I mean, the fact that we are now an international hub for competitions like this is remarkable."
Dr. Liz Ackley, Brian H. Thornhill Associate Professor of Health and Human Performance at Roanoke College
Both Kinkema and Ackley agreed that the setting for the race, which wound through the Roanoke Valley, was stunning. The swim portion was in Carvins Cove, which is a popular destination for kayakers, hikers, mountain bikers and other outdoor enthusiasts. The bike portion was on the Blue Ridge Parkway, a drive that offers visitors breathtaking views of the Blue Ridge Mountains. It's a bike ride that Ackley is very familiar with, as she biked the entire stretch of the parkway in Virginia in 2020. Runners then got to run on the Roanoke River Greenway during the race.
Kinkema has raced in triathlons all over the country, and said there's nothing quite like an Ironman in Roanoke.
"The venue, the area and the support system around Roanoke is unparalleled to anything I've ever been to," Kinkema said. "Everyone's friendly. Everyone's there to help. There are so many volunteers. It's crazy. And then, Carvins Cove is probably the most beautiful U.S. swim for Ironman that they have."
The Ironman race came just days after Roanoke College announced it is starting a competitive cycling team. The Roanoke Valley has become a major destination for cyclists, and the College is capitalizing on that. The team will be a club sport at first and eventually transition into a varsity program.
Ackley said that team and the fact that multiple people in the Roanoke College community raced in the Ironman illustrate just how involved the College is in the exciting growth going on in the Roanoke Valley.
"I'm excited to see that Roanoke College is really embracing what's going on in the Valley," Ackley said. "I mean, the fact that we are now an international hub for competitions like this is remarkable. I'm excited that cycling is starting here. I think there's definitely room for a triathlon club. And I'm kind of hoping they let faculty compete."