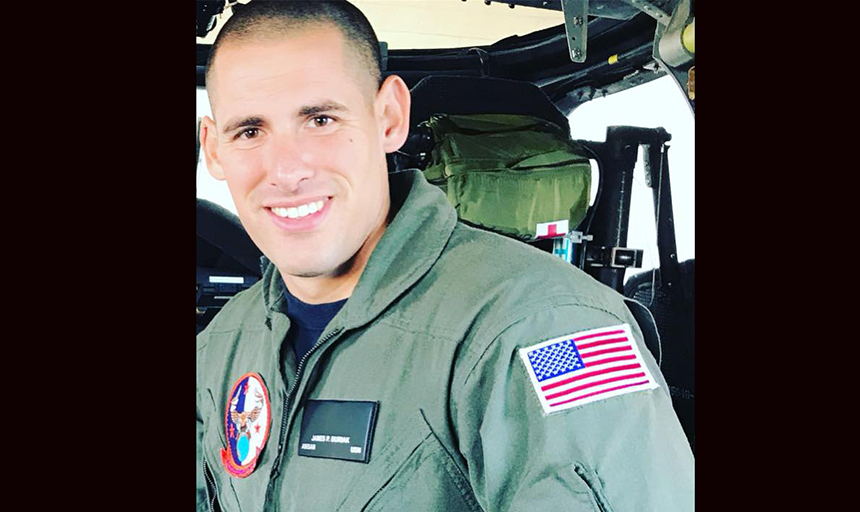 Roanoke graduate dies in tragic U.S. Navy helicopter crash
Naval Air Crewman 2nd Class James P. Buriak died Aug. 31 in the crash of an MH-60S U.S. Navy helicopter embarked aboard the aircraft carrier USS Abraham Lincoln. The helicopter crashed into the sea while conducting routine flight operations off the coast of San Diego.
Buriak was one of a six-person crew of the MH-60S Seahawk helicopter, five of whom died in the crash. All were attached to the Helicopter Sea Combat Squadron 8, which is based at Naval Air Station North Island in the San Diego Bay.
Buriak was a 2012 graduate of Roanoke College and the son of Jim Buriak, who retired earlier this year as athletic trainer and associate professor of health and human performance. AWS Buriak, a graduate of Salem High School who majored in sports management at Roanoke, was 31.
In 2020, Buriak was recognized for a heroic rescue of a man caught in a rip current on Gun Beach in Guam. Buriak said he had trained for all types of recoveries and put his training to the test during this rescue. He quickly leapt into action and swam his way toward a man who was swept up in a rip current. Buriak was able to pull the man from the current and get him to shore, difficult in part because of the man's exhaustion and the coral reefs that surround the island.
Buriak is survived by his wife, Megan, and young son, Caulder, as well as his parents, Jim and Carol Buriak, and his sister, Laura, and brother-in-law, Erik Zickefoose. A fundraiser has been created to support his wife and son during this tragic loss.
The Roanoke College community honors Jimmy Buriak for his service to our country.
For those wishing to offer their condolences to the Buriak family, please send to: Roanoke College Alumni Association, 221 College Lane, Salem, Virginia 24153, or email rcalumnievents@roanoke.edu.