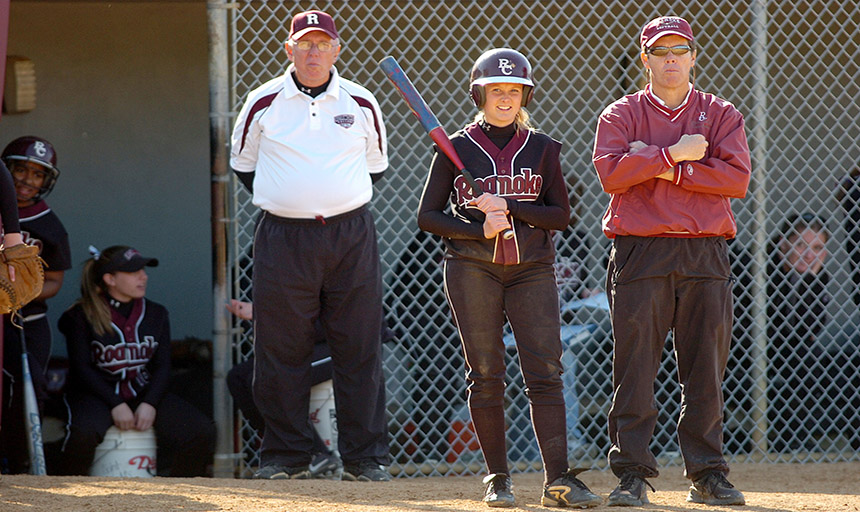 Loren LaPorte '08 with the Maroons softball team and coaches during a game in 2007.
Shining moment
The James Madison University softball team was running late for its first-ever game in the Women's College World Series.
Head Coach Loren (Messick) LaPorte '08, her staff, and the players were just 15 miles away from the OGE Energy Field at the USA Softball Hall of Fame Stadium in Oklahoma City. They had given themselves 45 minutes to make the drive. Then they hit the interstate.
"We didn't realize 14,000 people were going to the stadium at the same time," LaPorte said.
So the bus sat stuck in traffic. The estimated time of arrival on their GPS devices crept up and up, and LaPorte started worrying that the team was going to be late for the biggest game in JMU softball history. She called the organizers of the WCWS, and they sent police to escort the JMU bus through traffic.
LaPorte watched as the players laughed off the delay, taking selfies and videos as the police escorted them to the ballpark. They arrived with only 30 minutes to go until the game started.
Then, as improbable as it was, the Dukes defeated Oklahoma, the No. 1-ranked team in the country. Oklahoma ended up recovering from the loss and winning the WCWS, but JMU's win stunned the Sooners and the college softball world.
The way the Dukes not only kept their composure but also played well enough to beat the eventual national champions is a testament to what LaPorte has done in her time at JMU. The former Roanoke College softball player and assistant coach has been at the helm for the Dukes since 2017, and the team has seen historic success since then.
One of the keys to it all, LaPorte said, is making sure the players develop a bond with one another on and off the field.
"You hear the saying that you don't have to like each other off the field, but you have to like each other on the field. That is not reality," LaPorte said. "I've always hated that saying. You have to like each other all the time, and support each other and love each other and trust each other. Trust and love are very important."
That was one of the lessons she learned as a softball player at Roanoke College, LaPorte said, and it's helping fuel her success to this day.
"I was able to get my feet wet in a program that I really knew and that I really cared about, being that I graduated from [Roanoke]. I think it really helped me for the next level."
Loren LaPorte '08
A change of plans
Amy (Gillis) Nixon '07 remembers being in the circle as a pitcher and hearing LaPorte behind her. LaPorte, a four-time First Team All-ODAC shortstop, was always talking and reassuring her teammates, Nixon said.
"I just have memories of games where she built me up because she encouraged me with her words," Nixon said. "And she was always very vocal on the field. Always very positive and upbeat."
Fourteen years after graduating, Nixon repaid the favor, as she and two of LaPorte's other former Maroons teammates — Kasey (Phillips) Austin '07 and Whitney Colwell Neiditch '08 — made the trip to Oklahoma City to cheer on LaPorte and the Dukes. Nixon said it was a thrill to see her former teammate coach on such a high level.
Way back when they were playing together at Roanoke, Nixon thought LaPorte could make a good coach someday.
Being an NCAA softball coach wasn't in the plans for LaPorte, though. She majored in biology and education at Roanoke, and had visions of teaching elementary school and possibly coaching high school softball.
She was a key player on Roanoke's 2005 and 2006 ODAC championship teams, which also earned NCAA regional bids both seasons. She finished her Maroons career ranked in the top 10 all-time in five statistical categories, and the team had a 118-38 record in her four years.
As her playing career came to an end, her coaching career began. Mike Walthall, Roanoke's head softball coach at the time, asked LaPorte if she would be interested in joining the coaching staff after her senior year. She agreed, and though the move jump-started her coaching career, it was a somewhat awkward transition at first.
"I think the hardest thing, for me being such a young coach and being a coach at my alma mater, was being able to change my relationship very quickly with my teammates," LaPorte said. "That was difficult, because, you know, they were my best friends."
Her former teammates respected her, though, and her first experience as a coach was a positive one. She was the team's infield instructor and helped them to a 24-11 overall and 12-6 record in the Old Dominion Athletic Conference.
After just a year coaching at Roanoke, LaPorte got a call from Radford University head softball coach Mickey Dean. Dean had heard great things about LaPorte based on her experience coaching a couple Radford players in a summer league. He wanted LaPorte to join his staff.
In just a few short years, everything had changed. Instead of embarking on a career in elementary education, LaPorte had an offer to join a Division I coaching staff.
She took the job, confident that her time at Roanoke as a player and a coach had prepared her for what was next.
"I was able to get my feet wet in a program that I really knew and that I really cared about, being that I graduated from there," LaPorte said. "I think it really helped me for the next level."
To read the full version of the story, please click here and turn to page 12.