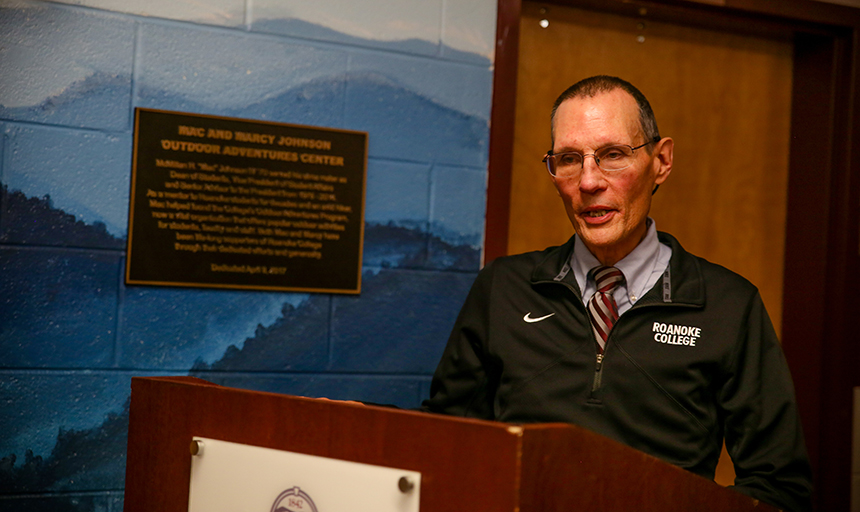 4.13.2017
By Roanoke College News
New Look and New Name for Mac and Marcy Johnson Outdoor Adventures Center
Roanoke College's Outdoor Adventures Center has a new home, a new look and a new name.
On Saturday, April 8, the center, now located on the first floor of the Bast Center, was dedicated to McMillan "Mac" and Marcy Johnson. Mac Johnson '70, retired vice president and dean of students at Roanoke, created and led the College's Outdoor Adventures program for many years. Marcy Johnson provided support for the program as well.
"Mac has been so many things to so many people in this room," said Charles Hammond '98, while speaking to a crowd gathered for a dedication ceremony in front of the center's new location. Hammond attended many outdoor adventures trips with Mac Johnson while he was a student.
Hammond described Mac Johnson's impact on him and so many other students who bonded with the dean and outdoors lover on countless adventure quests.
"Mac and Marcy spent their professional careers helping students."
President Mike Maxey
The center's new location is housed in a former ticketing area in the Bast Center. The doorway to the space was reconfigured to resemble a trail shelter, while a mountain mural is painted on the walls surrounding the entrance. Inside, the center houses outdoors equipment for rent, including kayaks, mountain bikes, backpacks, tents, sleeping bags, camping supplies and more.
The center is a legacy to the Johnsons' impact on Roanoke students, said President Mike Maxey during the ceremony.
"If we had a scale of deserve-ability recognition at Roanoke, Mac and Marcy would knock the top off the scale," Maxey said. "When Mac gave advice to many students, he never called attention to himself. He never asked for recognition for himself ever."
"Mac and Marcy spent their professional careers helping students," Maxey added.