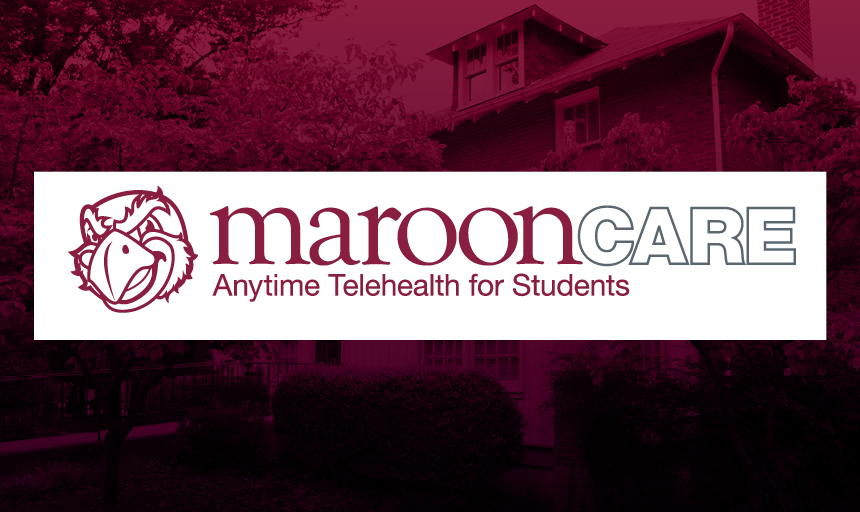 MaroonCare provides 24/7 health and counseling resources for students
MaroonCare, a new telehealth program for Roanoke College students, is designed to complement the services provided by Student Health and Counseling Services. MaroonCare gives students 24/7 access to a dynamic medical and mental health resource. All of these online visits are provided at no cost to currently enrolled students who live on campus. Students who live off campus may use the service (cost effective visit fees apply).

Register for MaroonCare now through March 15 to be entered to win a $50 Amazon gift card! To be entered to win, just follow these steps:
Go

to

www.Maroon.Care

an

d click "Sign In" to register with your roanoke.edu email address.

Text MAROONCARE to 474747
Maroon Care features five types of services:
Medical

: on-demand access to a medical provider that can treat a wide range of common illnesses

such as

cold and flu, sinus infection, allergies and more

TalkNow

: on-demand access to a mental health professional to talk about anything at any

time

Scheduled Counseling

: scheduled options to speak with a licensed mental health provider

Psychiatry appointments

: available with a referral from a mental health or medical provider

Health Coaching

: access to a nutritional specialist to help students adopt healthier lifestyle behaviors related to sleep issues, weight management and more.
The College has experienced an increased demand for all counseling and health services, and MaroonCare provides additional student-focused medical, mental health and wellness practitioners to serve all Roanoke College students. MaroonCare also provides access to a diverse group of licensed counselors, which has been a need identified by many Roanoke students.
The average wait time is five minutes for medical appointments with a 10-minute average for diagnosis.
MaroonCare offers several options for mental health wellness. TalkNow is a 24/7, on-demand service where students can get mental health support. These appointments typically are available with only a five-minute wait time and then a 30-minute average visit. Scheduled counseling appointments of 45 minutes may also be arranged for students (up to 12 per year). Psychiatry is also available with a referral from a MaroonCare or Roanoke College Student Health and Counseling Services provider.
Health Coaching is another resource provided by MaroonCare. Nutrition specialists help students adopt healthier lifestyle behaviors and address health challenges. Again, these appointments are open to all Roanoke College students (with a cost-effective visit fee to those living off campus).
Students are encouraged to set up their MaroonCare account, if you haven't done so already, so it is ready when you need it. Go to MaroonCare and create an account using your Roanoke College email address.
A reminder for students who are under 18: You will need your parent or guardian to register you.
MaroonCare's offerings are in addition to the excellent in-person care our office of Student Health and Counseling always provides. MaroonCare is meant to supplement, not replace, our in-person resources. You can reach Student Health and Counseling Services at (540) 375-2286 or visit them online at roanoke.edu/health.