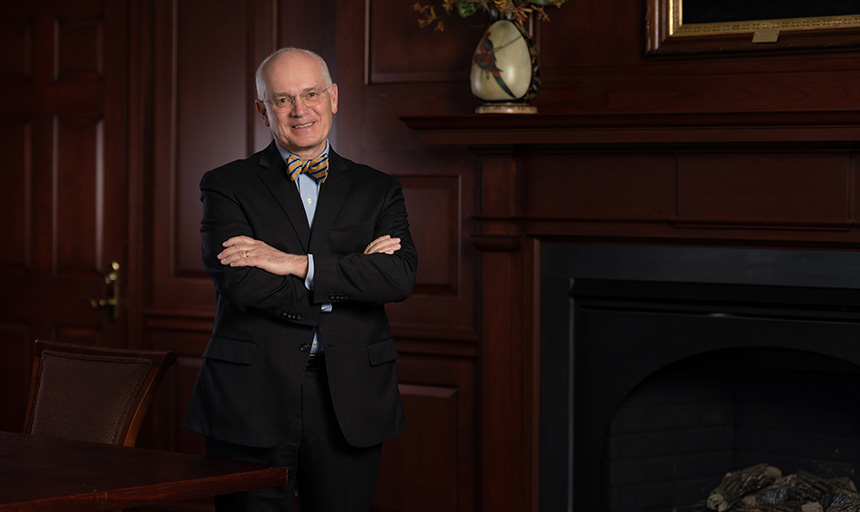 Michael C. Maxey, 11th president of Roanoke College. Photo: Richard Boyd, Boyd Pearman Photography
Privilege of a lifetime
Roanoke College President Michael C. Maxey looks closely at the trio of half-tied bow ties before him. Then he steps in.
"You wouldn't believe how many times I had to do this to get it right," Maxey says as he helps Matthew Smith '24 tighten the tie.
Smith is one of the students in Maxey's office for a bow tie-tying lesson the day before the President's Ball in March. The President's Ball is an annual formal celebration hosted by the president and First Lady Terri Maxey, and these students are learning how to master Maxey's signature neckwear.
As they slowly learn, Maxey talks to them about his collection of nearly 270 bow ties. He even pulls out the bow tie he always keeps in his office in case he needs one on short notice. It hangs on his coat rack, and is striped with blue, orange, purple and green — enough of a variety where he can match it to just about anything.
Maxey makes sure they're watching in the mirror as he helps them through the process. He wants them to be able to do this without his help eventually.
"I'll do it once," Maxey says. "Then I'm turning the keys to the car over to you."
Maxey is handing over his title as Roanoke College president this year as well. He's retiring at the end of July after 37 years at Roanoke College, the final 15 as its president.
His legacy will include much more than the speeches he's given or the plaques in his name or the bow ties he's knotted. If you talk to those who have been involved with the College during Maxey's time in Salem, it is clear that he's made a lasting impression on people in all corners of the Maroons community and beyond.
He's perhaps best known for his one-on-one interactions with people, especially for remembering details about them. He makes a point to learn every freshman's name by the end of their first year on campus. He recalls specific facts about students, faculty and staff members — where they're from, where their spouse works, what projects they're currently working on.
Maxey is always sure to mention that nothing he has accomplished as Roanoke's 11th president has been done alone. He gives a great deal of credit to those who came before him. But as much as others may have helped him along the way, it's undeniable that Maxey has played a key role in keeping the College on a strong path during his presidency, even through difficult times.
"Mike is clearly among the most gifted leaders that I have ever encountered in my entire career. He really is able to come to any position that he has with uncompromising integrity."
Dr. David Gring, ninth president of Roanoke College
A gifted leader
When he was selected as Roanoke College's ninth president in early 1989, Dr. David Gring immediately had a vacancy to fill. The vice president for admissions services position was newly open, and someone at the college recommended that Gring hire Mike Maxey for the job.
Maxey, who arrived at Roanoke College in 1985, flew all the way up to Moorhead, Minnesota, where Gring was completing his time as dean and vice president of academic affairs at Concordia College, to interview for the job. The meeting turned into a two-way interview, as Gring remembers it. While Gring determined whether he wanted to promote Maxey, Maxey tried to figure out if Gring was someone he wanted to work for.
Not only did Maxey get the job, but the meeting was the beginning of a friendship that has lasted more than 30 years.
"Mike is clearly among the most gifted leaders that I have ever encountered in my entire career," Gring says. "He really is able to come to any position that he has with uncompromising integrity."
Gring, who retired from the presidency in 2004, was one of the people who encouraged Maxey to go for the job in 2007. Gring watched as Maxey's job almost immediately became more difficult with the Great Recession, which spanned from 2007 to 2009. Gring says he's been amazed at how Maxey handled both the recession and the COVID-19 pandemic in the final years of his presidency.
Difficult circumstances can expose someone's true leadership qualities, and Maxey shined when confronted with challenges, Gring believes.
"There's nothing that lays bare a leader's ability more than circumstances that arise beyond his or her control," he says.
Very few people have worked as closely with Maxey during such circumstances as Tom Rambo. Rambo, the current dean of students, was the director of Campus Safety from 2014-2020. Throughout the COVID-19 pandemic, Rambo says Maxey was the "essence of calm" as he made tough decisions.
Maxey was always open, honest and willing to lead from the front rather than pass duties on to others, Rambo says. This was exemplified when Maxey held a town hall-style gathering on the Back Quad the day students learned they would be sent home as the pandemic began. Though he didn't have all the answers, Maxey was honest with the students and didn't hold anything back.
Instances like that have convinced Rambo that Maxey's leadership has well-positioned the College for the future.
"Mike has created a community that is nurturing, that is caring," Rambo says. "And if that's the atmosphere on campus, I think that is probably one of the first things that helps the College deal with change."
That change will come this summer, as Dr. Frank Shushok Jr. steps in as Roanoke's 12th president. Maxey has expressed the utmost confidence in Shushok, and has set the table for success with the culture he has created on campus.
To read the full story, including a special tribute to First Lady Terri Maxey, click here and turn to page 12.