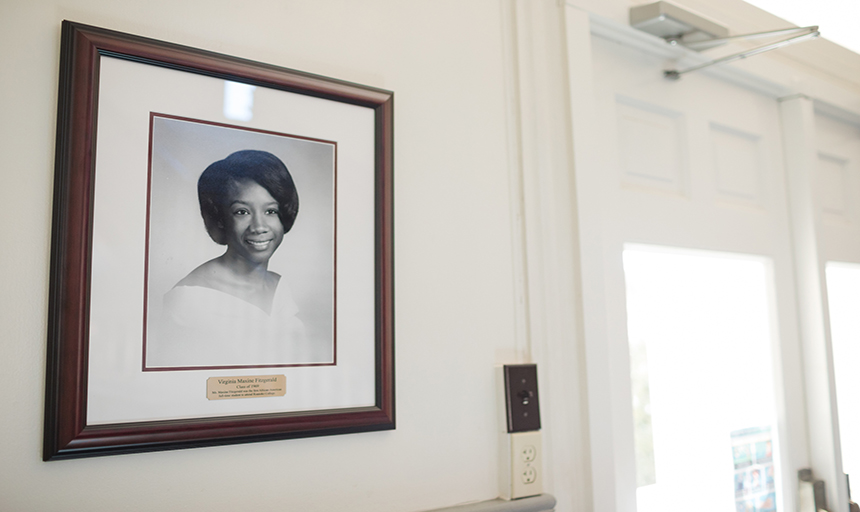 A portrait of a young Virginia Maxine Fitzgerald, placed on a wall near the front entrance of the Roanoke College Administration Building on Feb. 25, 2021.
Roanoke mourns death of College historymaker
Virginia Maxine Fitzgerald '69, the first Black American to enroll at Roanoke College as a full-time student, died on Saturday, Aug. 14.
Fitzgerald's enrollment at Roanoke in 1964 came during a national era marked by the gradual opening of higher education doors to Black Americans. She was among the first to enroll at a private college in Virginia.
The historical significance was not lost on Fitzgerald but was almost secondary to her educational pursuits. She was a bright, driven young woman with a desire to further her education. Valedictorian of the G.W. Carver School Class of 1964, Fitzgerald was one of five Black American students to apply to Roanoke that year. She was the only one accepted.
Fitzgerald had been offered a scholarship to several other colleges, but Roanoke was her "first choice," she told The Roanoke Times in 1964, because it offered some courses not available at other schools.
"I want to major in biology," she told the newspaper, and said she hoped to "teach a few years" after graduation from college then return to school and become a psychologist.
Her intended major was biology, but she switched to psychology, graduating in 1969 with a bachelor's degree in psychology.
"Maxine was a true, outstanding pioneer of the times. She stood up and stood out in an era where there was segregation and desegregation."
Ken Belton '81, Roanoke College Board of Trustees member
She went on to earn a master's degree in clinical psychology from Radford College (now Radford University). For 29 years, she worked as a psychology technician at the Veterans Affairs Medical Center in Salem before retiring in 1995.
In 2019, Fitzgerald marked the 50th anniversary of her graduation from Roanoke College. Two years later — during the month nationally designated to recognize the role of Black Americans in U.S. history — a portrait of a young Fitzgerald was placed on a wall near the front entrance of the College's Administration Building.
Ken Belton '81, a member of the Roanoke College Board of Trustees who has been instrumental in developing diversity initiatives at the College, referred to Fitzgerald as "a true, outstanding pioneer of the times."
Fitzgerald "stood up and stood out in an era where there was segregation and desegregation," Belton said. "Her courage and determination have created much opportunity for many African Americans and other minority student enrollment."
"As Roanoke College continues its mission to develop the whole person, we elevate the diversity and inclusion of all students, no matter what race, ethnicity, gender or color."
For those wishing to pay their respects, a public viewing will be held Thursday, Aug. 19 at Hamlar-Curtis Funeral Home & Crematory, 1002 Moorman Ave., N.W., Roanoke, Virginia. The funeral service will be held at 11 a.m. Friday, Aug. 20 at Hamlar-Curtis Chapel. The service will be livestreamed from the Hamlar-Curtis website. Read more about Fitzgerald in a 2018 article published in Roanoke College magazine.