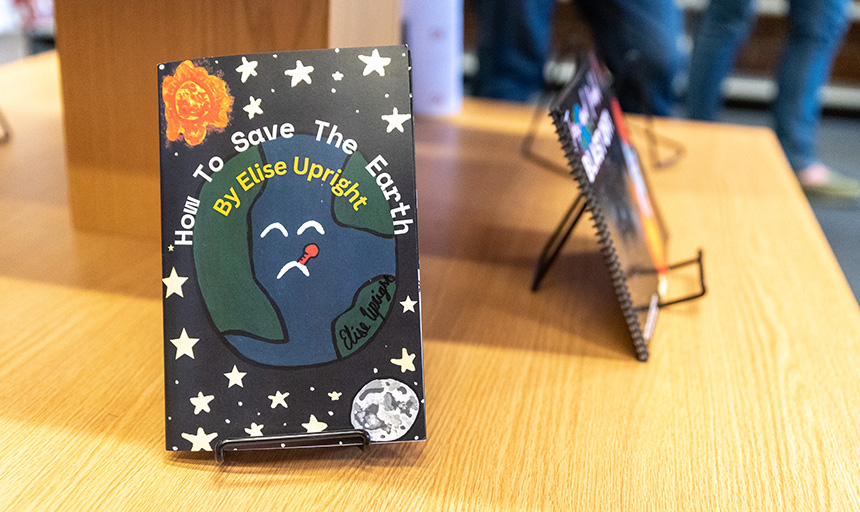 May Term Moments: Science Storytelling
Some might argue that May Term is the most wonderful time of year at Roanoke College. During this three-week term, students get to dive fully into one subject for an intensive learning session that often blends education with fun.
May Term courses might be held on campus with half-day or full-day trips off campus; they might include overnight stays; or they might take students across the country or around the world to study a specific subject in a new land. Other students complete the requirement by doing an independent study or internship.
No matter how students choose to complete May Term, they get to select from unique courses such as Adventure into Nature, Puzzling Through Games with Logic or The Physics of Music in Austria and Hungary, all of which are guaranteed to build memories for a lifetime.
Here is a peek inside some of those on-campus May Term options:
Innovative approach to STEM takes students from textbooks to storybooks
Many of us can say that over the course of three weeks, we went to school or work almost every day, did laundry several times and managed to catch the series finale of "Ted Lasso."
But a group of students in Assistant Professor Chelsea Peters' May Term class can say something far more impressive: In just three weeks, they conceived of, wrote, illustrated and had printed a children's book that explains a complex scientific concept. They even planned their own book launch event to unveil their work.
The course, "Science Storytelling," was part of Roanoke College's Intensive Learning Term, which allows students to be immersed in one course for several hours each day for three weeks. It is the first time Peters has taught the class, which attracted students from a variety of majors, including biology, environmental studies, elementary education and more.
"I wrote a children's book when I was working on my Ph.D., and it was super impactful for me," said Peters, who teaches in the Environmental Studies Program. "I wanted to share that with them."
Creating a children's book may sound like a fun project, and it is, but it also achieves an array of learning objectives. Students learn the importance of public outreach and communication within STEM fields, achieve a greater understanding of their chosen book topic, learn how to explain a complicated concept to young readers, and develop the communication literacy necessary to carry out the project from start to finish. They may also experiment with new technologies – for example, Eliana Glover '24 used Adobe Illustrator for the first time to create her book about the aurora borealis.
"This class made something that seemed so daunting more manageable and tangible," said Glover, who now has ideas for other children's books she wants to make.
Book topics ran the gamut from the rainbows to the food chain. Elise Upright '24 tackled climate change in her book, offering children ideas to help the environment. Jasmine Laramay '24 created a book that explains how the immune system attacks viruses in the body. A book by Tommy Toombs '26 teaches kids about predators in the animal kingdom with gems such as, "King cobras are seriously no joke. Their venom is strong enough to make an elephant croak!"
Iva Barnes '24 and Maddie Hall '24, who said they've been best friends since first grade, teamed up to write a book about the food chain. In their book, children meet an owl who feels sick, so they help him determine the cause (pesticides) by tracing it back through the food chain. Barnes, an elementary education major, said, "I think it's important to communicate science to all levels, and this is a fun way to use what I make in here in a classroom one day."
On June 2, students wrapped up the experience with a book launch party at the Salem Public Library, which they planned themselves. The event featured snacks for guests and activities for children. The pride on the students' faces was apparent – and it matched the look on Peters' face.
"I'm so proud of them," she said. "They did such a good job, and it's nice that they get to walk away with something."
Play Ball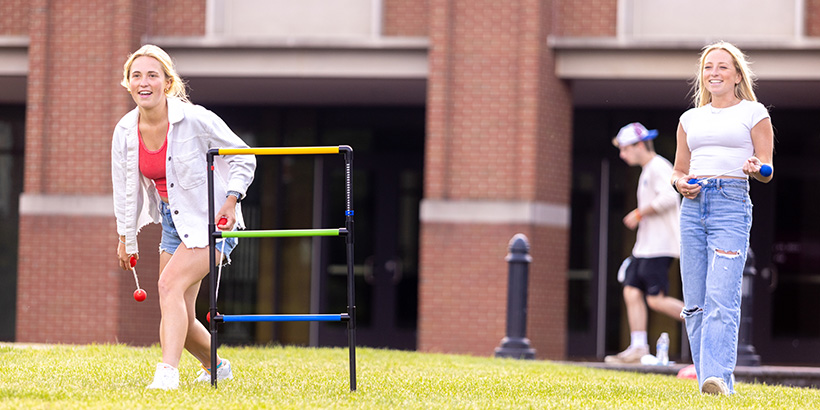 Morgan O'Neill '24 (right) and a classmate play ladder ball during a mini-tailgating experience in their May Term course, "Sport Consumer Behavior: Exploring Fandom."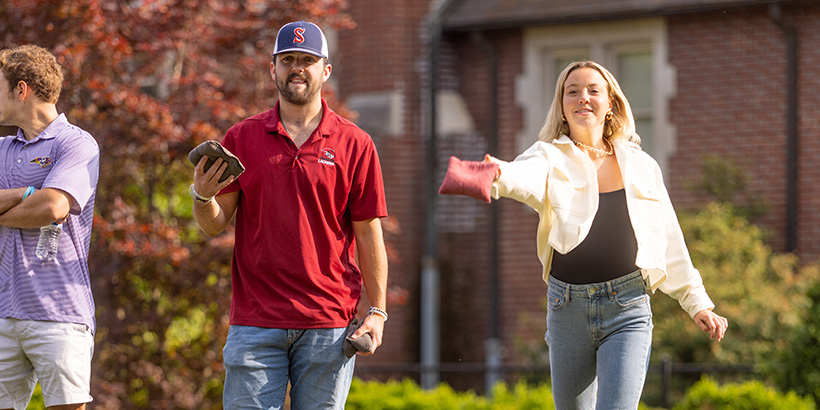 Sean Swenson '24 and a classmate play cornhole during a mini-tailgating experience for their May Term course on sport fandom.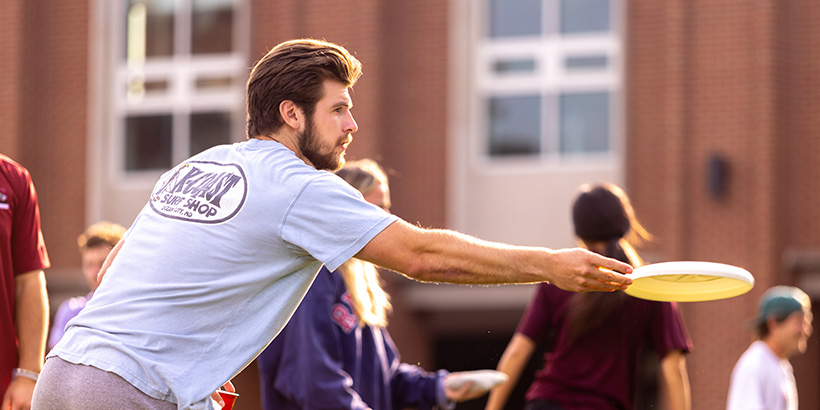 A student tosses a disc during a game of Kan Jam in a May Term course on sport fandom and consumer behavior.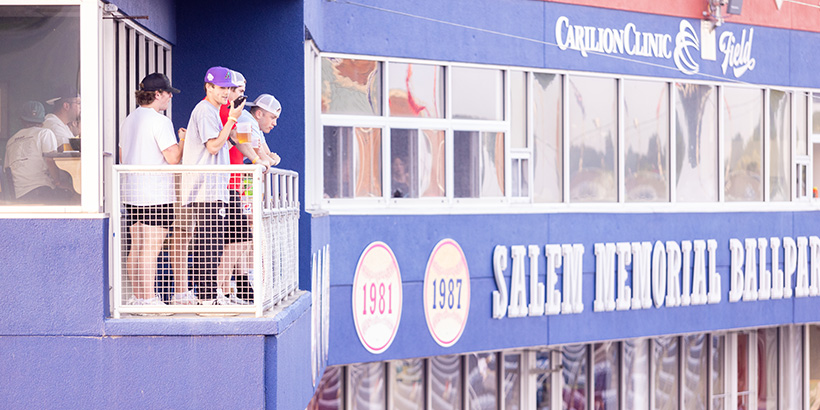 Hands-on fandom activities included taking in a Salem Red Sox game from one of the stadium's box suites.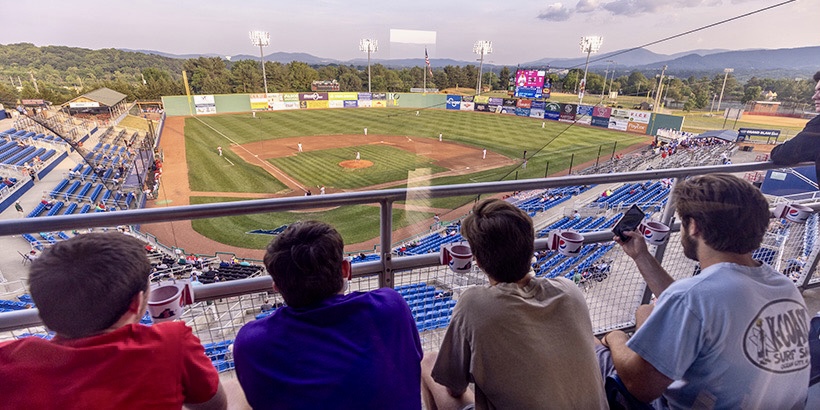 Hands-on fandom activities in the intensive learning course on sport consumer behavior included taking in a Salem Red Sox game from one of the stadium's box suites.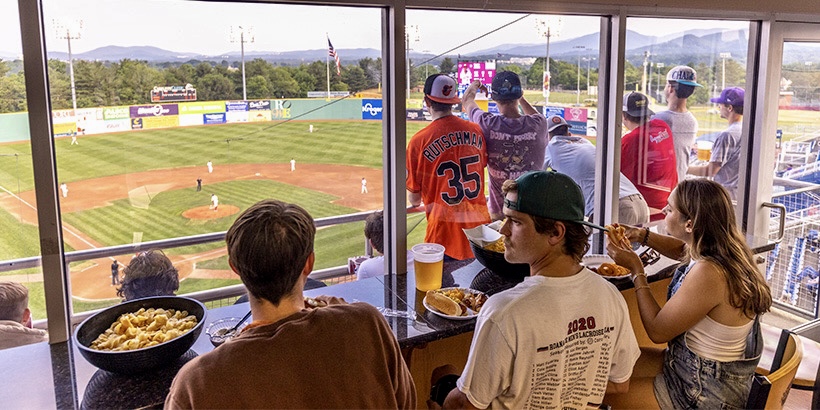 Hands-on activities in the intensive learning course on sport consumer behavior included exploring fan amenities in the Salem Red Sox's box suites.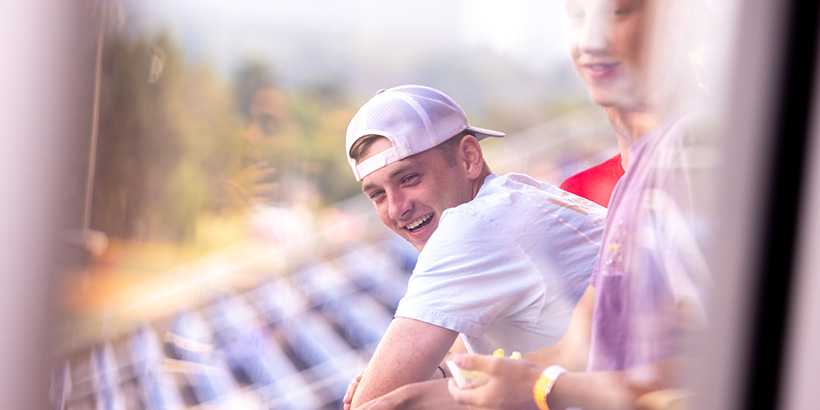 Hands-on fandom activities included taking in a Salem Red Sox game from one of the stadium's box suites.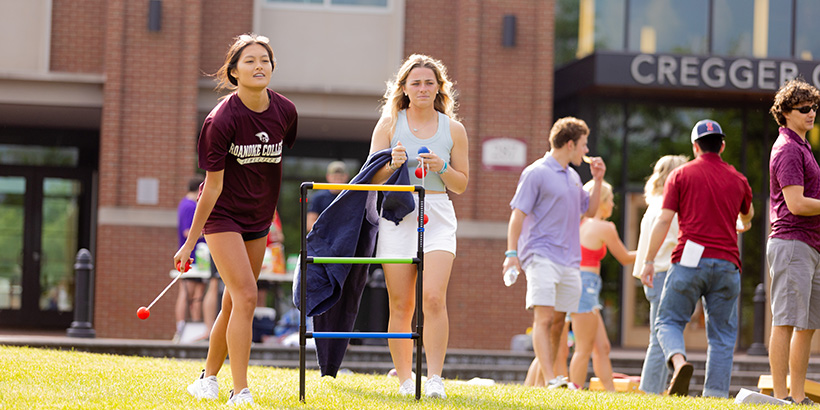 Student teams face off in games of ladder ball during a mini-tailgating experience in their May Term course, "Sport Consumer Behavior: Exploring Fandom."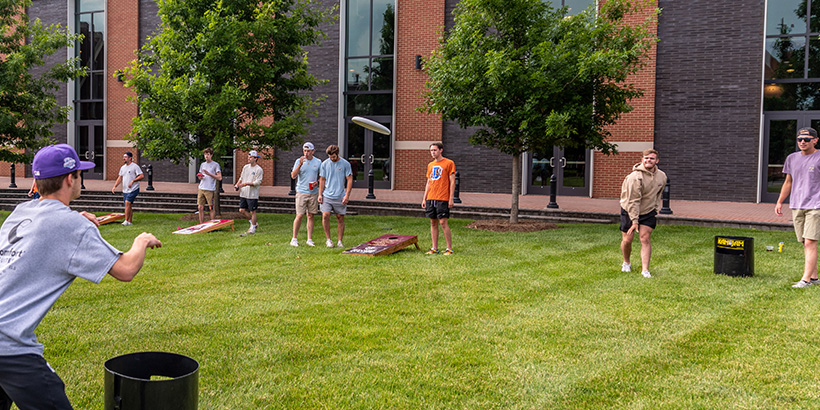 Students wield discs during games of Kan Jam at a mini-tailgating experience organized in their May Term course on sport fandom and consumer behavior.
Sport (fandom) is a mental game
Tailgating, stadium chants, pregame rituals. Sport is such a fundamental part of American culture that its fandom and traditions seem like second nature.
But the factors that drive why people become fans and how they take part in their favored team's lore are grounded in social sciences, which includes sport management and psychology — insights that can be invaluable for students heading toward careers in athletics, hospitality, event management and more.
That's where "Sport Consumer Behavior: Exploring Fandom" comes into play. The May Term course is an examination of both the serious science and the pure fun that can be found in the wide world of sports.
Led by two professors from different programs — K.C. Mayer in sport management and Darcey Powell in psychology — the curriculum blends readings and classroom talks with hands-on experiences of games and fan fun.
On a sunny summer day, students gathered outside the Cregger Center Arena for a mini-tailgating experience complete with snacks, yard games and a history lesson on how those games rose to popularity. Later, they headed out to the Salem Red Sox ballpark, where they watched the game in a luxury suite while they examined and experienced the premium seating amenities offered at the stadium.
The immersive curriculum requires students to think critically about things that most people take for granted: Why do fans like sports? Why do they like one sport over another? How do effective teams build fan bases and draw people into sports mania?
"Most of these students are sports fans, but they might only like certain sports or niches," Mayer said. "Here, they get to explore different games and different facets of fandom. We get into yoga, eSports, rock climbing. We did a fantasy league draft using all the sports that had a game over the weekend. The draft activity led them to consider whether having a player on their fantasy team changed how they felt about a game they wouldn't have cared about otherwise."
That line of inquiry pushes beyond the field or court to draw deeper connections between fandom and what motivates people. "We get into the theory and science of it," Mayer said. "Why do people go to games or not?"
The course also introduces students to a side of sports that is new for many: teaching the skills of a sport. Groups were assigned games to build a tutorial around. Morgan O'Neill '24, a forward on the women's soccer team, was tasked with peers to lead the class basketball tutorial. The assignment required her to not only look at a new sport, but to draw on team leadership and communication skills that will translate to the public health studies major's life after graduation.
Colby Roy '24, a pitcher on the baseball team and a business administration major, said his experience at Roanoke College has introduced him to a deeper side of the sports world.
"Sports has been part of my life since I was 4 years old," said Roy, who counts attending a New York Yankees game with his parents as one of his earliest childhood memories. "I love sports, but it wasn't until I came to college that I realized how complex they could be. Dr. Mayer's classes, in particular, helped me better understand the business aspects of sports. Now it's something I'd like to make my career. To combine my interests by getting into the sports marketing and sports agent realm. There's so much potential there. That's something I learned here."
From flora to fauna, natural history course explores the rich ecology of Appalachia
Rachel Collins is taking her Intensive Learning Term course in May into the forest.
Collins' Natural History of the Southern Appalachians is a regionally based course with classes on campus and local excursions for hiking, birdwatching and plant identification. Collins' goal is to teach the students to explore the biodiversity and ecology of forest communities as naturalists do.
So far this term, Collins, professor of biology, has taken the class of 13 students to the Carvins Cove Nature Preserve, Apple Orchard Falls, Buzzard Rock and Peaks of Otter, where they hiked Flat Top mountain. They have also been birding at Greenfield Park in Botetourt County.
Intensive learning classes often offer a mixture of academic interests, and this course is no exception. Collins said this year's class includes business, history, biology and environmental studies majors.
"At first, most of them could only identify a maple or oak tree. Now they can all identify 10-15 trees and a bunch of wildflowers," Collins said as the group watched birds at Greenfield. "Today we are doing birding, so they'll know more birds, and we'll do more birding in the Smokeys."
The group is spending a week camping in the Great Smokey Mountain National Park, which is renowned for its diversity of plant and animal life. As they explore the ancient mountains, each student will study and become an expert on a particular species or family. During the week, they will hike several trails to study birds, trees and plants. A visit to the highest point in the park, Clingman's Dome, provides a look at a high-elevation forest. The site is the second-highest point east of the Mississippi River.
"They will have times where they will go off for an hour with their notebook and their identification guide and just spend time being immersed in nature and observing and writing notes," Collins said. "The idea is teaching them about natural history using the methods that naturalists use."
Field guides, notebooks and binoculars are usually close at hand in the class. By the end of May Term, students will create nature trail guides about the biodiversity of trails at Carvins Cove Nature Preserve, which is near campus, and give guided tours of their trail areas to the class.
"The idea behind the class is that this is the natural history of Appalachian forests," Collins said. "They've learned about different forest types and differences due to elevation and topography. You get different communities of forests, and they've learned to identify the type of forest they're in, the trees, the wildflowers and the birds. We've also come across other things along the way. We saw a red eft [a native salamander] and so I got to tell them about it."
The students said they enjoyed the opportunity to be outside and learn more about the birds and trees around them. James Sutch said he was hoping to see a bear or a fox in the Smokeys. Seth Casey said he wants to see a hellbender, the largest salamander in North America. "I'm bringing my snorkeling gear and even if the water is 40 degrees, I'm hoping to find one!"
Money Mindsets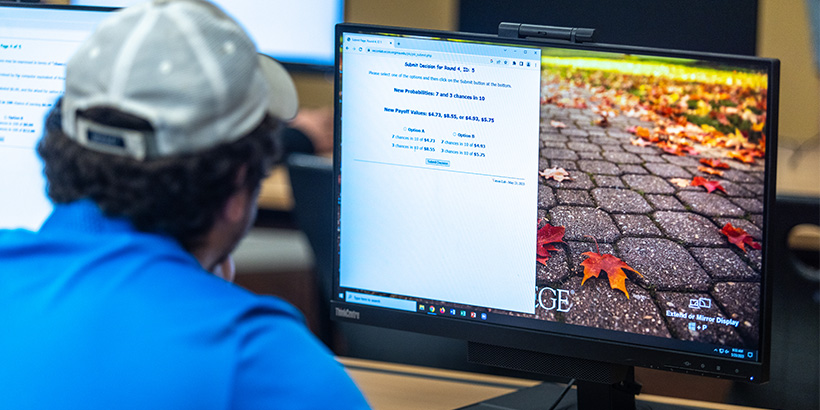 Grant Webster '24 mulls over a question designed to help gauge consume decision-making in his May Term class, Experimental Economics.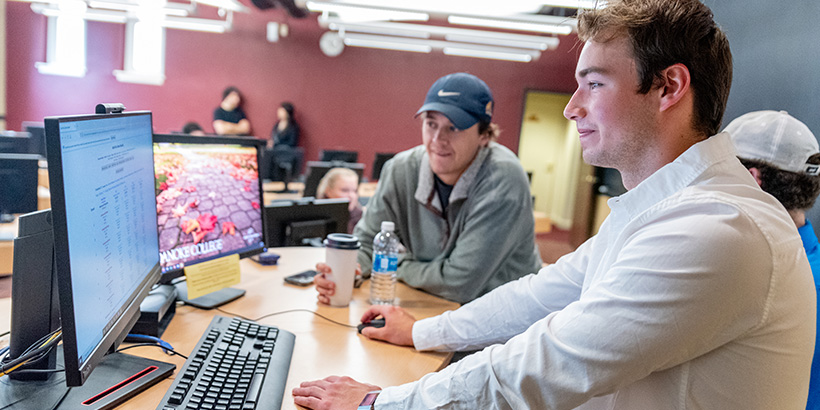 Lucas Apelian '25 and his teammates watch the results of an experiment come in during a session of a course on experimental economics.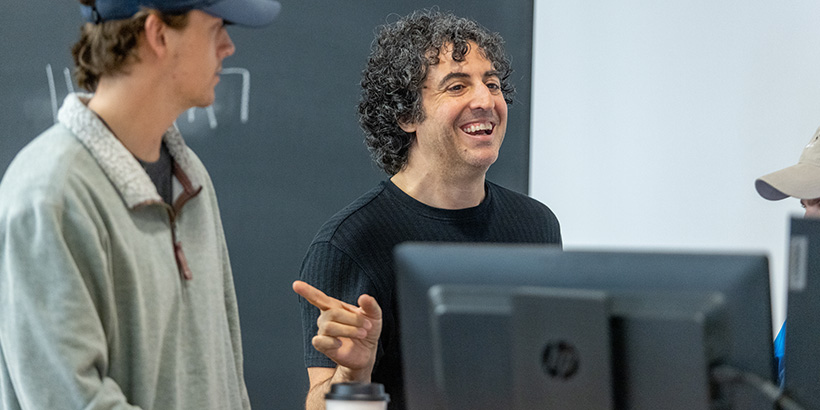 Professor Edward Nik-Khah helps students troubleshoot as they learn how to design their own projects in a course on experimental economics.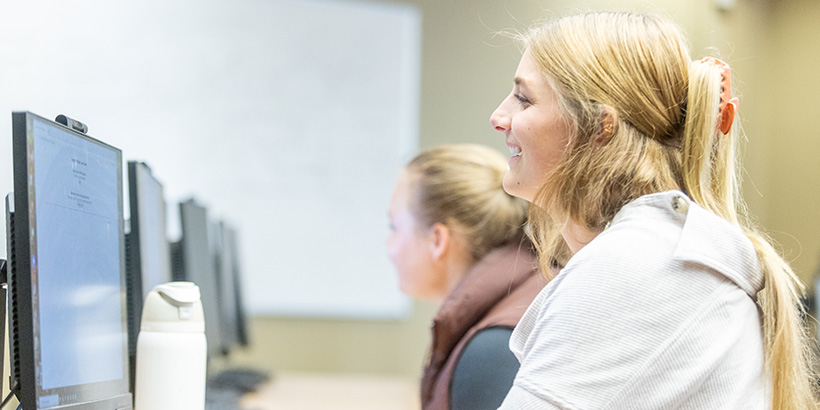 Students take part in a discussion in a course that challenges them to design and implement their own experiments to gauge how consumers make decisions.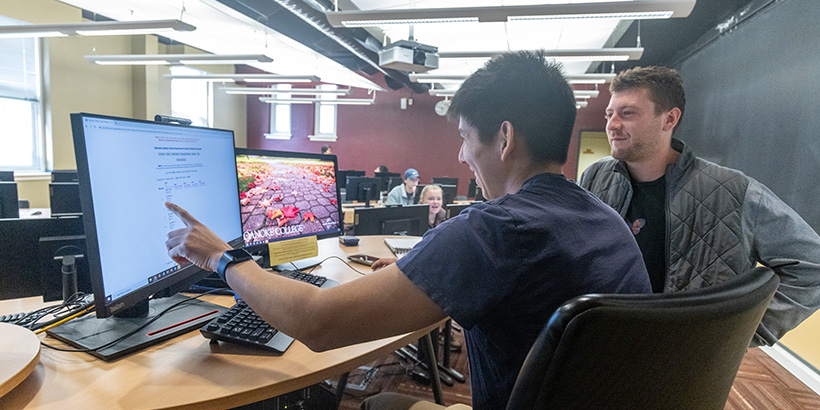 Students monitor answers coming in from an experiment they devised in a May Term course on economics.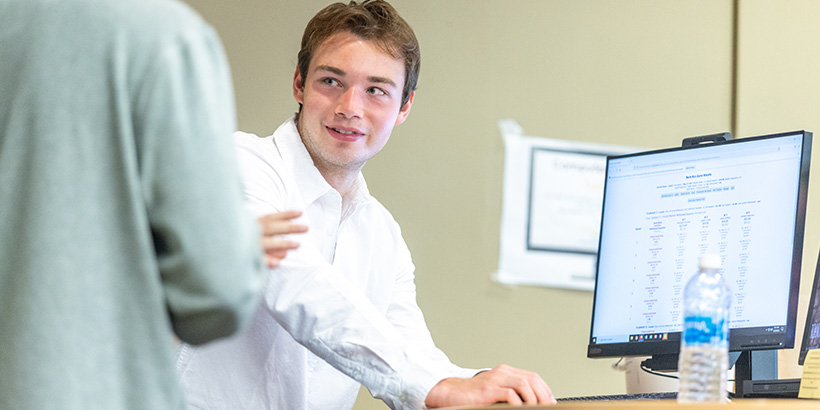 Lucas Apelian '25 talks with his teammates as they analyze the results of an experiment they conducted to examine risk factors that could lead to a bank run.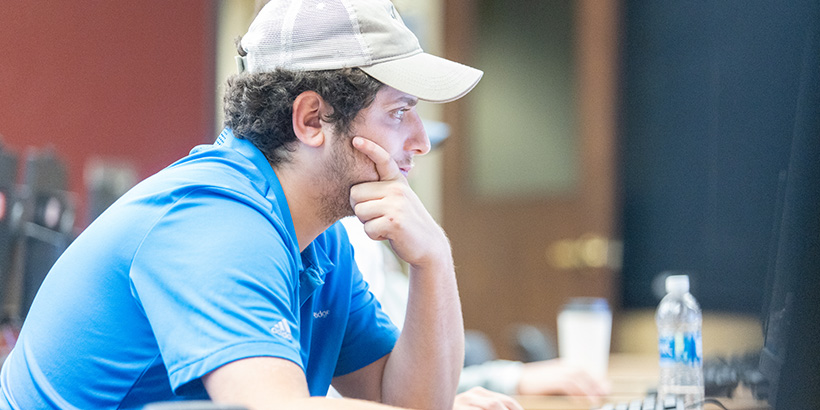 Grant Webster '24 weighs a question posed by one of his fellow classmates for an experiment devised in a May Term course on experimental economics.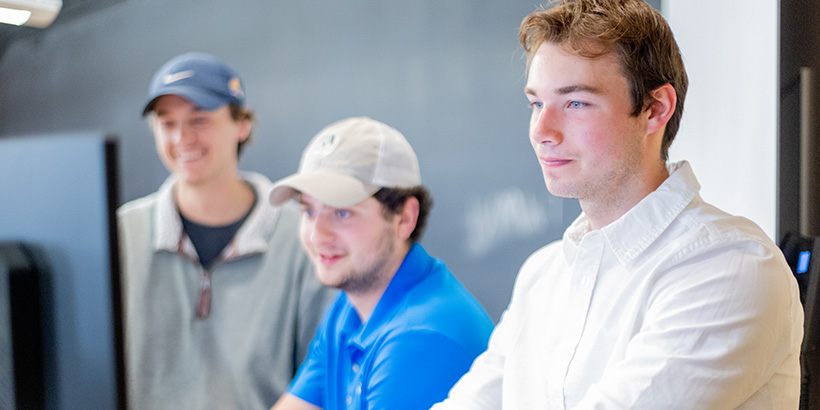 Lucas Apelian '25 (right), Grant Webster '24 (center) and their teammates monitor the results of a consumer experiment they developed for their May Term course on experimental economics.
Cracking the code on consumer behavior
Imagine you hear that someone else just closed out their account at your bank. One account? No biggie. But then you hear about another and another and another.
The reports start piling up. Does panic start setting in? Do you find yourself picking up the phone to call your accountant? What factors influence the decision you'll make next?
That question — what drives consumer behavior — is at the core of the field of economics. Historically, experts had to rely on analyzing past events to gather their insights. But a fast-growing field is turning its attention to the future, exploring questions that are increasingly valuable in our modern, tech-driven world.
"Experimental economics is all about testing rationality and how decisions are made," explained Professor Edward Nik-Khah, instructor of an in-depth May Term course on the subject. "And it's not only used to test theories. Nowadays, its tenets are employed by all these platform companies. Google, Microsoft, Uber, Facebook, every platform you can think of hires economists to help build things that structure how social interaction happens within their services.
"That's interesting because what starts out as a project of testing theories is able to sort of break out of the laboratory and find a life of its own in the real world."
In Nik-Khah's course, Experimental Economics, which is happening on campus now, students are getting a foundation in designing and analyzing their own economic experiments. They experience the process on both sides — as experiment runner and experiment subject — while developing a deeper understanding of the rigors, ethics and global economic relevancy of the field.
In the second week of the course, Grant Webster '24 and Lucas Apelian '25 huddled with their other teammates around a computer as they monitored the incoming results of an experiment their group designed around the risk factors for a bank run — specifically whether knowing what other account holders were doing would make someone more or less likely to withdraw their own money from a financial institution.
The experiment offered subjects, comprised of their other classmates, shifting scenarios and events to gauge how they would respond. The aim was to evaluate human behavior and how it reacts to differently structured prompts and opportunities.
Apelian, a business and finance student, said the course name jumped out at him in the May Term catalog. The chance to do firsthand work in developing experiments and testing consumer behavior intrigued him.
The May Term opportunity, by design, is unlike other economics classes.
"We're going deeper into things like game theory and strategy," said Webster, a business major with a concentration in finance. "It's a more specialized form of economics that's being taught in a really intensive, in-depth way. It's really intricate in both the way Dr. Nik-Khah is presenting the information and the way we're learning to articulate it."
That work is helping students gain new perspectives about the assumptions and factors that can move consumers and, by extension, financial markets — insights with direct relevancy for students like Webster, who plans to go into the capital markets and trading field after graduation.
"I think it can really help because you're learning not just information within the market, but how that information actually gets trickled down and how the market itself is an information processor," he said. "It takes in data and reacts. There's an intention to it. That's really important to understand."
Soul Food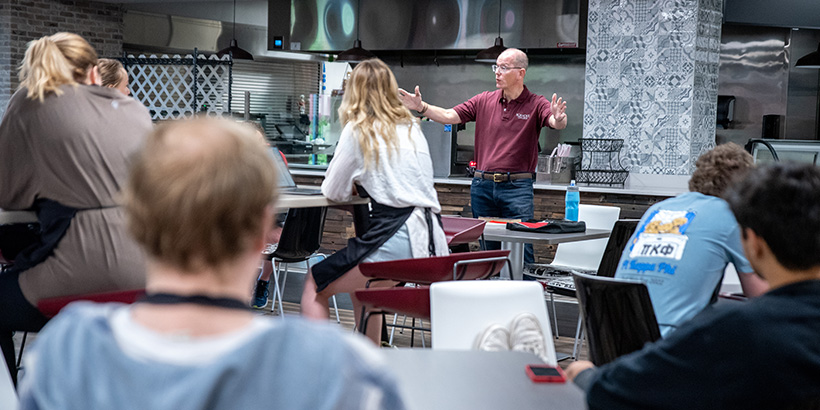 Professor Brent Adkins leads a class discussion about assigned texts in the classroom portion of his May Term class, Philosophy and Food, which is held in The Cavern inside Sutton Commons.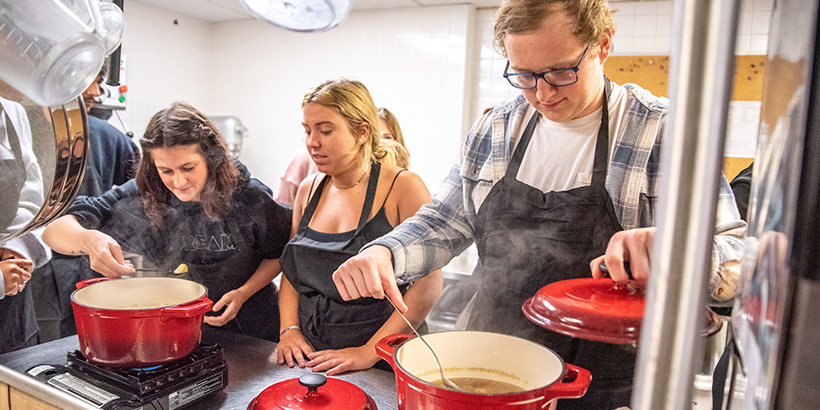 Students in the Philosophy and Food course fish garlic and herbs out of their pasta e ceci before thickening the soup.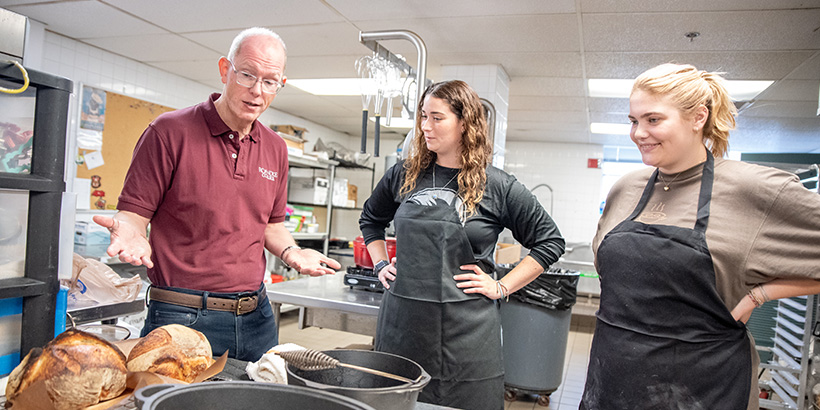 Professor Brent Adkins, Madison Filson '24 (center) and Meghan Murphy '24 admire the bread they made from scratch in the bake shop as part of Adkins' May Term class, Philosophy and Food.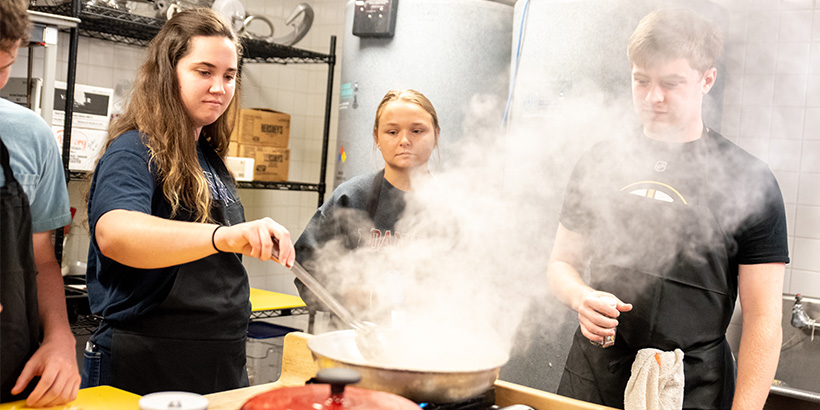 Students in Philosophy and Food flavor olive oil with garlic, herbs, bacon and anchovies before adding it to their homemade soup.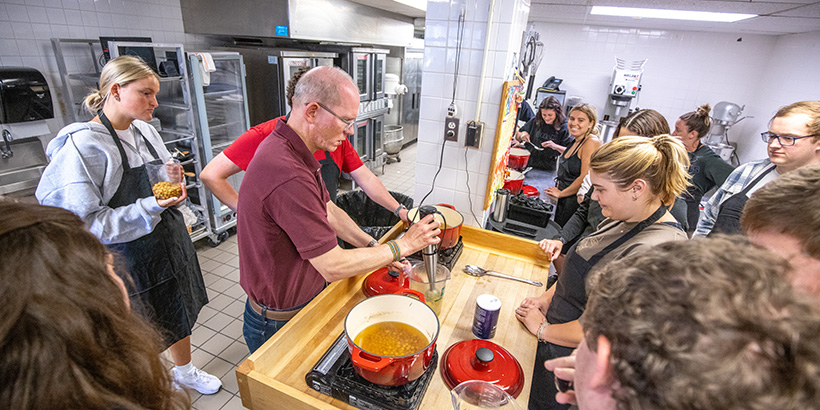 Professor Brent Adkins shows students how to use an immersion blender to puree some of the chick peas from their pasta e ceci, which they then added back into the soup to thicken it.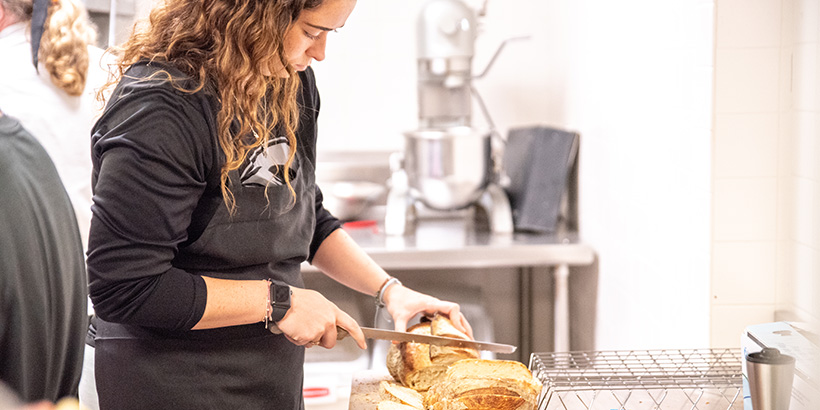 Madison Filson '24 slices the homemade bread her group made in preparation for the class lunch.
Philosophy and Food course gives new meaning to nourishing the mind
Taking bread ingredients home on a Friday and returning to class on Monday with ready-to-bake dough seems like an unlikely homework assignment for a philosophy class, but Professor Brent Adkins' May Term course, Philosophy and Food, is not your ordinary philosophy class.
For three hours each day of the three-week Intensive Learning Term, Adkins' students weave philosophical discussions with hands-on Italian cooking lessons. On a recent day, they discussed sections of Michel Serres' "The Five Senses: A Philosophy of Mingled Bodies" and Michael Pollan's "Omnivore's Dilemma" in The Cavern while their bread baked and their pasta e ceci simmered in the College bake shop next door.
Philosophy and Food is intended to explore the connection between the perennial philosophical question, "How should one live?" and the more everyday question of what one should eat. The course is designed not only to teach the philosophy that eating well is part of living well, but to leave students with basic cooking skills that give them confidence to prepare their own wholesome meals.
Julia Coe '25, a philosophy major, wanted to take the class because she loves both philosophy and cooking at home with her mom and sister. "We live in a fast-food culture, so I think one of the most important things you can get out of this class is that making your own food can take no more than a half hour," she said.
Adkins enjoys teaching Italian recipes because he spent time living in Italy during graduate school. After reading the materials, discussing texts and writing reflections, students will complete a final project that requires each group of four to execute an authentic three-course Italian meal. They'll get extra points for preparing additional courses such as antipasti or dessert.