Some might argue that May Term is the most wonderful time of year at Roanoke College. During this three-week term, students get to dive fully into one subject for an intensive learning session that often blends education with fun.
May Term courses might be held on campus with half-day or full-day trips off campus; they might include overnight stays; or they might take students across the country or around the world to study a specific subject in a new land. Other students complete the requirement by doing an independent study or internship.
No matter how students choose to complete May Term, they get to select from unique courses such as Adventure into Nature, Puzzling Through Games with Logic or The Physics of Music in Austria and Hungary, all of which are guaranteed to build memories for a lifetime.
Here is a peek inside some of those May Term options: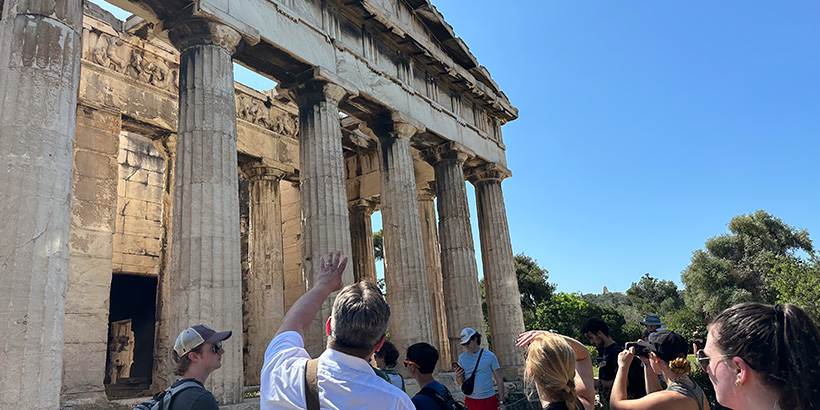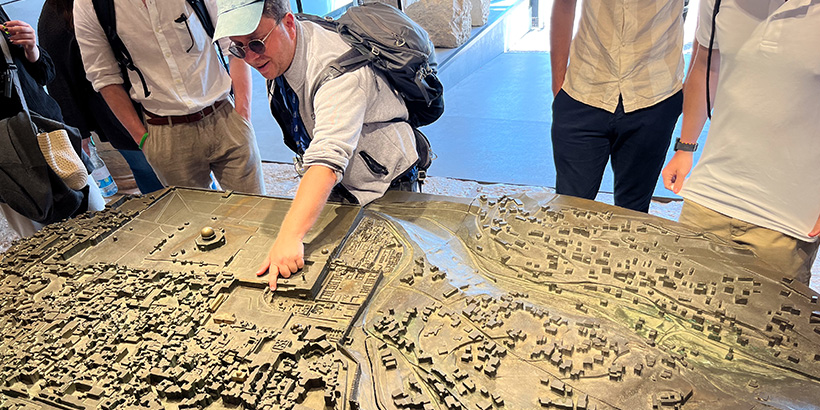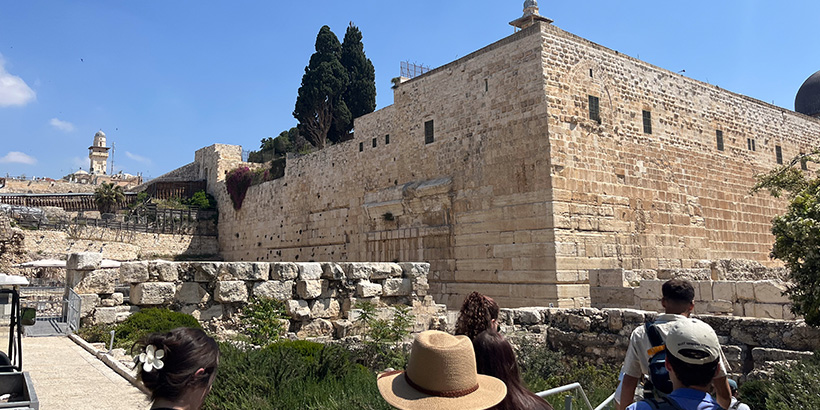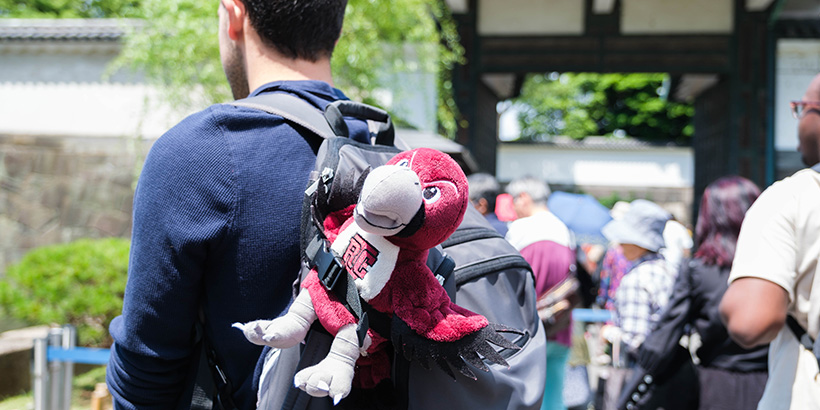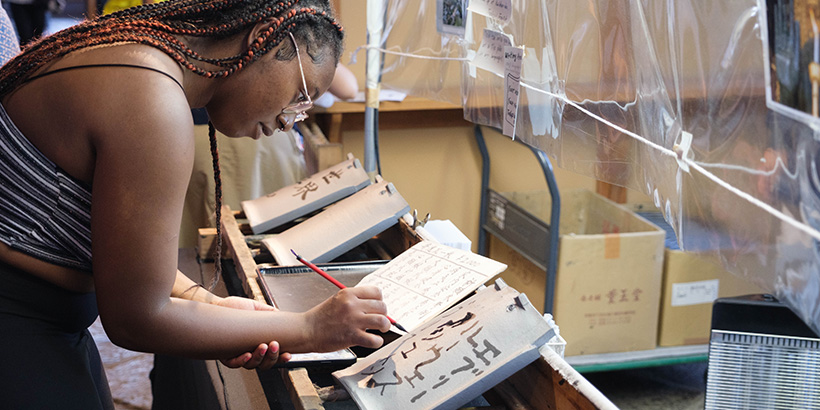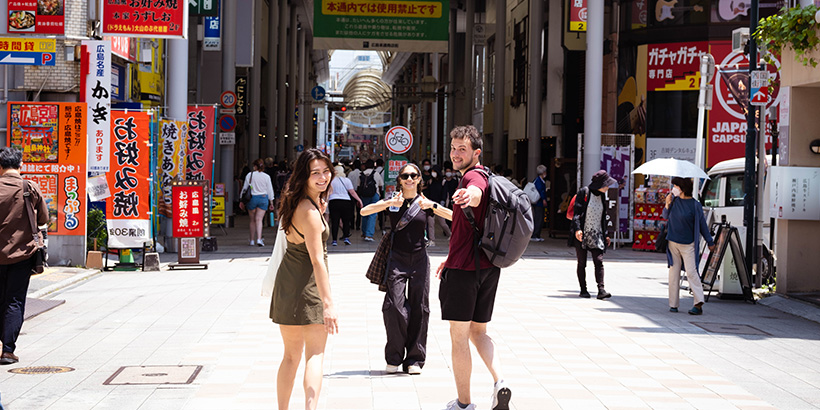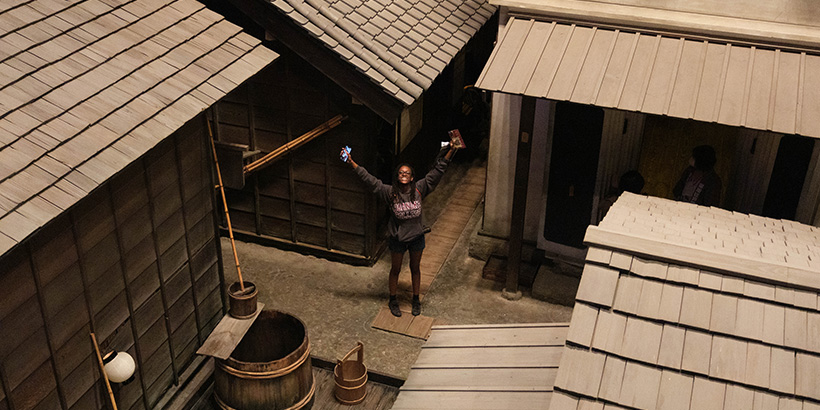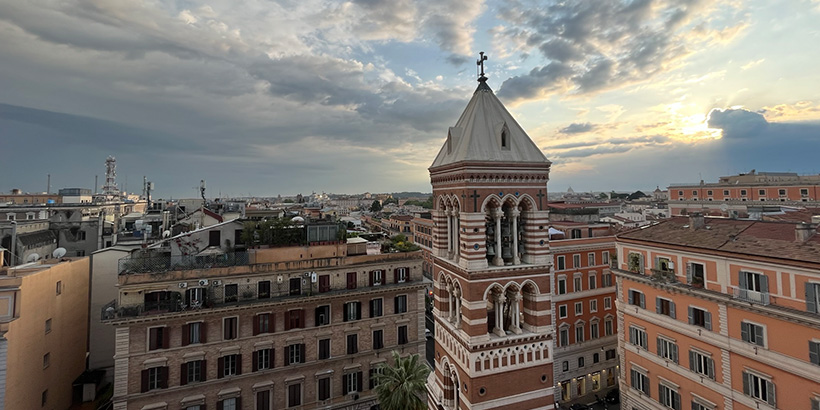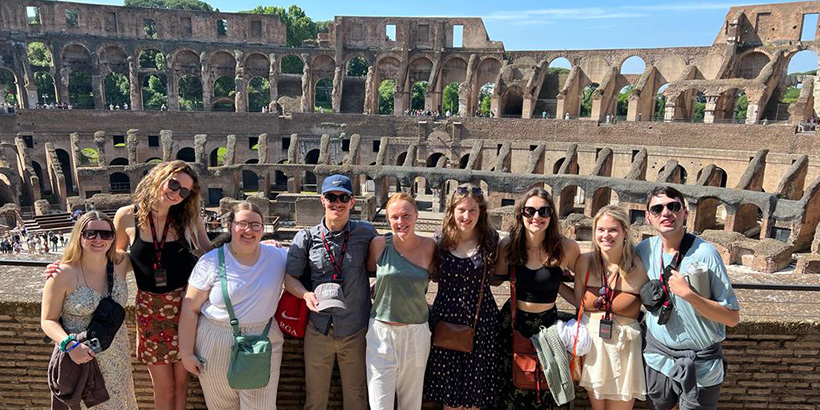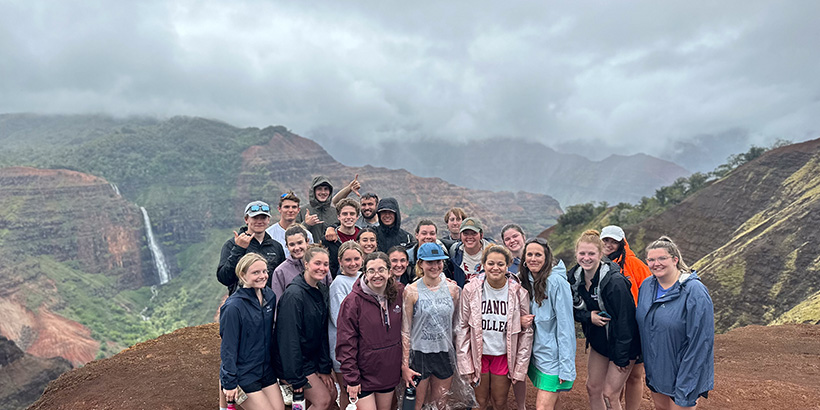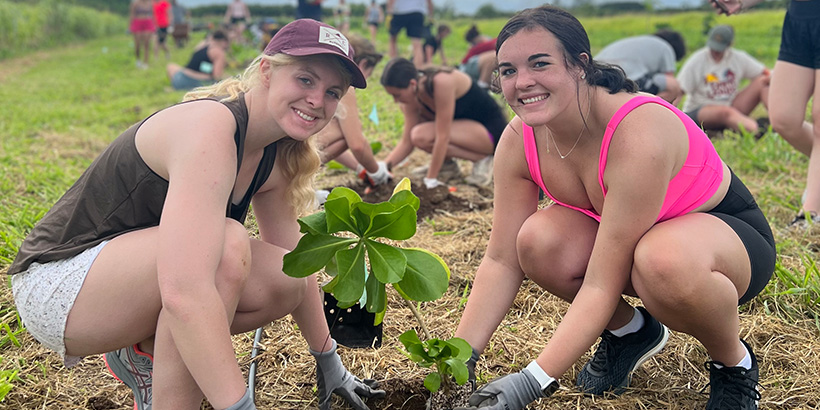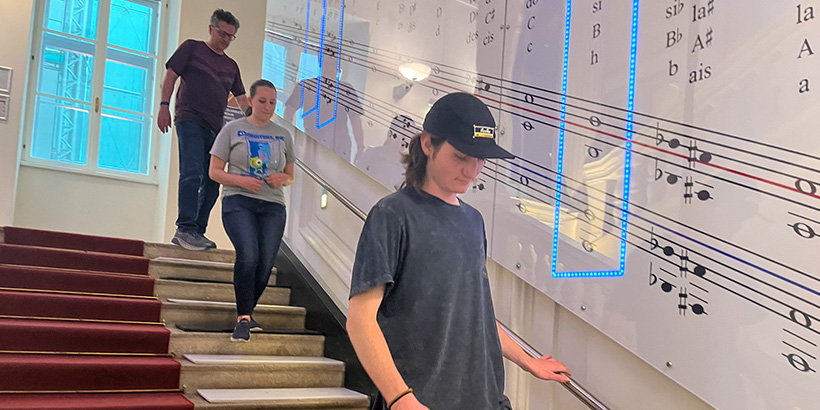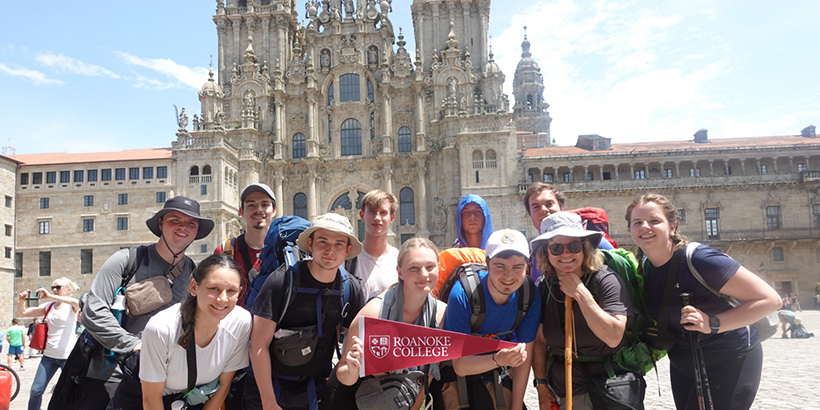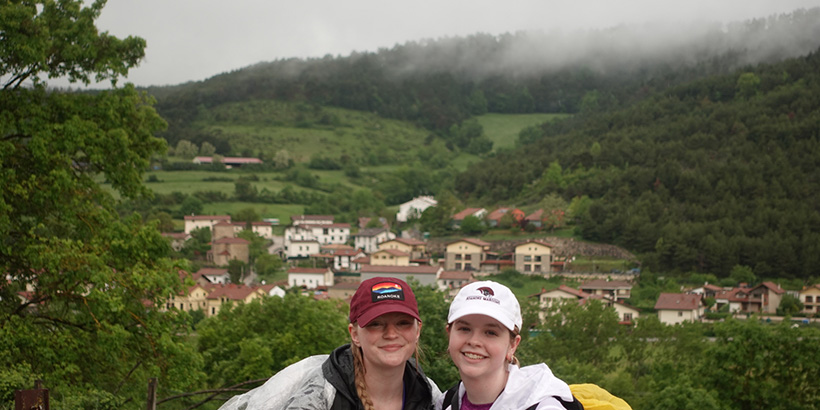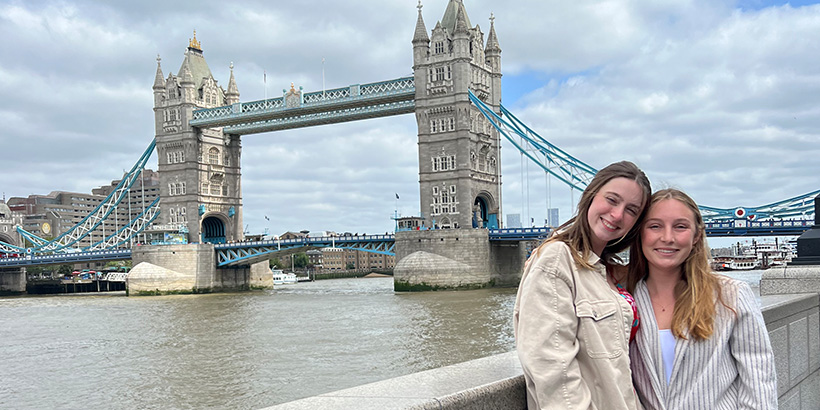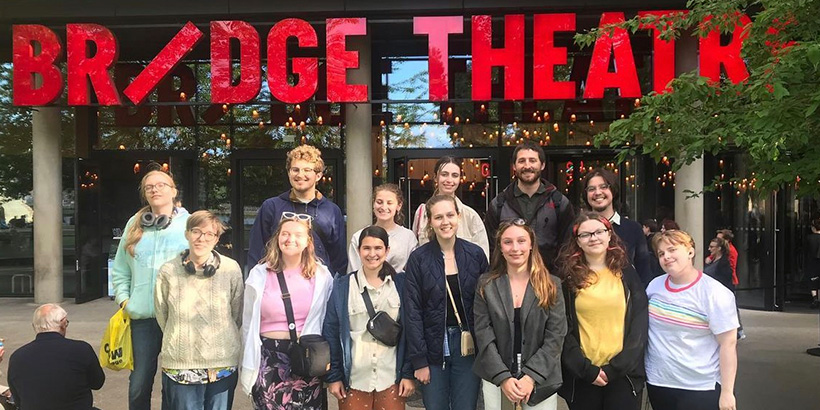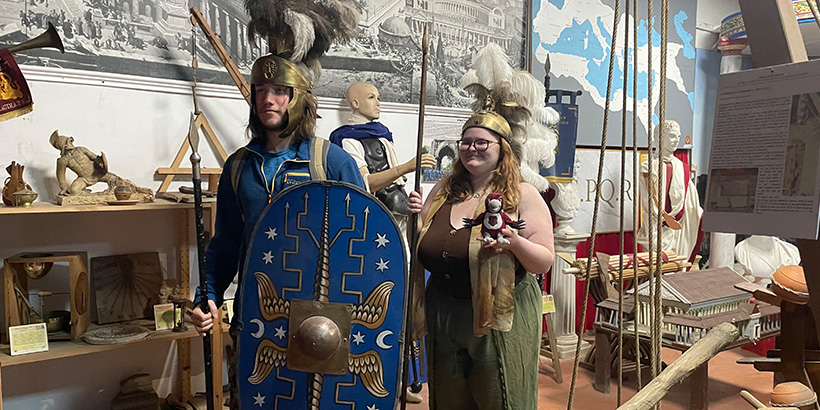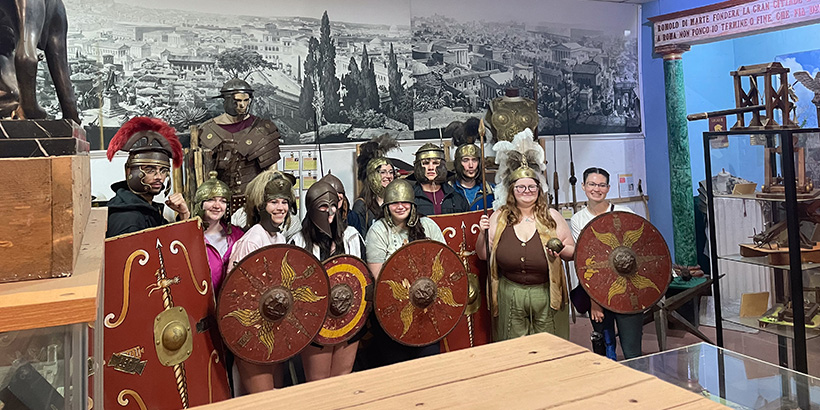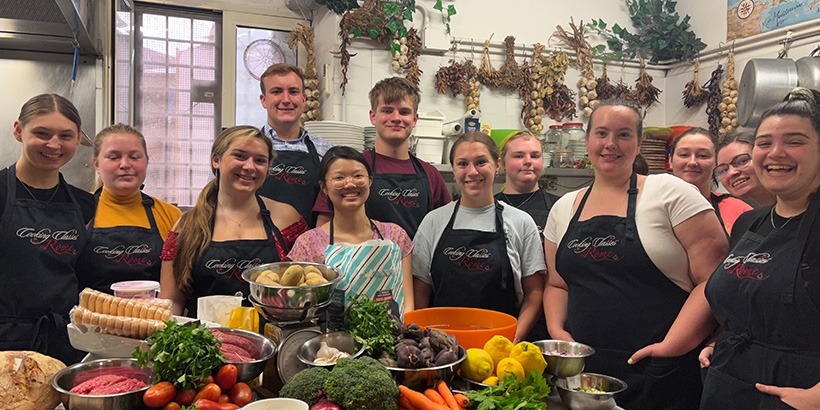 Globetrotting courses immerse students in new cultures, perspectives
Where in the world are Roanoke College Maroons? During the month of May — our Intensive Learning Term — they can be found in exciting and educational locations all over the globe!
Each of our May Term travel courses are crafted to let students do a deep dive into important subject matter while soaking up some once-in-a-lifetime exposure to scenery and culture that is relevant to the course topic. In this way, Roanoke College is committed to expanding our campus in Salem to far-flung corners of the world — and expanding students' minds as they cultivate the best versions of themselves.
This past May Term found our students:
learning about Irish and British theatre in Great Britain;
studying the physics of music in Austria and Hungary;
digging into the politics of the Middle East in Israel and the West Bank;
building leadership skills and understanding in Hawaii;
learning and practicing Italian in Rome;
looking back at the 20th century in Japan,
traveling in the footsteps of Pausanias in Greece;
experiencing significant works of art in Italy;
and walking the Camino de Santiago in Spain.
That's a lot of learning and mind-blowing experiences to pack into one three-week term! We hope you enjoy this gallery of photos submitted by some of our students. Visit our May Term page for more information about Roanoke College's Intensive Learning Term.
Special thanks to our student photographers who took part in our travel courses: Skylar Digou '25, Marshall Ruckman '25, Madeline Morrell '25, Virginia Graves '24, Janice Jones '25, Joshua Dionne '25, Leila Hussein '25, Paige Fisher '24, Adriana Rose '26, Ariel Agner '24, Jesslyn McAllister '26, Alec Wiggin '26, Reagan Reffke '24, Ryanna Clark '24, Cameron McDonald '24, Isaiah Jacobs '24, Lewis Edwards '24, Simran Gill '24, Lacey Newton '25 and Sydney Wagner '24.
Outdoor course delivers on promise of 'intensive' learning
When a May Term course description includes the line, "If you don't think you can bathe in a river, cook food on a camp stove, or 'go' in the woods, this is not the class for you," students can be sure their learning experience will include a heavy dose of adventure.
That's the description for an Intensive Learning Term class taught by Associate Professor of Biology Steve Powers. Aptly named Adventure into Nature, the course takes students deep into the central Appalachians to examine the region's plants, animals and geology.
The objectives of the class are to give students a background in natural history and the work of field naturalists while building experience in maintaining trails, planning their own outdoor adventures and recognizing the educational value of such trips. Because the course involves challenging hikes, river snorkeling and camping deep in the wilderness, students must be physically fit and able to swim.
Over the three-week term, classroom lessons are interspersed with day trips and overnight trips to locations in Virginia and West Virginia. One day, students learned about trees, mammals and the geology of the Blue Ridge at Cole Mountain near Buena Vista, Virginia. The next day, they were off to study fish, aquatic invertebrates, riparian vegetation and birds on the Roanoke River, where they donned wet suits and snorkels to observe fish.
Students also camped overnight at Hoop Hole in Botetourt County, Virginia, where they checked out the remnants of old forests and learned more about birds, amphibians, reptiles and trees. And they spent a day at Carvins Cove near Roanoke, where they did trail construction and maintenance work.
Powers said full immersion into nature is a key aspect of the experience. When students camp in unimproved campgrounds, they are exposed to bird calls, surrounded by trees, forced to cook their own food, and able to fall asleep at night to the sound of frogs calling. "I can't imagine a more 'intensive' experience than this," he said.
Mack Calvert '24 said he picked the class because it sounded fun, but he came away from it with a much better understanding of the geology of Appalachia.
"Learning how Appalachia has distinct regions helped me understand why different fauna inhabit different areas," he said. His favorite part of the class was visiting Arrowhead Bike Farm in Fayetteville, West Virginia, where he took a swim in the New River. "My biggest takeaway is that West Virginia is a beautiful state."
Flashback: Founding Fathers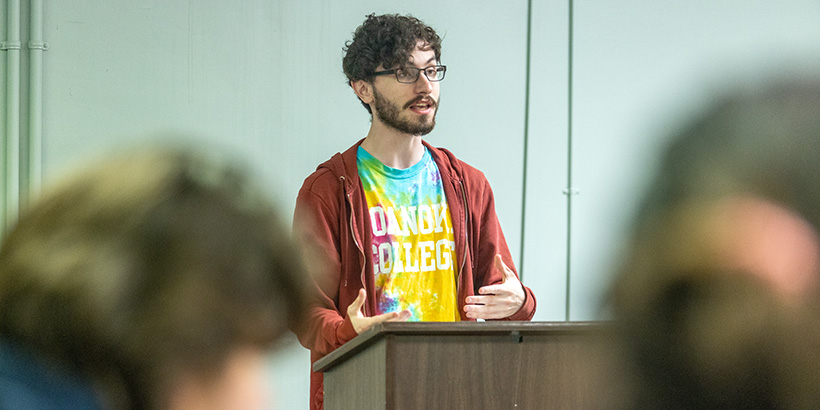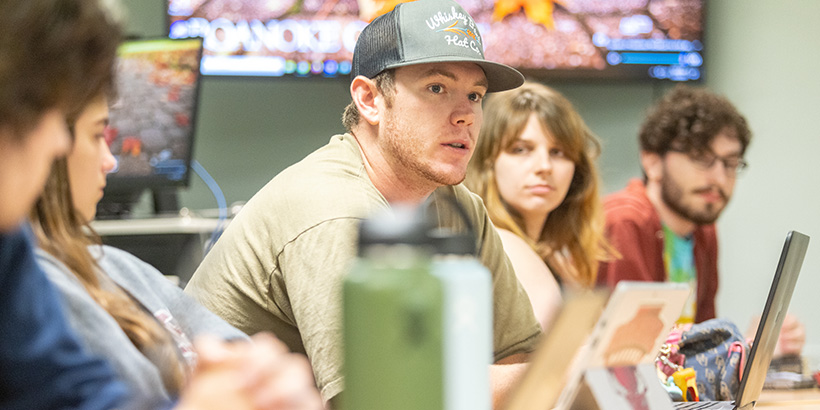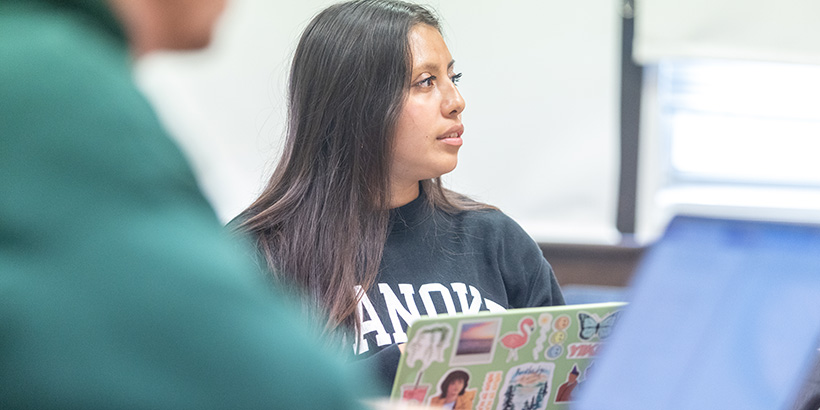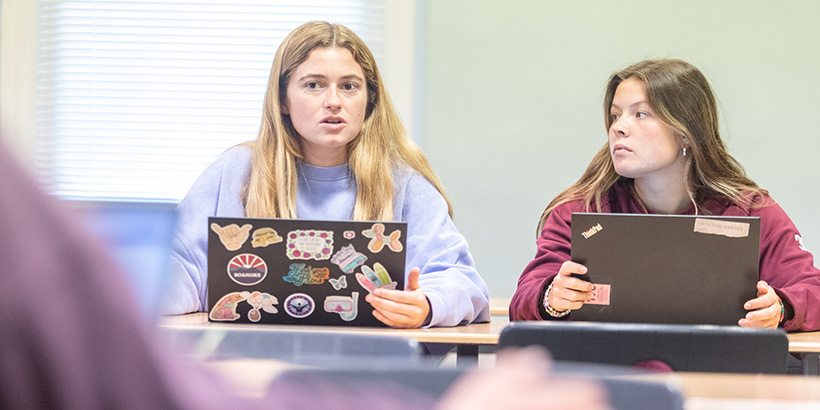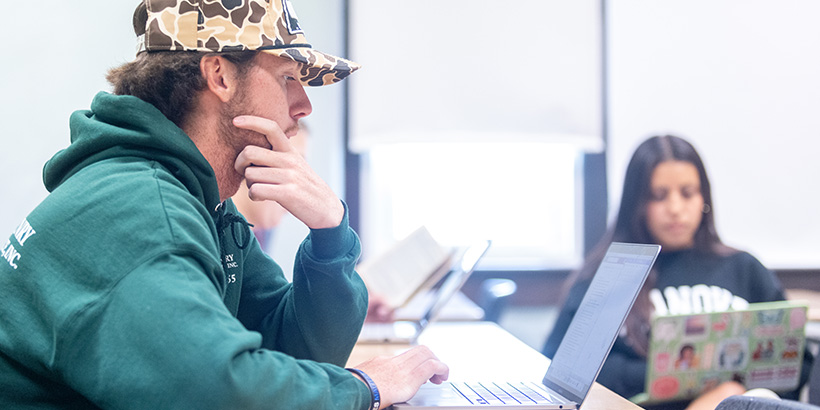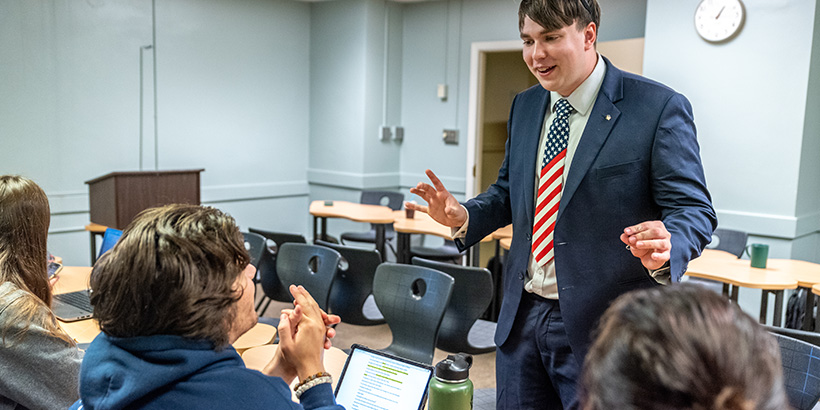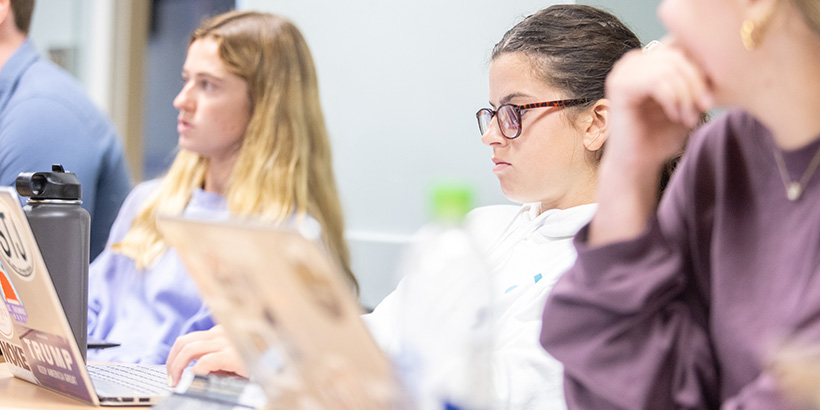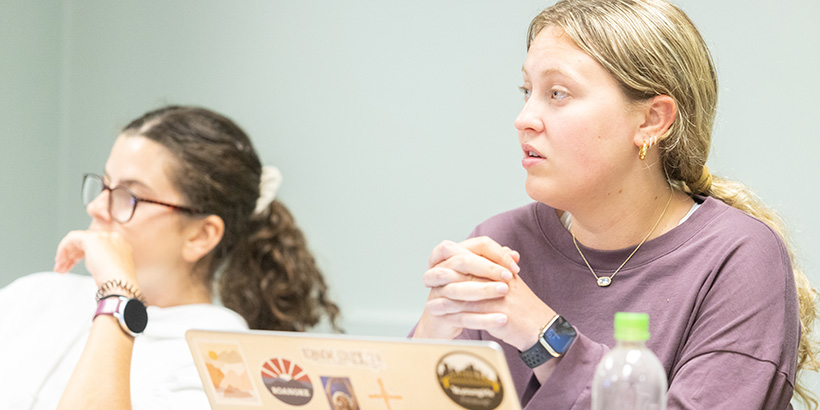 Constitutional Convention comes to life in public affairs course
Justin Garrison's intensive learning term class went straight back to 1787 as students studied and debated whether the Constitution should be ratified. Garrison assigned students to one of two teams: the Federalists and the Anti-Federalists. Students were immersed in their teams throughout the class and made speeches and arguments from their assigned roles. As the debates commenced, they passionately advocated for their viewpoint as others pounded their hands on their desks in agreement.
"This is an absolutely great class; I love this class," said political science major Matt Smith '25. "We start each class day learning about a different section of either the Federalist papers or the Anti-Federalist Papers. We started off with the Constitution, the Articles of Confederation, learning about these things in the morning sessions. Then in the afternoon, we did strategy sessions within our team, the Anti-Federalists."
Garrison said it's great seeing the students assigned to something that they aren't familiar with or might not agree with. "It's nice to see them get the benefit of understanding why someone would think this way now," Garrison said. "They have different teams, different role intensities and a lot of this is their own internal management.
"At almost every level of the United States, we've lost an understanding, and sometimes even an interest in thinking about, constitutionalism and how you make politics work," Garrison said. "The students take it seriously and really think through practical questions like 'how would you do this instead of just grandstanding?' They have to really figure out how to do big-picture thinking and brass-knuckles politics."
"It's been cool to see how certain laws came about," said Addison Schmidt '24, an education major. "We spend the morning lecture talking about topics such as separation of powers. Then in the afternoon, we have strategy sessions and meet with our team to incorporate these ideals into our speeches. We read the entire Constitution and the Articles; a lot of people don't get to do so. I've learned a lot in this class."
Garrison said he wanted to teach the concepts but also create an environment where the students put those ideas into action. "I think there is genuine civic value to this," he said. "I hope they walk away slightly dissatisfied with the Constitution, but still willing to support it. That's how politics is supposed to be: nothing's ever just what you want. But you can find enough good to not only live with it, but to make it work. And that's exactly, more or less, what Ben Franklin said at the end of the actual convention. Overall, I think this could be something special."
Innovative approach to STEM takes students from textbooks to storybooks
Many of us can say that over the course of three weeks, we went to school or work almost every day, did laundry several times and managed to catch the series finale of "Ted Lasso."
But a group of students in Assistant Professor Chelsea Peters' May Term class can say something far more impressive: In just three weeks, they conceived of, wrote, illustrated and had printed a children's book that explains a complex scientific concept. They even planned their own book launch event to unveil their work.
The course, "Science Storytelling," was part of Roanoke College's Intensive Learning Term, which allows students to be immersed in one course for several hours each day for three weeks. It is the first time Peters has taught the class, which attracted students from a variety of majors, including biology, environmental studies, elementary education and more.
"I wrote a children's book when I was working on my Ph.D., and it was super impactful for me," said Peters, who teaches in the Environmental Studies Program. "I wanted to share that with them."
Creating a children's book may sound like a fun project, and it is, but it also achieves an array of learning objectives. Students learn the importance of public outreach and communication within STEM fields, achieve a greater understanding of their chosen book topic, learn how to explain a complicated concept to young readers, and develop the communication literacy necessary to carry out the project from start to finish. They may also experiment with new technologies – for example, Eliana Glover '24 used Adobe Illustrator for the first time to create her book about the aurora borealis.
"This class made something that seemed so daunting more manageable and tangible," said Glover, who now has ideas for other children's books she wants to make.
Book topics ran the gamut from the rainbows to the food chain. Elise Upright '24 tackled climate change in her book, offering children ideas to help the environment. Jasmine Laramay '24 created a book that explains how the immune system attacks viruses in the body. A book by Tommy Toombs '26 teaches kids about predators in the animal kingdom with gems such as, "King cobras are seriously no joke. Their venom is strong enough to make an elephant croak!"
Iva Barnes '24 and Maddie Hall '24, who said they've been best friends since first grade, teamed up to write a book about the food chain. In their book, children meet an owl who feels sick, so they help him determine the cause (pesticides) by tracing it back through the food chain. Barnes, an elementary education major, said, "I think it's important to communicate science to all levels, and this is a fun way to use what I make in here in a classroom one day."
On June 2, students wrapped up the experience with a book launch party at the Salem Public Library, which they planned themselves. The event featured snacks for guests and activities for children. The pride on the students' faces was apparent – and it matched the look on Peters' face.
"I'm so proud of them," she said. "They did such a good job, and it's nice that they get to walk away with something."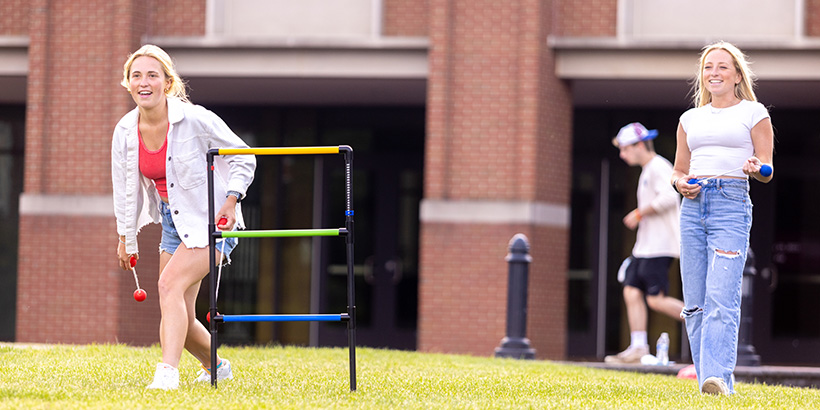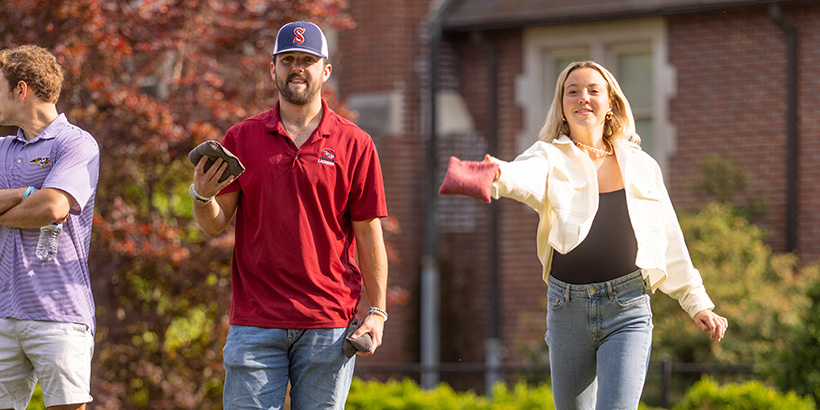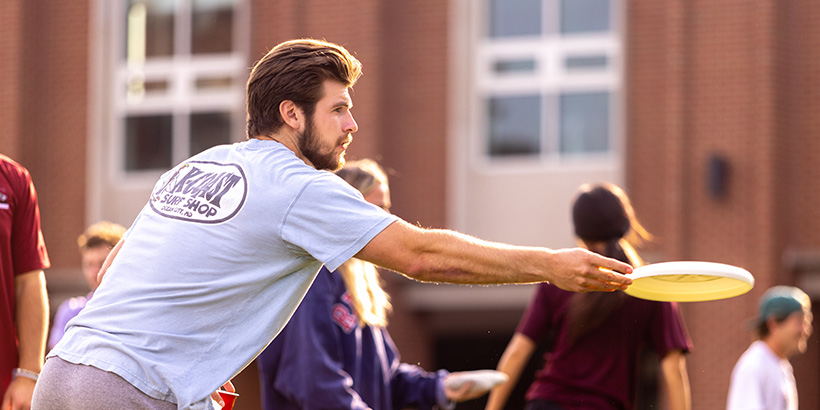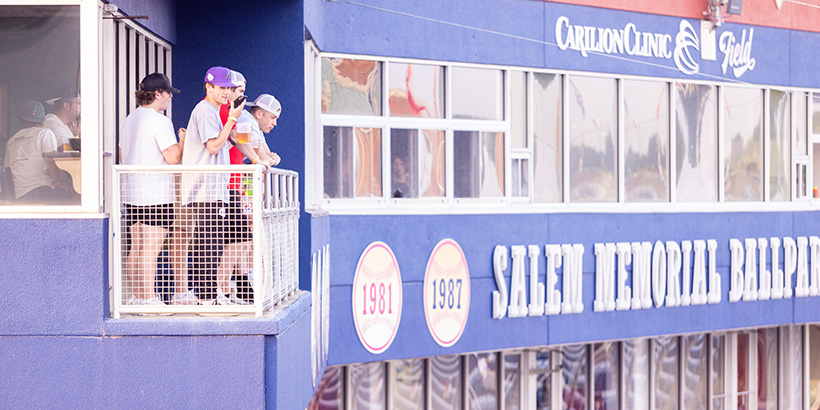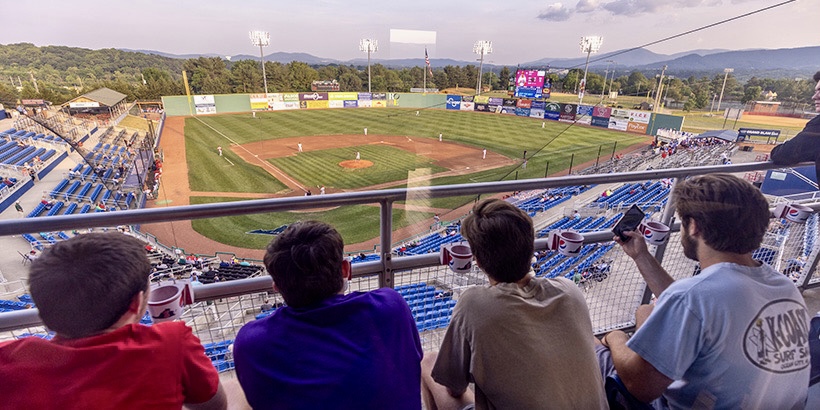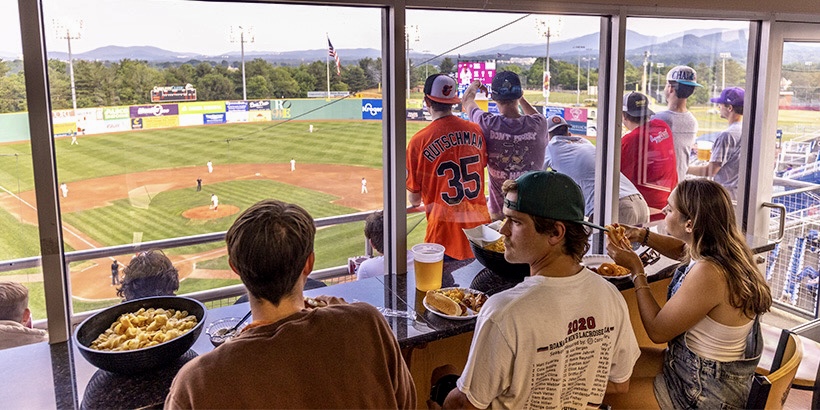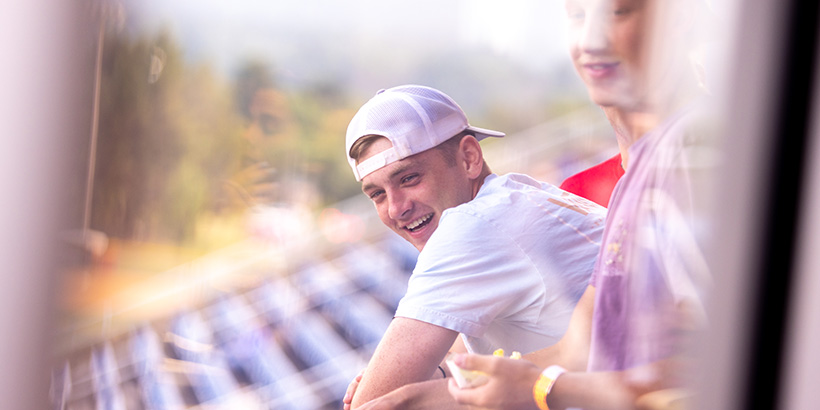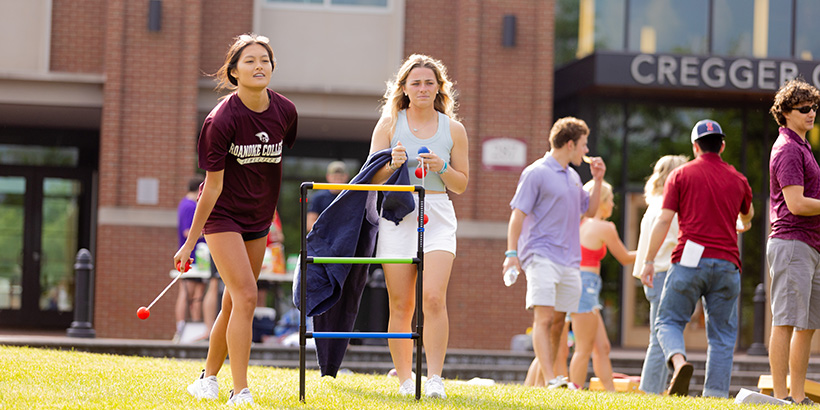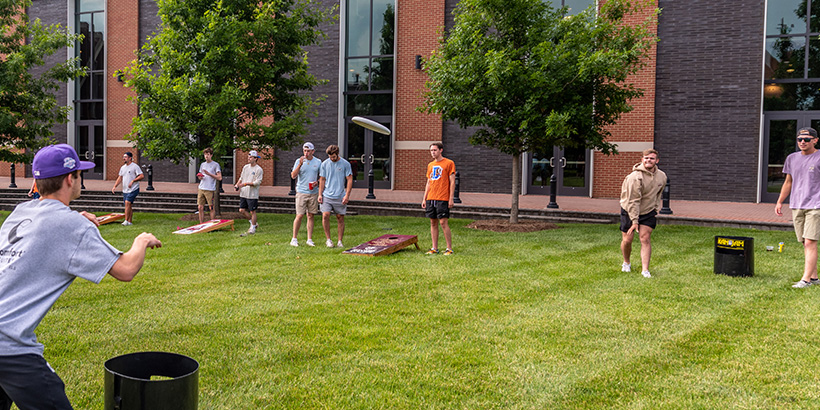 Sport (fandom) is a mental game
Tailgating, stadium chants, pregame rituals. Sport is such a fundamental part of American culture that its fandom and traditions seem like second nature.
But the factors that drive why people become fans and how they take part in their favored team's lore are grounded in social sciences, which includes sport management and psychology — insights that can be invaluable for students heading toward careers in athletics, hospitality, event management and more.
That's where "Sport Consumer Behavior: Exploring Fandom" comes into play. The May Term course is an examination of both the serious science and the pure fun that can be found in the wide world of sports.
Led by two professors from different programs — K.C. Mayer in sport management and Darcey Powell in psychology — the curriculum blends readings and classroom talks with hands-on experiences of games and fan fun.
On a sunny summer day, students gathered outside the Cregger Center Arena for a mini-tailgating experience complete with snacks, yard games and a history lesson on how those games rose to popularity. Later, they headed out to the Salem Red Sox ballpark, where they watched the game in a luxury suite while they examined and experienced the premium seating amenities offered at the stadium.
The immersive curriculum requires students to think critically about things that most people take for granted: Why do fans like sports? Why do they like one sport over another? How do effective teams build fan bases and draw people into sports mania?
"Most of these students are sports fans, but they might only like certain sports or niches," Mayer said. "Here, they get to explore different games and different facets of fandom. We get into yoga, eSports, rock climbing. We did a fantasy league draft using all the sports that had a game over the weekend. The draft activity led them to consider whether having a player on their fantasy team changed how they felt about a game they wouldn't have cared about otherwise."
That line of inquiry pushes beyond the field or court to draw deeper connections between fandom and what motivates people. "We get into the theory and science of it," Mayer said. "Why do people go to games or not?"
The course also introduces students to a side of sports that is new for many: teaching the skills of a sport. Groups were assigned games to build a tutorial around. Morgan O'Neill '24, a forward on the women's soccer team, was tasked with peers to lead the class basketball tutorial. The assignment required her to not only look at a new sport, but to draw on team leadership and communication skills that will translate to the public health studies major's life after graduation.
Colby Roy '24, a pitcher on the baseball team and a business administration major, said his experience at Roanoke College has introduced him to a deeper side of the sports world.
"Sports has been part of my life since I was 4 years old," said Roy, who counts attending a New York Yankees game with his parents as one of his earliest childhood memories. "I love sports, but it wasn't until I came to college that I realized how complex they could be. Dr. Mayer's classes, in particular, helped me better understand the business aspects of sports. Now it's something I'd like to make my career. To combine my interests by getting into the sports marketing and sports agent realm. There's so much potential there. That's something I learned here."
The mountains are calling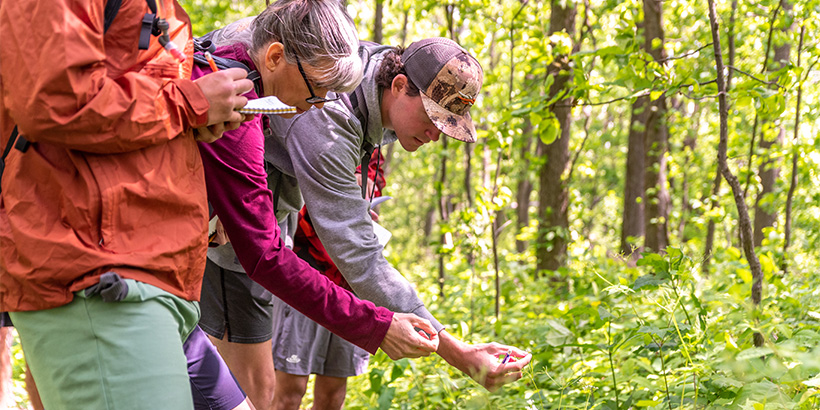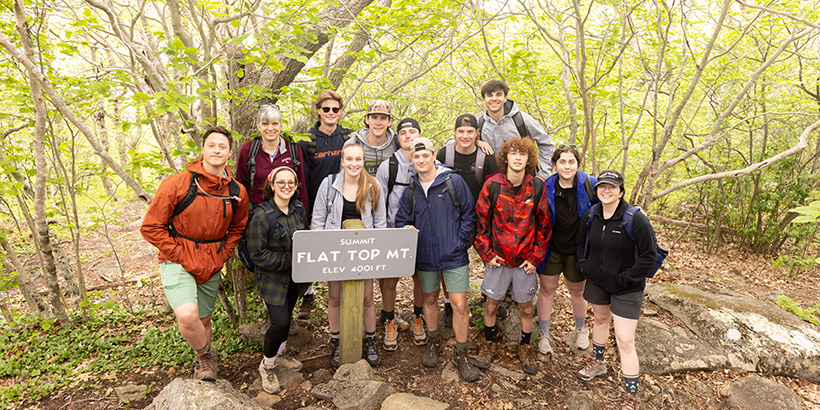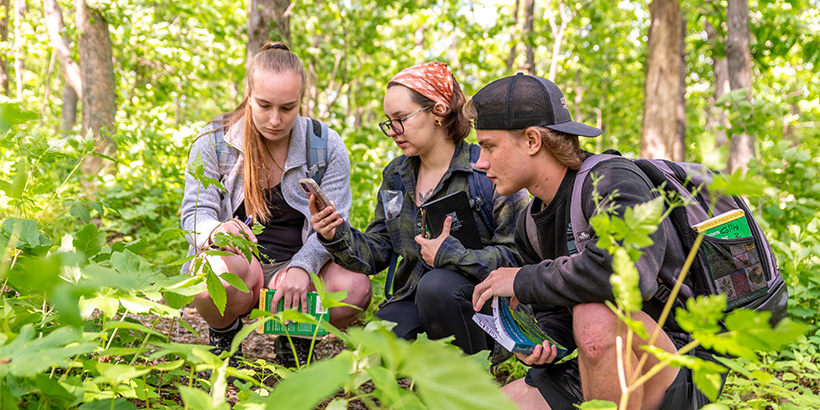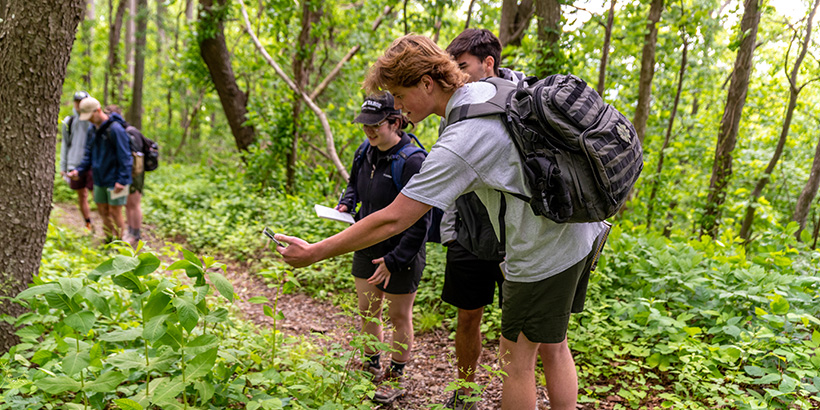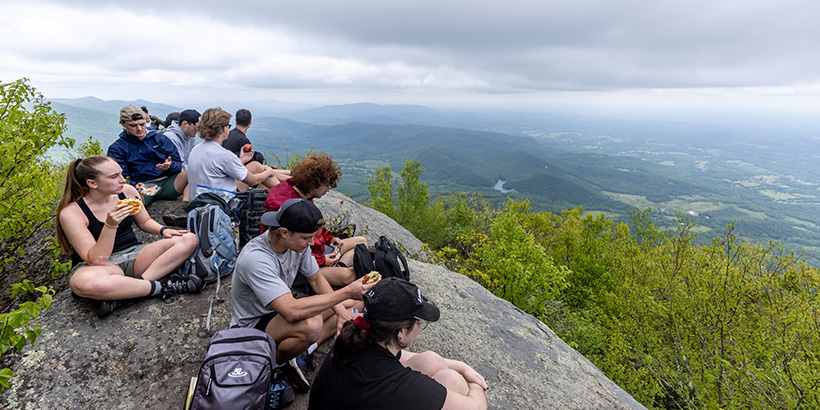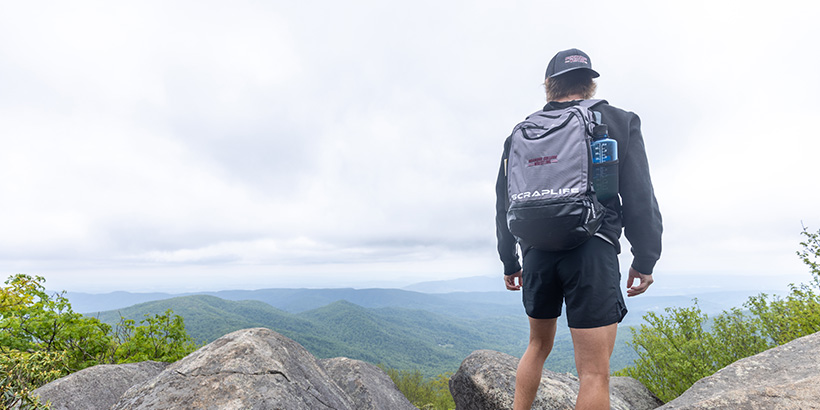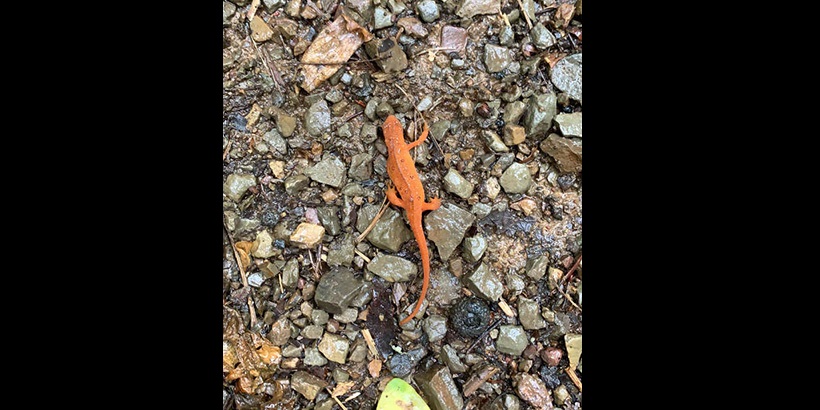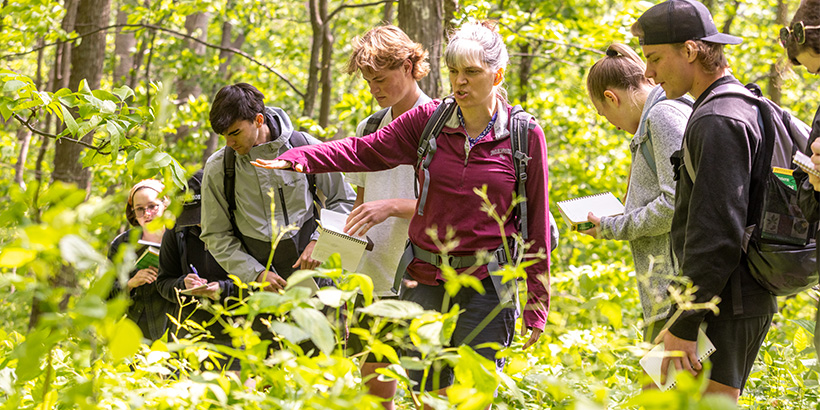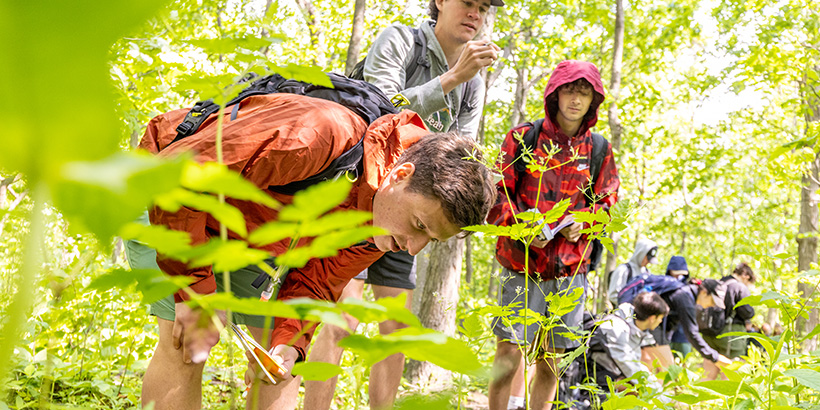 From flora to fauna, natural history course explores the rich ecology of Appalachia
Rachel Collins is taking her Intensive Learning Term course in May into the forest.
Collins' Natural History of the Southern Appalachians is a regionally based course with classes on campus and local excursions for hiking, birdwatching and plant identification. Collins' goal is to teach the students to explore the biodiversity and ecology of forest communities as naturalists do.
So far this term, Collins, professor of biology, has taken the class of 13 students to the Carvins Cove Nature Preserve, Apple Orchard Falls, Buzzard Rock and Peaks of Otter, where they hiked Flat Top mountain. They have also been birding at Greenfield Park in Botetourt County.
Intensive learning classes often offer a mixture of academic interests, and this course is no exception. Collins said this year's class includes business, history, biology and environmental studies majors.
"At first, most of them could only identify a maple or oak tree. Now they can all identify 10-15 trees and a bunch of wildflowers," Collins said as the group watched birds at Greenfield. "Today we are doing birding, so they'll know more birds, and we'll do more birding in the Smokeys."
The group is spending a week camping in the Great Smokey Mountain National Park, which is renowned for its diversity of plant and animal life. As they explore the ancient mountains, each student will study and become an expert on a particular species or family. During the week, they will hike several trails to study birds, trees and plants. A visit to the highest point in the park, Clingman's Dome, provides a look at a high-elevation forest. The site is the second-highest point east of the Mississippi River.
"They will have times where they will go off for an hour with their notebook and their identification guide and just spend time being immersed in nature and observing and writing notes," Collins said. "The idea is teaching them about natural history using the methods that naturalists use."
Field guides, notebooks and binoculars are usually close at hand in the class. By the end of May Term, students will create nature trail guides about the biodiversity of trails at Carvins Cove Nature Preserve, which is near campus, and give guided tours of their trail areas to the class.
"The idea behind the class is that this is the natural history of Appalachian forests," Collins said. "They've learned about different forest types and differences due to elevation and topography. You get different communities of forests, and they've learned to identify the type of forest they're in, the trees, the wildflowers and the birds. We've also come across other things along the way. We saw a red eft [a native salamander] and so I got to tell them about it."
The students said they enjoyed the opportunity to be outside and learn more about the birds and trees around them. James Sutch said he was hoping to see a bear or a fox in the Smokeys. Seth Casey said he wants to see a hellbender, the largest salamander in North America. "I'm bringing my snorkeling gear and even if the water is 40 degrees, I'm hoping to find one!"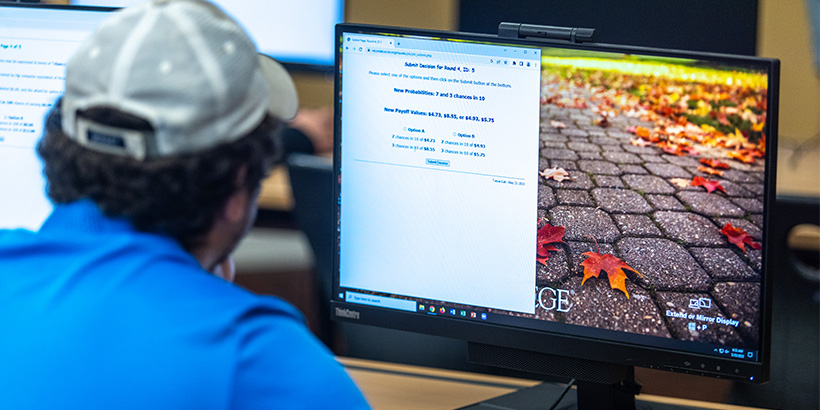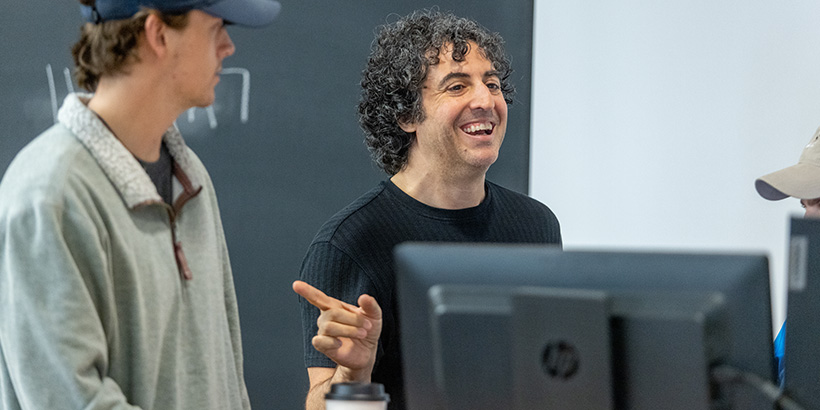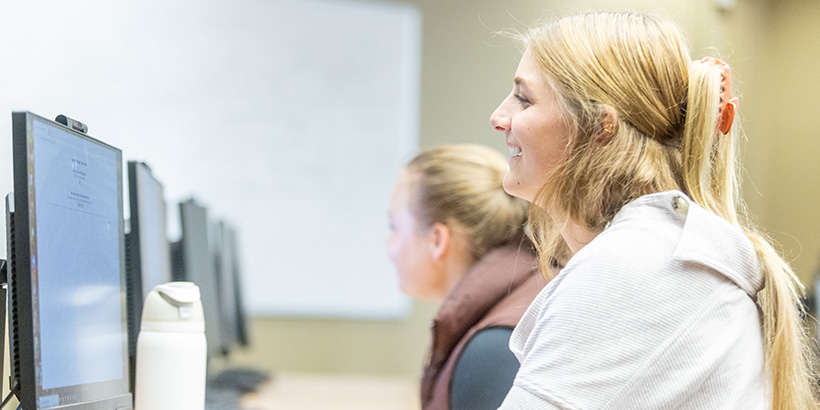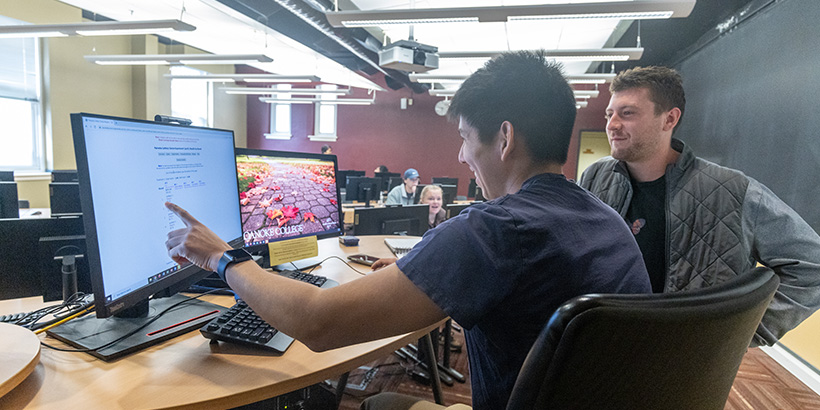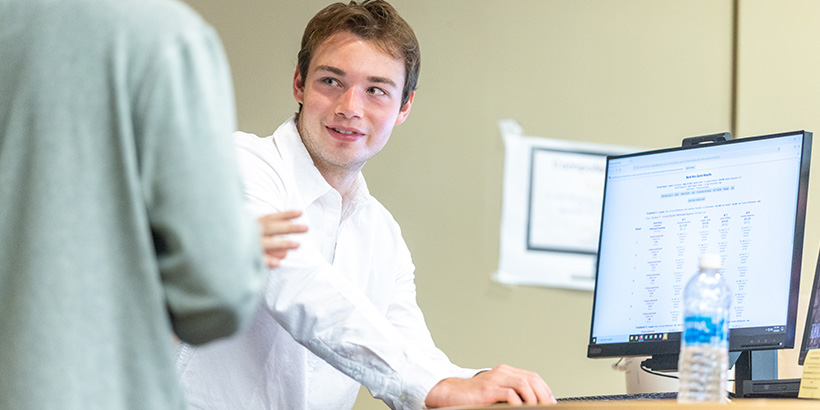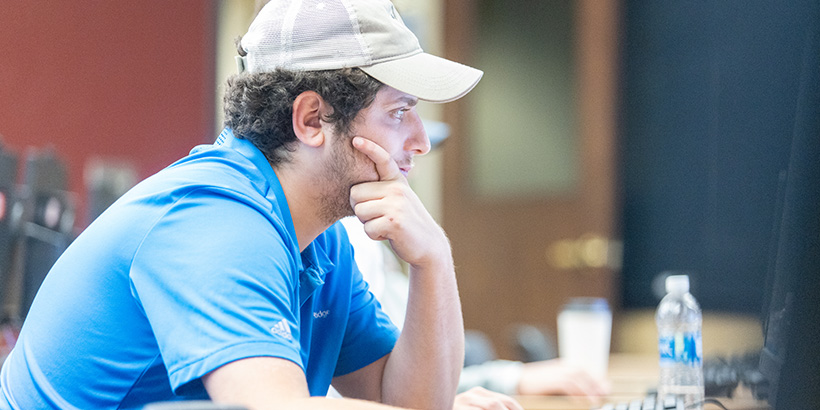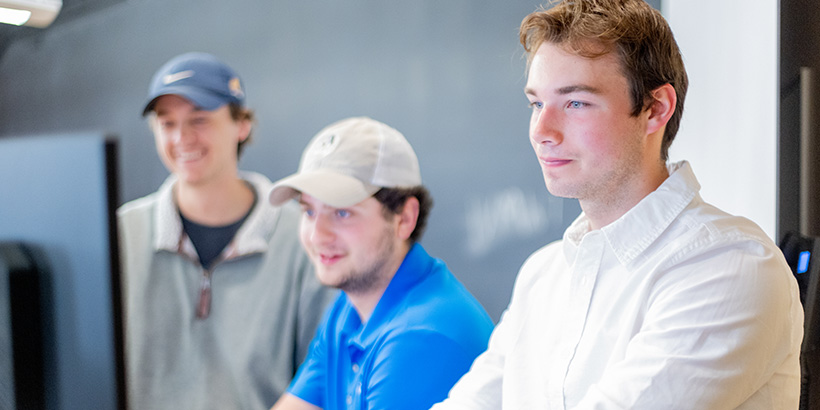 Cracking the code on consumer behavior
Imagine you hear that someone else just closed out their account at your bank. One account? No biggie. But then you hear about another and another and another.
The reports start piling up. Does panic