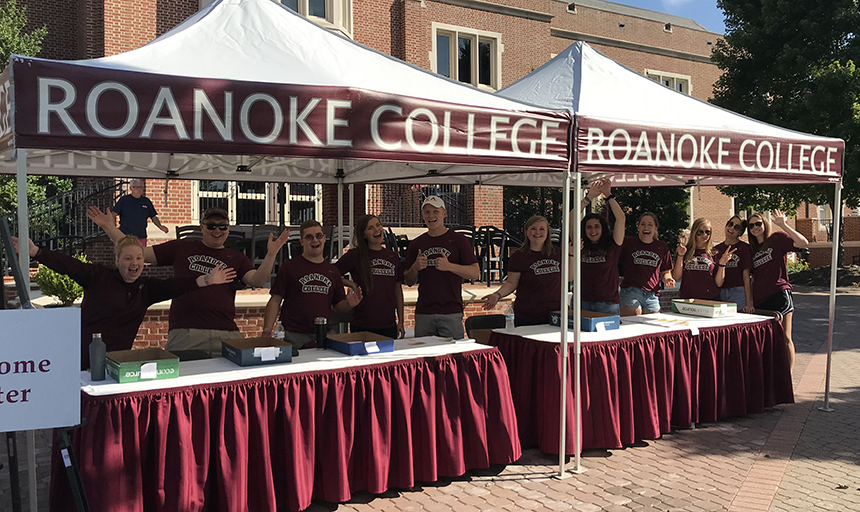 Countdown to Opening Day!
The countdown to Opening Day is on! The entire campus community is busy preparing for the arrival of new students on Saturday, Aug. 24. Students will find the full schedule here. Individual schedules will be available on Aug. 21 on the Ellucian Go app.
On Saturday, Aug. 24, President Michael Maxey kicks things off by ringing the bell on the Back Quad. Move-in then begins for new residential students. Those living on campus will check in at the Colket Center Wortmann Ballroom. Transfer commuter students begin their orientation in Fintel Library and will check in at Colket Center Wortmann Ballroom in the afternoon.
Everyone is invited to the President's Welcome in the Cregger Center on Saturday afternoon, followed by a great Roanoke tradition — picnic on the Back Quad. Afterwards, students will go to O-group (orientation group) meetings; parents are invited to attend a reception. From O-group, students will proceed to Bast Center for a few hours of Bingo. (It's way more fun than you'd think, and there are great prizes!) The night wraps up with a meet and greet for students in residence halls.
Construction begins Sunday, Aug. 25, on R-House, a house that students build annually on campus during orientation with Habitat for Humanity in the Roanoke Valley. Every new student pitches in! Following construction, the house will be moved to its permanent location for finishing touches over the fall semester.
On Sunday evening, new Maroons board buses and head to downtown Roanoke for an evening of great food, entertainment and fun in the historic Roanoke City Market area.
On Monday, Aug. 26, more community meetings are scheduled for students, as well as advising time and work on R House. Also on Monday, returning students will be welcomed back to campus.
The men's soccer team takes the field against Concord University in Kerr Stadium on Monday evening for a Pack the MAQ (Maroon Athletic Quad) game. Join in on food and fun while the campus cheers on the Maroons!
On Tuesday, Aug. 27, there are more community meetings and the final campus work on R House. Opening Convocation will take begin at 11:30 a.m. in the Cregger Center arena. President Maxey and Dr. Richard Smith, vice president and dean of the College, preside over the official opening of the academic year. The event is open to all students, faculty and staff. Special speakers include three students who have received the Morehead Award — Kimberly McGinnis '21, Gaston Ocampo '20 and Margaux McGinty '22. Dr. Lindsey Osterman, assistant professor of psychology and recipient of the 2019 Dean's Exemplary Teaching Award, will deliver remarks as well.
Evening classes begin Tuesday, while most other classes begin Wednesday, Aug. 28.
On Friday, Aug. 30, the exciting first week concludes with a Fridays on the Quad picnic and the Activities Fair. The event is a great opportunity for students to learn about clubs and organizations on campus and start to find ways to get involved. Make the most of your Roanoke experience and connect with those who share similar interests!
The final event for new Maroons is the New Student Welcome Picnic on Tuesday, Sept. 5, at the President's House. Join President and Mrs. Maxey at their home on High Street. Meet the Maxeys and get to know other new students.
Individual schedules will be available on Aug. 21 on the Ellucian Go app.
Orientation At‐A‐Glance (as of July 24, 2019)
Saturday, August 24th Opening Day!
9:00am President Maxey Rings the Bell & Move In Starts!
9:00am – 3:00pm Residential Check‐In Colket Ballroom
9:00am – 10:30am Transfer Commuter Orientation Fintel Library
1:00pm – 3:00pm Non Residential Check‐In Colket Center Ballroom
4:00pm – 5:00pm President's Welcome Cregger Arena
5:00pm – 6:00pm Picnic Dinner Back Quad
6:00pm – 7:00pm Family Reception Olin Hall, hosted by Resource Development
6:00pm – 7:15pm OGroup Meeting #1 Locations Vary
7:30pm '23 BINGO! Bast Center, hosted by CAB
10:00pm Meet & Greet in the Halls Locations Vary, hosted by Residence Life
Sunday, August 25th
9:15am – 5pm RHouse Build Rotations Hawthorn Lot
9:15am – 5pm Community Meeting Rotations Colket Ballroom, hosted by Student Health
7:00pm – 7:10pm Board Buses & Pull Out High Street
7:30pm Downtown Roanoke!
9:15pm Buses Start Loading for Our Return
Monday, August 26th
8:00am – 5:00pm RHouse Build Rotations Hawthorn Lot
8:00am – 5:00pm Community Meeting Rotations Colket Ballroom, hosted by Campus Safety
3:30pm – 4:30pm All Advising Locations Vary
3:30pm – 5:00pm Faculty & Staff RHouse Build Hawthorn Lot
4:30pm – 6:00pm Athletic & Fine Arts Open Tryouts Locations Vary
6:00pm – 7:15pm OGroup Meeting #2 Locations Vary
7:30pm PAQ the MAQ Maroon Athletic Quad
10pm All Hall Floor Meetings hosted by Residence Life & Housing RA's
Tuesday, August 27th
8:00am – 5:00pm RHouse Build Rotations Hawthorn Lot
8:00am – 5:00pm Community Meeting Rotations Colket Ballroom, hosted by Multicultural Affairs
10:00am – 11:15am OGroup Meeting #3 Locations Vary
11:30am – 12:30pm Convocation Cregger Arena
4:30pm Evening Classes Begin Locations Vary
7:00pm Res Life Event Cregger Center, hosted by Residence Life
Wednesday, August 28th
9:00pm – 10:00pm All Hall Floor Meetings hosted by Residence Life & Housing RA's
Friday, August 30th
4:00pm – 7:00pm FOTQ & Activities Fair Back Quad
Thursday, September 5
6:00pm – 7:00pm New Student Welcome Picnic President's House, choose either time
7:00pm – 8:00pm New Student Welcome Picnic President's House, choose either time