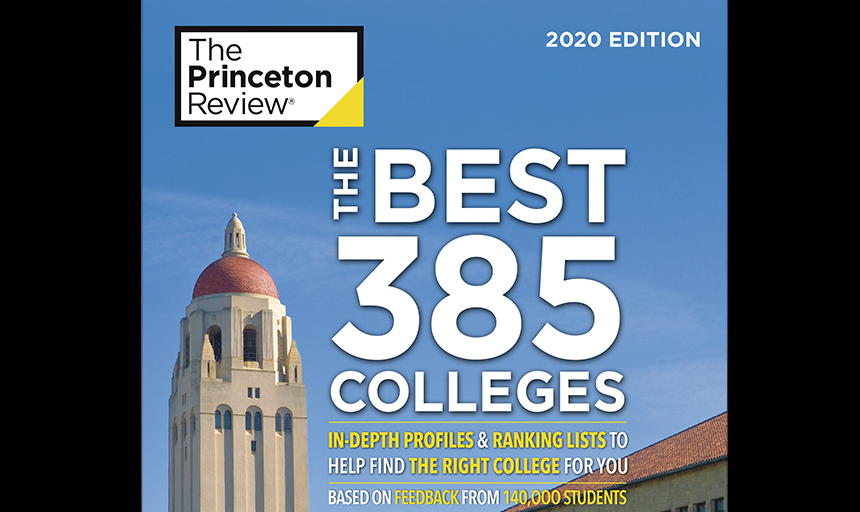 Roanoke featured in Princeton Review's Best 385 Colleges
Roanoke College is one of the nation's best institutions for undergraduate education, according to The Princeton Review, which features Roanoke College in the just-released 2020 edition of its guide, "The Best 385 Colleges" (Penguin Random House / Princeton Review).
Roanoke College also is included in the guidebook's lists of Great Schools for Business/Finance Majors, Great Schools for Computer Science/Computer Engineering Majors and Great Schools for Psychology Majors.
"We chose the 385 colleges for this edition as our 'best' overall, academically, based on data we gathered in 2018–19 from more than a thousand school administrators about their schools' academic programs and offerings," said Robert Franek, The Princeton Review's Editor-in-Chief and lead author of the book.
In its profile on Roanoke College, The Princeton Review quotes extensively from Roanoke College students surveyed for the guidebook. Among the student comments:
With its small class sizes, Roanoke

College

"aims to equip you for the real world, but also make

s

you feel at home, like you belong."
Students say that "undergraduate research opportunities abound

.

"

In general, professors earn universal praise for being "approachable, knowledgeable," and "willing and able to work with every student."
In the "Survey Says" profile section on Roanoke College, The Princeton Review lists topics that students were most in agreement about in their answers to survey questions. For Roanoke, that list includes:
"students are happy"
"great library"
"recreation facilities are great"
"internships are widely available"
"students love Salem, VA."
"The Best 385 Colleges" rankings are based on surveys of 140,000 students at 385 top colleges that includes a wide representation by region, size, selectivity and character. Published annually since 1992, the book has detailed profiles of the colleges. The Princeton Review does not rank the colleges from 1 to 385 in any category. Roanoke College has appeared each year in The Princeton Review since the 2012 edition.